Paid Content For
The Greatest Boat Parties in America
Paid Content For
Gary Miller / Getty
Gary Miller / Getty
Summer may be winding down, but that doesn't mean it's too late to get out at least one more time for what the Lonely Island taught us years ago is the best place for fun in the sun: "On a boat!" Good friends, good drinks, and good times all get that much better on the water. (With a designated skipper piloting, of course.)
Below, you'll find the 10 best boat-party locations in America. Hit one up before the curtain drops on the season, before the leaves start to change and pumpkin spice lattes start taking over the world. Or bookmark this list for your next road trip in search of seafaring (or, you know, lake-faring) adventure.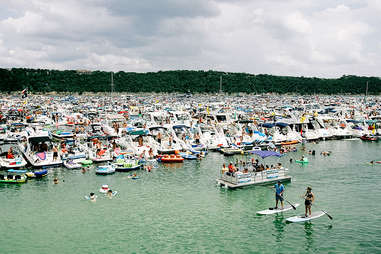 1. Lake Travis – Texas
Texas doesn't play around when it comes to summertime temperatures—they routinely hit triple digits. Locals and visitors alike find cooling refuge at Lake Travis, a reservoir on the Colorado River in the center of the state that's nearly 64 miles long and encompasses 19,297 acres. There's fishing, boating, swimming, party barges, and more. But party barges are definitely the way to go. You can get a double decker, you can get one tricked out with a killer waterslide, or equipped for an overnight stay on the water. Cruising with a bachelorette party? Odds are your captain can find a bachelor party to link up to. There are hundreds of entry points to the winding, twisting lake—including the rambunctious Devil's Cove—along with 15 parks. It's essentially impossible not to have fun here.
2. Lake of the Ozarks – Missouri
Located in central Missouri, the Lake of the Ozarks is a man-made lake with 1,150 miles of picturesque shoreline, countless coves, more than 60 restaurants where boaters can "dock and dine," and Aquapalooza, an amphibious annual concert series. There's also the Shootout, a gnarly powerboat race that launches behind Captain Ron's Bar & Grill and attracts upwards of 100,000 spectators; and last but certainly not least, there's Party Cove, which is probably the rowdiest nook in the entire sprawling, serpentine length of the lake.
3. Lake Michigan – Chicago, Illinois
Lake Michigan spans 22,394 square miles—seriously, they don't call it a Great Lake for nothing—but the majority of boaters on its gargantuan expanse can be found less than a nautical mile offshore, in a break-wall-protected expanse known as the Playpen. Stretching between Oak Street on the north and the Jardine Water Filtration Plant on the south, this no-wake zone provides sensational views of the city skyline as well as a sprawling flotilla of private party boats. But you're much better off letting someone else do the piloting, and the waterfront offers a truly amazing range of party-boat options. Hit up Navy Pier, DuSable Harbor or North Michigan Avenue for cocktail cruises, tiki-themed vessels, beer-and-barbecue tours, even floating comedy shows. Chicagoans may not have a long summer, but they know how to make the most of it.
4. Catalina Island – California
Boating is an every-day, year-round activity on Catalina Island, a serene gem located in the Pacific Ocean 22 miles southwest of Los Angeles. But the "season" runs from March through October, prime time for embarking on fish/tour/party cruises, "boat-in camping" trips to one of 17 secluded sites along the island's shore (reservations required), or, as a high-adrenaline alternative, a speedboat tour that deliberately seeks massive waves to fly over, in case you wanted a rough idea of what big-wave surfing is like. (Save the drinks till after, natch). Other highlights on Catalina include Buccaneer Days, a weekend festival featuring daily live bands, DJs, pirate costume contests and treasure hunts; and of course, the Step Brothers–inspired Catalina Wine Mixer, a three-day affair featuring a screening of the film, a costume party, live music, and DJ's.
5. Lake Tahoe – Nevada and California
In the average year, there are 274 days of sunshine on Lake Tahoe, the largest alpine lake in North America, which sits on the California-Nevada border. It's ringed by dazzling mountain ranges and towering pines, and the water is 99.7 percent pure—and so clear you can see objects in it at depths of up to 75 feet. All this adds up to an absolutely world-class site for people looking to have a great time on the water. Zephyr Cove is the most high-energy party spot, featuring beach volleyball, waterfront bars, and lounge areas, as well as luxury resorts and, of course, group party-boat options.
6. Lake Minnetonka – Minnesota
It takes a lot for a lake to stand out in the Land of 10,000 Lakes, but Minnesota's Minnetonka pulls it off, with 125 miles of shoreline, loads of bays and channels, and breathtaking Upper Midwest scenery. The centerpiece is the 273-acre Big Island, near the Minnetonka beach shoreline. The site of a former amusement park, this is the hot spot where locals and visitors drop anchor and socialize. How much is this place to see and be seen on Lake Minnetonka? The spot has its own paparazzi.
7. Lake Martin – Alabama
Lake Martin spreads like a Rorschach blot across 44,000 acres in Coosa, Elmore, and Tallapoosa counties in east-central Alabama. It's got more than 750 miles of wooded shoreline and, at Chimney Rock, hosts a floating fiesta of dozens of boats anchored for swimming, sunning, chilling and watching nearby daredevils jump off waterside cliffs. Book a double decker vessel with a corkscrew water slide, or hire a captain and a pontoon boat to enjoy the almost endless opportunities for fun on this watery 'bama playground, which includes 11 dockable small islands. There's also an amphitheater at the lake that hosts major concerts, including the free Alexander City Jazz Festival.
8. Lake Havasu – Arizona
Book yourself a luxury pontoon boat and head out onto Arizona's Lake Havasu, also known as the "playground of the southwest." Straddling the border between California and Arizona, Havasu is a man-made lake with more than 400 miles of coastline and some 60 miles of uninterrupted lake and river waterways. Have your skipper steer the vessel to Lake Havasu State Park, the Lake Havasu Lighthouses or Lake Havasu London Bridge Beach. The latter sits along the famous Bridgewater Channel, a half-mile stretch of waterway between London Bridge and Rotary Park bordered by sandy beaches—and legendary for its parties. While Havasu is known for its rowdy revelry, it's also a bass-fishing mecca and a gorgeous, deep-blue lake, ringed with beaches and dramatic mountain backdrops.
9. Fort Lauderdale, Florida
Decades ago, some investors took a notion to market Fort Lauderdale as the "Venice of America." The truth is, Lauderdale is even more waterbound than Venice, with 165 miles of waterways (compared to Venice's 26), 23 miles of beaches, and an overall square mileage (36) nearly four times that of Venice. Plus, the average water temperature is 80 degrees, and it's much easier to get to than Italy. Find a riverfront option and cruise the city's endless waterways, or rent a yacht or gondola (they both come with a captain), head out to the ocean for a care-free tour, and return to an incredible sunset blooming over the city skyline.
10. Long Beach, California
Long Beach, California, will see Lake Tahoe's average of 274 sunny days a year and raise it—by a whopping 71 days. That's right, Long Beach enjoys an average of 345 days of sunshine per year. There are multiple yachting and boating rental options out on the waterfront, many of which score high in both affordability and fun. Whale watching is also an incredible, year-round menu item, as 15,000 Pacific Gray Whales migrate through Long Beach on their way to the Gulf of Mexico every year. Boaters can dock next to Shoreline Village and check out retail shopping, restaurants, bars, live music, arcade games, and beachside strolls. Long Beach is also just an hour's drive from our #4 spot, Catalina Island, so you can cross off two boating bucket list items in one long weekend.