10 Best Book-Themed Bars for Literary Nerds
Unless you're drinking alone, books typically don't belong in bars. But these bars are a different story (Stories? Books? You get it). These literary-inspired bars across the country infuse the art of the written word into everything from their cocktail menus to their decor to their extensive libraries. Slip on your reading glasses, grab a cozy drink and feel at home at one of these 10 bars for bookworms.
This newly opened, Victorian-style bar may be making headlines for being the "longest bar" in New York City, but we're far more interested in its Oscar Wilde theme and spectacular vintage decor. A statue of the Irish playwright stands next to the bar, primed to order a drink, and authentic memorabilia graces every inch of the establishment, including 26 antique clocks all set to 1:50—the time of Wilde's death. The cocktails also have cheeky names, like the 50 Shades of Dorian Gray (gin, cherry liqueur, Chinese five spice, citrus) and the Writer's Block Cocktail (cucumber vodka, grape liqueur, lemon, seltzer).
This elegant bar tucked in the Rittenhouse Hotel in Center City displays its collection of books throughout the bar. You are free to pick up and browse a book, but the literary references on their cocktail menu are what true book lovers will enjoy. If you're a Sherlock Holmes fan, order the Professor Moriarty (Cognac, Bénédictine, cider, bitters), or try the Moneta's Elixir mocktail (rosemary, grapefruit, lemon, lime) named after the Roman goddess featured in John Keats' poem, "The Fall of Hyperion: A Dream."
A no-frills, extremely narrow Irish pub on NYC's Upper West Side, The Dead Poet serves a long list of cocktails themed to both classic works of literature and famous authors. Some fictional favorites include the Huckleberry Finn (gin, huckleberry preserves, ginger beer) and the Don Quixote (mezcal, ginger beer, lime), while author-inspired cocktails include the J.D. Salinger (a rye Old Fashioned … geddit?) and the Tennessee Williams (spiked sweet tea in a Mason jar). And, of course, Ernest Hemingway gets his own classic Hemingway Daiquiri.
Prepare to go down the rabbit hole at this trippy, over-the-top Alice in Wonderland-themed bar. Beyond the entirely non-descript entrance in a strip mall lies absolutely wild decor: gigantic cheese pieces, playing card soldiers, tilted mirrors, melting clocks, Mad Hatter hats, and chairs that are uniquely designed around different Wonderland motifs, from Tweedle Dee and Tweedle Dum to the Cheshire Cat to stacks of teacups. The stars of the whimsical cocktail list are the shooters, like the Queen of Hearts (whiskey, Apple Pucker, cranberry), which come in potion bottles with tags reading, "Drink Me."
The literary allusions are subtle in this intimate Brooklyn bar, but they're definitely there for eagle-eyed book nerds. While not stocked with kitschy library decorations, Wolf & Deer's cocktail list is written on a few pages tucked inside a novel and includes drinks such as The Velveteen Rabbit (genever, blueberry, lavender, egg whites), the Giving Tree (whiskey, elderflower, cucumber, mint, ginger beer) and the flaming Robinson Crusoe (three rums, orgeat, raspberry, ginger, lime). Even the food nods to different written works, like the Walrus and the Carpenter fried oysters.
A speakeasy with Southern charm, the Peter Kern Library bar inside The Oliver Hotel is the ultimate cozy library experience. The small space is surrounded by bookcases and features a roaring fireplace when the nights get chilly. If you can manage to get in (there's usually a line), order cocktails named for classic characters, like the Holly Golightly (strawberry- and raspberry-infused vodka, lavender, Prosecco) or the Mr. Darcy (sparkling Shiraz, Luxardo, limoncello).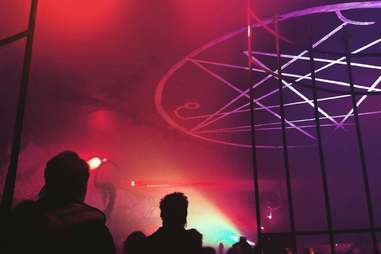 Horror-heads will delight in this macabre bar, inspired by writer H.P. Lovecraft. In addition to spooky decorations like skulls, pentagrams and images of Lovecraft's mind-melting Cthulhu wrapping around the bar, the cocktail menu features trippy drinks like The Unpleasant Dreams, made with absinthe and black raspberry liqueur. Don't expect a bunch of somber imbibers; the Lovecraft Bar is a bumpin' spot, spinning everything from '80s synth to post-punk. When there isn't a dance party, the bar also hosts events like burlesque nights, ritual performance art and readings by local authors.
Not only does the Los Angeles Library Bar feature drinks inspired by classic literature, like the Tequila Mockingbird (tequila, blackberry pink-peppercorn shrub, serrano) and This Side of Paradise (pineapple rum, passion fruit, lime), but they also embrace modern works. The bar gained notoriety for its inventive Game of Thrones cocktail list, which they served throughout the most recent season. The star of that list was definitely the Mother of Dragons, made with vodka, dragon fruit purée, coconut and lime, and topped with a piece of red fruit that resembled the bloody horse heart Daenerys had to eat in the first Game of Thrones book.
This swanky San Francisco bar names all of their cocktails after literary characters and thematically matches the ingredients with their characteristics. For example, the Curious George incorporates banana, while the Atticus Finch uses Southern bourbon. The space is also surrounded by their "chromatically classified" book collection, which is a fancy way of saying it's color-coded and downright Instagrammable.
The Library Hotel's bar isn't the only book-themed aspect of the venue—the entire hotel follows suit. The hotel features over 6,000 books, a Writer's Den, Poetry Garden, Reading Room and an extremely complex hotel room scheme modeled after the Dewey Decimal System. If you get lost trying to remember if your room is in the Philosophy or Religion section, just settle into the penthouse Bookmarks Lounge. Enjoy literary cocktails like the Dante's Inferno (mezcal, blood orange, Aperol) or the Sleepy Hollow (chai tea-infused brandy, cranberry, pumpkin-spiced agave nectar) while taking in sweeping views of the city.