6 Bookstore Bars Where You Can Drink and Feel Smart
It's always fun to get lost in the shelves of a bookstore, especially when you come across a gem. What's even better? A bookstore with a bar nestled inside. These six spots across the United States features excellent literature selections, fun weekly events, and bars that serve everything from classic cocktails to local beers. Head inside, order a libation and curl up with a book to feel smart while you drink.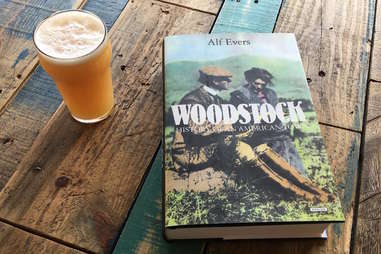 This recently-opened bookstore bar is located on the oldest intersection in America—dubbed The Four Corners by Kingston locals, the buildings on all four street corners were built before the Revolutionary War. Besides a dose of history and a well-curated selection of literature, Rough Draft offers plenty of wines by the glass and local beers to quench your thirst. Look out for fun events like Nerd Jeopardy and the Geeks Who Drink Weekly Pub Quiz.
Located in Denver's Tennyson Street arts district, this bookstore for wine lovers has been serving people who are thirsty for vino and knowledge since 2015. Recurring events like a local author happy hour and literary game night keep people coming back weekly to indulge in BookBar's cafe fare. Think charcuterie boards and crostini with a wide selection of wines, local beers and a rotating selection of wine cocktails.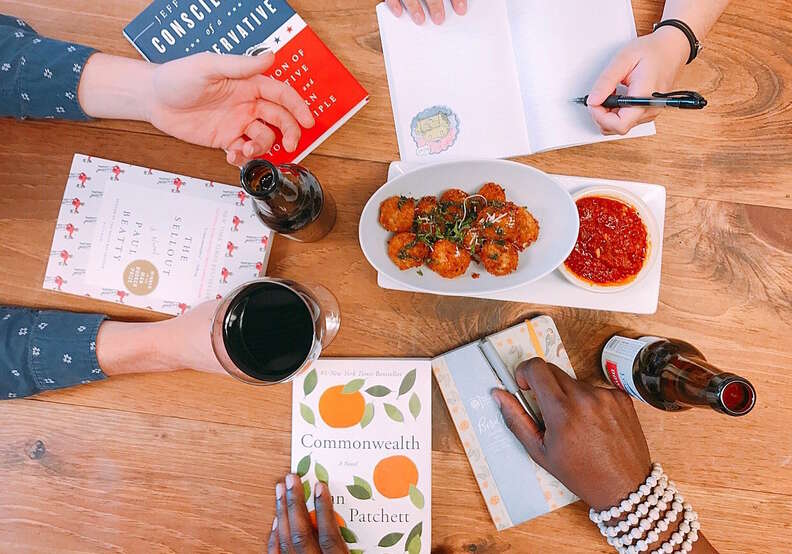 If you're into author readings, book clubs and workshops like calligraphy, stop by Kramerbooks & Afterwords for a little of all three. Of course, there's booze to be had as well, and the cafe section of this D.C. retailer has plenty of beer, wine and cocktails to quench your thirst. Go for a Dark & Stormy with some homemade ginger beer, or opt for a signature like Fahrenheit 1517, made with blanco tequila, chile liqueur, mango and jalapeño.
This beautiful bookstore is located on Boston's shop-lined Newbury Street, so it's the perfect place to take a load off after ducking in and out of stores all morning. They offer all kinds of fun events, from story slams, to movie screenings to all-you-can-eat breakfast cereal buffets. Their cafe menu is one of the largest we've seen—the wide selection of burgers, bowls and salads has something to satisfy every palate. There's wine and beer as well, along with Mimosas if you could go for some OJ with your bubbly.
Page & Palette has been serving Fairhope since 1968 and cares about giving back to the local community. Live music and book signings are always on the roster, along with intimate author conversations. Not only do they have a cafe that serves coffee, ice cream and pastries, but on-site bar The Book Cellar slings cocktails, beer and wine seven days a week. Stop in for a warming Apple Buttered Rum or refreshing Sea Breeze.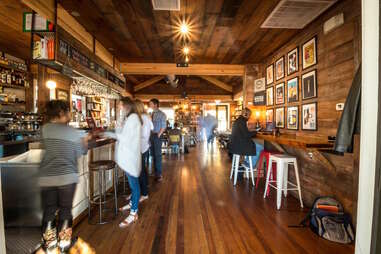 This bookstore wants people to have a drink, open up and share ideas with one another, and they have plenty of events to help patrons get to know their neighbors. Think backyard shows, DJ sets, wine tastings, movie screenings and book presentations, just to name a few. The Wild Detectives serves breakfast tacos and healthy toasts, along with both signature and classic cocktails like the Vieux Carre. Better yet, if you buy or order a book, you get a drink for free.