Sip and Sightsee on the World's Best Boozy Rail Trails
Courtesy of Napa Valley Wine Train
Not too long ago, traveling by train was considered a time-consuming and cumbersome way to get from point A to point B. However, in recent years, train travel has seen a resurgence in popularity thanks to upgraded amenities, exciting destinations and thoughtful touches. Naturally, it didn't take long before some clever folks decided to add some alcohol to the mix for a truly winning combination. From spirit-specific themed routes to one-of-a-kind experiences, here are five of the best boozy rail trails around the globe.
Courtesy of My Old Kentucky Dinner Train
Few things in this world are as enjoyable as a fine bourbon, but to experience the cream of the crop, you should consider planning a pilgrimage to the spirit's famed birthplace. Farmers and frontiersmen were among the first settlers of Kentucky and are credited with inventing bourbon back in the 1700s. Today, the tradition of making America's official native spirit lives on. Learn about its rich history by hopping aboard My Old Kentucky Dinner Train's Bourbon Excursion. This 2.5-hour journey winds through the stunning Central Kentucky countryside and includes a gourmet four-course meal hosted by a master distiller, during which you'll sample enough of the stuff to last you through the rest of 2018. Plus, you'll head home with a souvenir rocks glass to add to your collection.
Courtesy of Herradura
When it comes to tequila, people tend to have strong opinions. They either love it, or they hate it. For anybody who falls into the former category, this is the train ride for you. Herradura, one of the world's most celebrated tequila brands, recently unveiled their brand new train, aptly dubbed the Tequila Herradura Express. The luxury locomotive departs from Guadalajara, Mexico, and traverses the rolling agave fields of Jalisco until reaching Casa Herradura, the authentic hacienda distillery where the company has been handcrafting their signature spirit for nearly 150 years. The 10.5-hour itinerary includes a traditional Mexican lunch with live entertainment, and the distillery offers three different tiered packages: Premium Car, Club Car and First Class Car. Children and teens are also welcome to join in on the fun (sans alcohol) making this a family vacation they'll never forget … even if you do.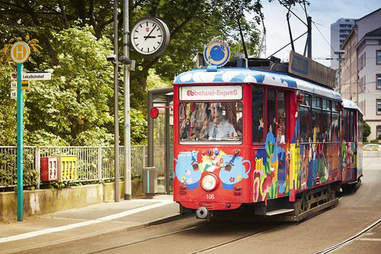 Courtesy of Ebbelwei-Express
There are plenty of ways to explore Frankfurt, Germany, but none are quite as charming as the Ebbelwei-Express. This tram snakes along the riverfront city, providing passengers a first-class view of Frankfurt's top attractions. If the name "Ebbelwei" sounds familiar, that's because it's what the locals call their famous apple wine, which tastes similar to an alcoholic cider. Once on board, enjoy a glass or two (available in a non-alcoholic version for the little ones) and some pretzels while the conductor points out the sites. The best part, aside from the budget-friendly ticket fare, is that guests can feel free to hop on and off as they please to explore the fascinating city at their own pace.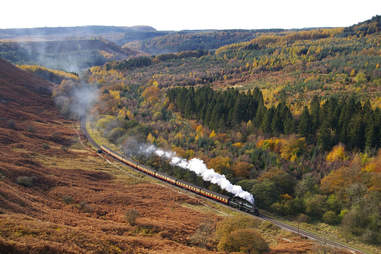 Courtesy of North Yorkshire Moors Railway
Everyone knows that Brits love their gin, so it should come as no surprise that they have a dedicated train route that pays homage to the classic spirit. Launched by the historic North Yorkshire Moors Railway, this limited-run excursion takes place aboard one of their heritage carriages, where guests are treated to a diverse array of delectable gins, including Martin Miller's, Monkey 47 and Slingsby's Rhubarb Gin. From mixed concoctions to pours served neat, each drink is paired with light bites of assorted meats, breads and cheeses. Listen closely as the gin master bounces from table to table explaining the botanicals and bouquets of each selection. In between tastings, passengers can savor scenic views of the North York Moors National Park as the train stops at picture-perfect stations along the way.
Courtesy of Napa Valley Wine Train
Serious oenophiles looking for a new take on the traditional winery tour will be intrigued by this over-the-top excursion. Curated by the team of Noble House Hotels and Resorts and touted as the Napa Valley Wine Train's most exclusive experience, the lavish Vista Dome train features floor-to-ceiling glass windows that offer world-class outlooks on California's famed wine region. The three-hour journey pulls out all the bells and whistles, from a welcome glass of sparkling wine to an elevated multi-course menu that's sure to satiate even the most discerning palates. And with just 56 seats, it's the perfect option for any wine-lover hoping for a more elite experience where crowds of thirsty tourists won't be a distraction. It comes with a hefty price tag, but trust us, it's worth every penny.