The Best Bars to Check Out in 23 Brooklyn Neighborhoods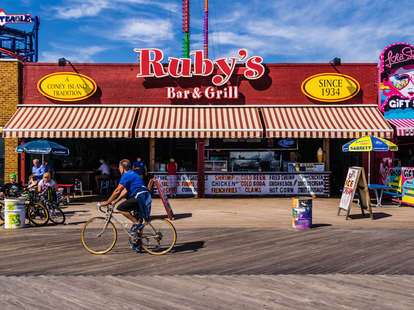 If Manhattan disappeared into the sea, Brooklyn would be the third most populous city in the United States. At 71 square miles, its sheer size dwarfs the island of Manhattan, and it boasts nearly fifty distinct neighborhoods, from the traditionally Polish Greenpoint in north Brooklyn, to the once Norwegian shores of Bay Ridge. With this guide, you'll never be without a place to get a good stiff drink. Here, the best bars to go to in 23 different Brooklyn neighborhoods.
Williamsburg
This raucous, ersatz metal bar embodies Williamsburg's hipster/grunge/forever-young ethos better than any other bar in the hood. They have a slammin' jukebox, the greatest Michelada in all of Brooklyn (served with a mini Miller High Life), and they serve their beers in giant goblets fit for a Norse god (or Lemmy Kilmister). Oh, and if you're a fan of the super-boozy coffee slushie thing at Skinny Dennis (same owners, same hood), they serve it here as well.
Greenpoint
Uber cozy, you can spend hours lingering over a drink at this off-the-beaten-path Greenpoint bar. There are killer cocktails like The Countdown (tequila, sweet vermouth, yuzu), Boilermaker deals, a dense backbar, oysters, a fireplace (!) and intimate live shows (or DJs). It's everything you could ever want out of a neighborhood bar.
Bushwick
Keith Kenji's The Word, a variation on the Last Word made with jalapeno-infused tequila and Laphroaig scotch, is piquant, campfire-rific and refreshingly chuggable year round. After you drink two or three, there are beer and shot combos galore, a dangerously well-curated selection of craft spirits, and the best patty melt in the known world. In the summer, they also have the most epic backyard in the entire borough—and frozen Negronis.
Fort Greene
This not-so-secret speakeasy behind Walter Foods in Fort Greene features a potent mix of ultra-refined cocktails (try the Daydream made with white rum, nigori sake, green tea and coconut) and fresh takes on traditional Japanese izakaya fare. Their exquisite selection of sake, shochu and Japanese whisky make this a spot worth returning to time and time again.
DUMBO
This no-frills bar in DUMBO is one of the few places that has managed to retain the feeling of the neighborhood as it once was: a home for artists and general eccentrics. With a welcoming mix of locals, hospitable bartenders and a straightforward, no-bullsh*t approach to drinks, this bar is the only place you should be imbibing in this neighborhood.
Cobble Hill
Whether you're in the mood for an elegantly crafted cocktail (try their take on the Boulevardier), a perfectly poured beer or a bite to eat (it's all about the burger and the butterscotch pudding), the Long Island Bar is the place to go. It's like a '50s dinner interpreted through the lense of an art house auteur.
Prospect Heights
This bar is so laid back that you feel like you're on a remote Caribbean island rather than Washington Ave. Vibrantly hued, airy and light, Bearded Lady is the antithesis to the speakeasies of Manhattan. With creative, tiki-esque cocktails, epically delicious nachos and lounge-worthy tunes playing over the speakers, this watering hole is hard to leave.
Brooklyn Heights
This Brooklyn Heights stalwart mixes the coziness of an English pub with the fare of a French bistro and the decadence of the best cocktail lounges. Whether you're there to read the Sunday paper with a Bloody Mary or sip on Martinis at happy hour, this is the bar for you.
Boerum Hill
There are life-changing drinks at this bar—not to mention a truly spectacular shellfish platter. Approachable and inviting, with impeccable decor, this bar an absolute must-try Brooklyn destination. It's also one of the most Instagram-friendly bars in the borough.
Carroll Gardens
This timeless Brooklyn haunt has only been open since 2009, but it feels like it's been there for 100 years. Prime Meats is the type of establishment that you go for a quick drink and end up there for three hours. Whatever you do, don't leave without eating their burger—get it topped with Maytag blue cheese.
Gowanus
This dark, moody spot is the bar of choice for local bartenders. Between the Clover Club alums who work behind the bar, a slew of damn good beers on tap, and a dense selection of spirits on the backbar, you're guaranteed a good time at this underrated Gowanus gem.
Red Hook
It's absolutely impossible to have a bad time at Sunny's. It doesn't matter if there's a hootenanny in the back room or if it's warm enough to enjoy the patio, this bar has an unparalleled warmth and an incredible cast of local characters. Step through the door and you'll feel like you've timewarped to another era and happened upon the best house party in town.
Bedford–Stuyvesant
Like Cheers for hip Brooklynites, this ultra-cozy Bed Stuy bar has a great selection of brews, seasoned bartenders slinging quality drinks, and a standout selection of tunes on their nightly playlists. And did we mention there's cake? Grab a slice of chocolate to enjoy with your Manhattan (or milk, if you prefer, they'll give it to you). And when it gets super frosty outside there's a fireplace to warm your mitts.
Clinton Hill
From the owners of Manhattan cocktail mecca Attaboy, this Brooklyn spot is the best and baddest, most delectably wonderful cocktail bar to hit the borough in years. Their cocktail menu manages to be at once approachable, fun and wildly inventive. Be sure to get the Penichillin', owner Sam Ross's frosty reimagining of his own original creation, the Penicillin.
Park Slope
At Blueprint, you'll find inventive, meticulously crafted cocktails that taste as good as they sound—try the Minotauro, a clarified milk punch with chai-spiced-infused cachaça, vanilla-infused Caribbean rum, fresh citrus and palm sugar. Inside, the bar has a dark but welcoming atmosphere and delicious bar snacks (think cheese plates and charcuterie rather than nachos and pretzels). If that doesn't win you over, there also happens to be a lovely outdoor patio.
Crown Heights
With an ever-evolving cocktail menu that features exotic spirits and tropical-inspired flavors, a neon-drenched interior, and an impressive roster of DJs, King Tai is the place to be in Crown Heights. There's nowhere else in the neighborhood where you're guaranteed to shake your ass harder—or more joyously—than here. Afterwards, take your sweaty, blissed-out self around the corner to Chris, where you'll find some seriously good Jamaican food to satisfy that 4 a.m. hunger.
Ditmas Park
If you like live music (especially rock n' roll), this Cortelyou Road hideaway is a must-visit venue. Between the classic guitars that adorn the walls and the nightly bands that play in the front room, this bar wears its love of music on its proverbial sleeve. With a giant outdoor courtyard, great brews and cocktails, there's a little something for everyone.
Kensington
The best way to describe this quaint Kensington cocktail bar is no-frills, no-fuss, and no-bullsh*t. Come for the delicious cocktails, hospitable and well-versed staff, chill vibes and friendly locals. If you moved to the neighborhood, you'd be drinking here everyday too.
Prospect-Lefferts Garden
The first time we stumbled into Erv's, we were instantly stoked about our accidental discovery. Inside, it's full of boisterous locals with excellent jams playing on the stereo, and each drink is better than the last. It's always hard to leave, and when you do, you'll be frustrated that you don't live closer.
Midwood
Not to be confused with the iconic gay bar in Crown Heights, the other, more remote Starlite Lounge is the perfect dive bar to visit if you happen to be looking for a watering hole in Midwood. This isn't a place to drink cocktails (or even ask for them), but if you want cheap liquor and beer, and a game of darts or pool, look no further.
Sunset Park
This old-timey Irish bar keeps things real. A night at this locals-only haunt is guaranteed to be a strange, drunken adventure. Just don't get yourself into a brawl by spouting off at the mouth—they don't call 'em the fightin' Irish for nothing.
Bay Ridge
Opened in 2011, this Bay Ridge wine bar is a neighborhood gem. Owner John Avelluto's menu features some of the most eclectic, diverse and delicious biodynamic wines from around the world (seriously, this list is on par with some of the best in Manhattan). There's even a house red that's made in collaboration with Red Hook Winery.
Coney Island
You can't go to the Coney Island Boardwalk without stopping for a drink at Ruby's. This beachside bar is as much of a tradition as Nathan's hotdogs or the Cyclone rollercoaster. Snag a table on the boardwalk or belly up to the bar and order a pitcher of beer (a selection from the nearby Coney Island Brewing Co. would be appropriate) or a frozen drink, and take in some of the best people watching known to Brooklyn.