Everything is in order for your Mardi Gras trip to New Orleans—the hotel is booked, your drinking journey is mapped and you're fully prepared for whatever the festival may bring. Now, the only thing left to battle is the epic hangover you're sure to experience the morning after the big day's festivities. But not to worry because New Orleans knows how to serve a proper hair of the dog cocktail. Here, seven brunch cocktails to drink the day after Mardi Gras to help cure your hangover.
Frozen Irish Coffee
Erin Rose
The Frozen Irish Coffee from Erin Rose is iconic—it's often the first thing we drink after landing in the Big Easy. It's sweet, super easy to get down and comes in a cool souvenir cup you can take on the road. Pair it with a "Dark & Stormy" Pork Belly Po' Boy from Killer PoBoys in the back of the bar, and feel your hangover melt away.
Millennium Falco
Compère Lapin
Tucked inside the lovely Old No. 77 Hotel & Chandlery, Compère Lapin is a great place to visit, whether you're stopping in for happy hour or a full meal. The Millenium Falco—made with cold brew, Branca Menta, Averna, Galliano, pink peppercorn and bitter lemon—is sure to cure what ails you. Order a plate of goat bolognese cavatelli for the full hangover-blasting effect.
Coke & Falco
Toups South
Toups South serves the kind of inventive Southern cuisine that makes us want to book a flight to NOLA ASAP—think boudin' burritos and sourdough biscuits with crab fat butter. If you're sauntering in after a long night out, the Coke & Falco will set you right. A mix of Fernet and house-made cola, the amaro's herbs and the bubbly soda will help settle a teetering stomach.
Maypop Java Freeze
Maypop
This Southeast-Asian inspired restaurant has a knack for making top-notch brunch cocktails, so you can count on them for your hair of the dog needs. When all you can think about is your pounding headache, ease into the Maypop Java Freeze—made with a cooling mix of frozen Mt. Gay silver and Eclipse rums, passion fruit, coffee and whipped cream. Pair that with their mouthwatering dim sum, and your hangover doesn't stand a chance.
Deluxe Bloody Mary
Apolline
Modern Louisiana restaurant Apolline uses fresh herbs and peppers from their garden to infuse food and cocktails with local flavor. While they offer a bottomless Mimosa and Bloody Mary special during brunch, we're much more interested in the Deluxe Bloody Mary: a mix of vodka and house-made Bloody Mary mix that's garnished with bacon biscuits, boiled shrimp, spicy beans, okra, olives, celery, and lemon and lime wedges.
C&T Michelada
Cane & Table
Rum-based cocktails are the specialty at this Old Havana-inspired eatery. But if the sugarcane spirit sounds a little too intense for morning-after imbibing, we'd spring for Cane & Table's house Michelada. If you're really feeling fiery, $45 will you get you an entrée and unlimited glasses of the cocktail for two hours.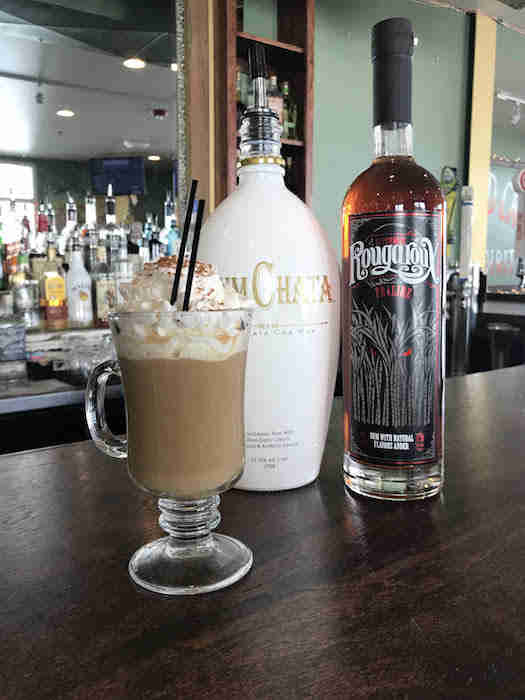 Hot Roch
Spotted Cat Food & Spirits
This cozy all-day breakfast eatery features live music often and cares about their cocktails (aka "cattails") as much as the food. If you can't decide between something spicy, sweet or caffeinated, their Hot Roch is the perfect mix of all three. Made with Rougaroux 13 Pennies Praline Rum, RumChata, coffee and cayenne pepper, it'll make you forget that last night even happened.