The Best Canned Wines to Drink This Fall
Courtesy of West Side Wine Co.
Brilliant, booze-soaked minds may have recently brought us portable wine innovations like Capri Sun-style rosé pouches and 40-ounce wine bottles, but canned wine is still our go-to when it comes to taking vino on the go. If you're looking for the perfect beverage to pack for an autumnal camping trip or take trick-or-treating, or want to contribute something a little off the beaten path to your Friendsgiving, turn to these perfect-for-fall canned wines.
Underwood ($28 for a 4-pack)
This widely available Oregon-based brand's Pinot Noir and Bubbles are both better than most budget bottles you'll find. The Pinot is great—easy-drinking with notes of bright red berries, an almost apple-y acidity and a delightfully dry finish. But the Bubbles are where you'll find some serious value. As toasty as Champagne with a big, bold and fruity flavor, it's much too good to cover up with any fruit juices or spirits in a cocktail. Drink it alone or, if you must, use it to make an al fresco
Champagne Cocktail
.
Alloy ($30 for 4-pack)
Wine. Tall boys. We'll let that sink in for a second. Holding nearly 17 ounces of wine (a standard pour of wine is around six ounces), these cans from California's Central Coast are tailgating musts. The Chardonnay smells like warm brioche. On the palate, it packs a punch of lemony acidity and earthy thyme—perfect with roast chicken. The Pinot Noir is bright and intense with a smoky finish—great for sipping around the campfire—but it is quite intense, so maybe consider splitting it. The Rosé is a red wine-drinker's rosé with savory notes of sage and juicy fruit.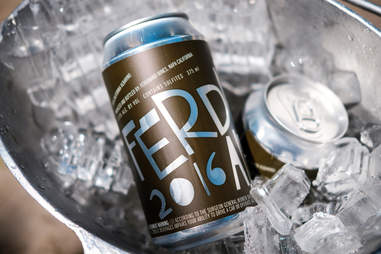 Courtesy of Ferdinand
Here's the canned wine for wine geeks. A zesty, dry, tart and tasty expression of Albariño, Ferdinand's 2016 release (yes, this is a vintage canned wine) is an evolved can of wine—a far cry from its overly sweet and bland forefathers. This perky sipper from Lodi, California, is perfect for gulping down as you stroll through autumn leaves or reach for apples to pick. If you are someone who thinks you're
too good for canned wine
, try this one. It just might change your mind.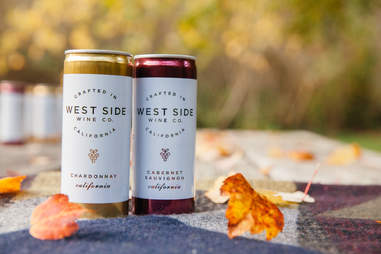 Courtesy of West Coast Wine Co.
These cans may look small compared to some of the others, but each one contains a glass and a half of wine. The Cabernet, which is best enjoyed slightly chilled, is tart, packed with bright red berry flavors and perfect
tailgate fodder
. After a couple of cans and a couple of brats, it won't even matter who wins.
Courtesy of House Wine
Sold by the box, bottle or can, House Wine is designed to be just that—your go-to house wine. The canned Red Blend (a mix of Chilean Cabernet, Merlot and Syrah) is brightly acidic with big, bold, mouth-drying tannins to match. For a canned wine, it has some surprisingly nuanced notes of oak and earth. The canned Chardonnay is for buttery oak lovers only—but if that describes you, then you're in for an oaky, slightly smoky, buttered popcorn treat.
The Drop ($20 for 4-pack)
Though The Drop takes its name from a surfing term, its wines are equally at home in the chilly woods as they are on the beach. The Cali White, a zippy, mildly effervescent, tropical-tinged sipper, is not sweet in the least (lest you think all canned wine is like soda). Its tight acidity would pair well with fall dishes like roasted squash or anything apple.
Mancan ($25 for 4-pack)
Made with California grapes, both the Red Wine Blend and the White Wine Blend are perfect for fall drinking. The white, which boasts some fizz, has some pleasant notes of grapefruit, and finishes dry and mild. It would be great for autumnal day drinking or even a good base for a seasonally appropriate
Bellini
—just pour a little apple cider right into the can. The red is straight up dessert, filled with chocolate and raspberry. If you're constantly reaching for Shiraz or Zinfandel, crack open one of these cans and cozy up a little closer to the campfire.