Sponsored By
7 Classic Bars You Need to Visit Before You Die
Sponsored By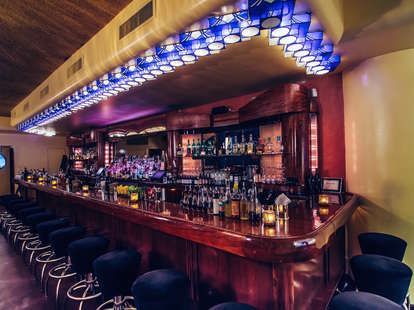 Courtesy of Flatiron Lounge
New cocktail lounges have a lot to contend with—remodeling, menu creation, staff training, and surly booze writers (guilty) are just a few of the pitfalls that await even the most optimistic would-be bar industry titan. But time is a far crueler mistress than novelty. Getting going might be tough, but staying going is an absolute miracle. We at Supercall are always on the lookout for great new places, but we also like to keep a place warm for the bars that have survived, improved, and only gotten more gorgeous with age.
The young bucks might get fancy headlines and awards, but the old faithfuls are precisely that: old(ish) and faithful. When the new car smell is off that trendy place that only serves cocktails made with activated charcoal, when the fresh coat of distressed paint on that fake speakeasy has started to peel, it's nice to know that these stalwarts will be there to commiserate with you over an incomparably well-made cocktail. And best of all, these places are not only uniformly excellent—they're also delightfully over themselves; you'll get no attitude within their walls.
New Orleans
This stylish watering hole opened in 1979 as an addition to the historic French Quarter eatery. It has since become a legendary spot in its own right, thanks in large part to the considerable cocktail-making skills of head bartender Chris Hannah (in May 2017, Hannah and his team nabbed a James Beard Foundation award for Outstanding Bar Program). The vibe at Arnaud's is pure Belle Époque, with the bartenders and wait staff sporting white tuxedo jackets and bowties. But while the decor, service, and drinks are impeccable, the place is not snooty. Everyone's welcome. Make sure to try the cocktail for which the bar is named. And of course you'll want to sample a Sazerac, too. This is New Orleans, after all.
Portland, OR
Opened in 2007 just off the lobby inside the Ace Hotel in Portland, this bustling gastropub has set a high standard for drinking establishments in the Pacific Northwest. Its sustained hotness is in no small part due to the strength of award-winning mixologist Jeffrey Morgenthaler's innovations with barrel-aged cocktails. Indeed, the barrel-aged Negroni served at Clyde Common is the stuff of libational legend. The joint is always hopping, makes for interesting people-watching (loaded with "keep Portland weird types" along with working stiffs, and the occasional celeb, both local and national) and has truffle popcorn. I'm just going to say that one more time. Truffle. Popcorn.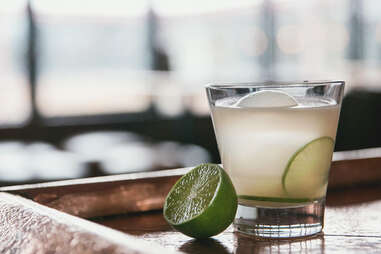 Aspen, CO
For tourists and locals alike, Jimmy Yeager's eponymous restaurant and bar has been one of the must-eat and must-drink places in Aspen for the past 20 years. Yeager is renowned for his expertise on agave spirits, yet his ace bar staff will make you a world-class cocktail out of any spirit under the sun. The vibe is somewhere between spiffy and ski-town, with live music, dancing and a spacious patio for warm-weather revelry. It's also home to Mini Jimmy's, a closet-sized speakeasy that just has room for three patrons and a bartender.
Los Angeles
This downtown LA bar boasts one of the largest collections of rare and high-end brown liquor in the country. Opened in 2007, and modeled after an old hunting lodge, Seven Grand helped usher in a new golden age of cocktails in Southern California. It's dimly lit and muscular, evocative of the places frequented by tough guys in Dashiell Hammett novels. There are pool tables, of course. And a small speakeasy in the back called Jackalope, with its own insane array of Scotch, bourbons and ryes, and Japanese whiskies. Best of all, if you join their "Whiskey Society" club (free), you're invited to their once-a-month whiskey tastings.
San Francisco
There's an argument to be made that the tequila craze that swept the U.S. over the last 20 years all started out of Tommy's in San Francisco, an unassuming little place with a massive reputation. Tommy's has been doing it better than anyone since the early 1970s. "The legend has it that they have giant warehouses somewhere filled with rare and hard to find tequilas," says Erick Castro, director of the documentary Bartender at Large. "Seeing how freely they pour out-of-production tequilas and mezcals, I can't help but think the the rumors are true." Besides the hundreds of bottles of tequila, Tommy's also serves damn good Mexican food. Washed down with the best margaritas in America.
Boston
The first part of your Drink adventure is just finding the place, practically hiding in a nondescript warehouse in Boston's now-burgeoning Fort Point neighborhood. (Pro tip: Navigate to Sportello's, the excellent italian eatery above Drink.) The second part is deciding what you're in the mood to drink, without a net—because Drink has no cocktail menu at all. Instead, every drink they serve starts and ends with you. Tell them a primary spirit, a dominant characteristic, or even just how you felt about the ending of Stranger Things, and their team of crack psychologist/mixologists will go to work building one of their off-the beaten track classics, or something entirely new. Menu options like steak tartare elevate the food above typical bar fare. Bonus perk for thirsty travelers—it's just half a mile from South Station.
New York, NY
If you want to find a rock solid bar in New York, it's hard to go wrong with a Julie Reiner joint. She's been working in the NYC bar scene since the craft cocktail revival was a pup, and has opened many of its greats, including soon-to-be classics Clover Club and Leyenda. When she opened the Flatiron Lounge in 2003 it was one of the first NYC cocktail bars opened by a bartender (as opposed to a businessperson looking to hire bartenders). Its impeccable attention to detail shows through in every moment you spend there. "Flatiron Lounge was one of the original high-volume cocktail bars in the city," says Charles.