15 Cocktail Bars in America to Visit Before You Die
Traveling is one of our favorite pastimes—next to drinking fabulous cocktails, of course. Luckily, our traveling and drinking habits often collide. Sometimes we land at historic Southern bars that have been around for nearly two centuries, while other times we could find a ridiculously good cocktail at a swanky joint in the Midwest. Since America is home to hundreds of lively cocktail bars, it can be difficult to pick the best place to stop when you're in a new city. To make things easier, here are 15 can't-miss bars in America to add to your boozy bucket list.
Though this Boston bar has some downright delightful food—hello, asparagus and rhubarb crostini—the real draw is the bar's insanely good cocktail program run by Ezra Star, who is up for Best American Bartender of the Year at this year's Tales of the Cocktail Spirited Awards (Drink itself is up for Best High Volume Cocktail Bar). Instead of choosing from a menu, guests either request a favorite or give Star and her team of talented barkeeps a general idea of what they're craving (sweet, sour, bitter) and let them whip up something on the spot. Whether you wind up with a classic Aviation or Manhattan or a cocktail you've never heard of before, you're in good hands at Drink.
Since opening in 2013, The Dead Rabbit Grocery and Grog has been a must-visit for cocktail lovers. The three-story watering hole, complete with three bars and a small shop in the back, was dreamt up by two Irishmen, Jack McGarry and Sean Muldoon, and has garnered tons of acclaim, including winning multiple Spirited Awards at Tales of the Cocktail. The bar is styled like an Irish pub, and it puts a hard and fast focus on drinks. In addition to an impressive selection of Irish whiskies, the genius bar team serves up the bar's famed Irish Coffee as well as 30 signature concoctions—including the Show-Off (blanche Armagnac, macadamia, vanilla, green apple, kiwi, lemon, gentiane, Champagne). Plus, it's one of the best places in the city to get a Scotch egg.
Though there are so many bars to visit in Manhattan, it's worth making the trip to Long Island City in Queens to check out this moody cocktail bar. Owners Richard Boccato, Ian Present and the late, great Sasha Petraske put together an incredible menu of beautifully executed drinks when they opened the spot eight years ago. The bar is also known for its ice program, run out of the adjoining Hundredweight Ice—which explains how the bar achieves such beautiful crystal clear cubes. If you're not sure what you want, suggest a base spirit and the team of crafty bartenders will whip up a delightful cocktail designed just for you. But you can also choose from a menu of fantastic drinks like the The Game of Death (tequila, Amaro Meletti, fresh juices of grapefruit, lime, cayenne pepper, smoked salt, soda water).
The nation's capital is full of fancy steakhouses and cocktail bars, often filled with hobnobbing politicians. And while this watering hole is also on the swanky side, its menu is so impressive, you won't even notice the clientele. Go for a three- or five-course tasting menu, which pairs a brilliant cocktail with an equally inventive dish, like the Into Great Silence (green Chartreuse, jus vert, fino sherry, orgeat, lemon, grapefruit) paired with spring peas, jambon and pea tendrils.
Milk Room, Chicago, IL
Chicago is home to a number of noteworthy cocktail bars, from The Aviary to Three Dots and a Dash to Lost Lake, but if you're only going to hit one of them on your visit, make it the Milk Room. The bar boasts a selection of rare ingredients, from teas to spirits, which appear in its wonderfully balanced cocktails. Though expensive—a ticket to for one of the bar's eight seats costs $50—the entry price goes towards your bill at the end of the night. Considering cocktailian extraordinaire Paul McGee (who opened Three Dots and a Dash) is the beverage director, it's easy to excuse the high prices, since you know you'll be getting a great drink, like the Toronto (Pikesville Rye, demerara, 1957 Fernet Branca), which costs $28.
Smuggler's Cove, San Francisco, CA
Martin Cate is one of the greatest living tiki masters, so it's a no-brainer that his San Francisco-based tropical cocktail haven should be on your bucket list. Walking into the bar is like entering a pirate's wonderland: The walls are decorated with a variety of of flotsam and every kind of beachy knick-knack imaginable. The cocktail menu is equally eclectic and exciting, featuring a variety of tiki classics—from Rum Flips to Grog—as well as original recipes like the Center of the Galaxy (rum, fresh lime, honey, raspberry liqueur, sugar, cinnamon). If you can't make it to the brick and mortar location, dive into tiki history and whip up a few drinks of your own with the help of Cate's book, Smuggler's Cove: Exotic Cocktails, Rum, and the Cult of Tiki.
Jean Lafitte's Old Absinthe House, New Orleans, LA
There's no shortage of bars in New Orleans. And the city's drinking culture is like none other in the country. If you find yourself wobbling down Bourbon Street on your next visit, be sure to pop into the Old Absinthe House, the nearly two-century-old haunt on the corner of Bourbon and Bienville. The legendary bar was said to have been the site of a secret meeting between General Andrew Jackson and privateer Jean Lafitte before the Battle of New Orleans. True to its name, the bar serves up a mean and frosty Absinthe Frappé.
While this seating room-only bar doesn't get as much attention as fancy cocktail bars on the east and west coasts, The Patterson House deserves just as much recognition for its impressive menu of perfectly crafted drinks. A team of talented bartenders churn out impeccably balanced classics and signature elixirs, which are regularly served with an additional sidecar of excess drink. The sophisticated bar, which frowns on the use of cellphones, helped bring craft cocktail culture to Music City and continues to be one of the city's gems. It's the perfect place to go when you need an alternative to the standard honky tonks and dives—sometimes you just can't take another blaring country ballad paired with a Lone Star.
One of the most historic tiki bars still in existence, Tiki-Ti is a must-visit for rum lovers and tiki aficionados. The tropical Los Angeles drink hut has been around for more than 50 years and still includes an impressive and mind-boggling array of nearly 100 drinks, including classics like Mai Tais and Rum Swizzles. Ray Buhen, an original barman at Don the Beachcomber's, opened the spot in 1961, and now Buhen's son and grandson are at the helm. When you go, try to choose a time that's not too busy—the bar only has 12 barstools and a handful of tables. But don't worry: Though cozy, the bar has plenty of tropical charm.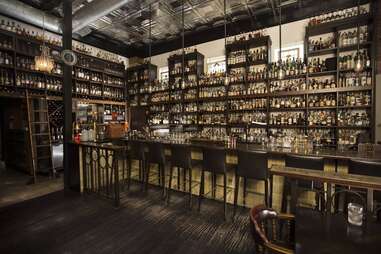 If you like options, Seattle's Canon will be right up your alley: The bar has a mind-boggling 3,500 labels to choose from, as well as an extensive cocktail list. Whiskey lovers will be especially pleased with the selection of bourbons, scotches and American whiskies, which are also available in spirits flights like the pricey Ghost of Pappy Past flight that comes in at $1,051 and includes tastes of Old Fitzgerald 8-year-olds from 1950 and 1951, plus a 7-year-old bottling from 1952. If you have more of an eye for cocktails, try one of their creative concoctions, like the Toucan Gin Fizz (gin, Froot Loop milk, orange blossom water, fresh lemon, egg white, mallow fire) or the Campfire in Georgia (mezcal, peach-habañero shrub, fresh orange juice, cinnamon french oak, bitters).
Portland's food and drink scene has plenty of standouts, but when it comes to cocktail bars, Clyde Common is the one you absolutely can't miss. The European-style tavern is adjacent to the Ace Hotel Downtown and features interesting eats like anchovy toast and lamb neck. The craft cocktail program is led by beverage director Jeffrey Morgenthaler, who's known for his attention to detail and tendency to resurrect '80s-era cocktails and make them worth drinking again—not to mention his three James Beard Award nominations. Choose from elixirs like the Broken Bike (Cynar, pinot gris, water, lemon oil) and the Sound + Vision (gin, Swedish Punsch, lime, orgeat). Downstairs can get very lively, so head upstairs for a more intimate night out if that's what you're craving. While you're there, be sure to pop into the Ace Hotel's basement bar Pepe le Moko, where you can try one of Morgenthaler's reinvented classics.
No trip to this Midwestern city is complete without making a stop at Port Fonda, the fun and funky Mexican restaurant owned by Patrick Ryan, a James Beard Foundation 2015 Semifinalist for Best Chef: Midwest. There's something for everyone between the bar's menu of drool-inducing tequila and mezcal cocktails, its flights of tequila and Margaritas, and a number of other agave-based spirits including sotol and bacanora. Pair chicharrones, pozole and carnitas with one of the zesty Margaritas—we've got our eye on the Pineapple Serrano (serrano-infused plata tequila, pineapple juice, lime, chile-infused salt)—or an agave-fied classic like a Tequila Gimlet (plata tequila, lavender, lime) or The Port Fonda Colada (Milagro reposado tequila, coconut cream, pineapple, lime, toasted coconut, brown sugar and a chile-salt rim).
Speakeasy-style bars may be a fad, but this aptly named Charleston bar is here to stay. The flapper-era watering hole has plenty of classics and reinvented favorites on the menu, from the house specialty (the Bacon Maple Old Fashioned) to a gin-spiked Bramble, as well as a number of signature drinks to pique your interest—the Cloister (London dry gin, yellow Chartreuse, grapefruit, bitters, lemon), for example, is a solid bet for sizzling summer days. You can pair your drinks with Southern-style food galore, whether you're in the mood for small bites like pimento cheese poppers and crispy popcorn sweetbreads, or something heartier like shrimp and grits with chorizo and kale. No matter what night you visit, you'll be able to enjoy regular live music, and you can even join in on the free swing or salsa dance lessons the bar hosts throughout the week.
Step into the chill and colorful atmosphere of Miami's Broken Shaker and you'll see why this bar, situated in the Freehand Hotel, won Best American Hotel Bar at Tales of the Cocktail in 2015. The bar prides itself on making its cocktails from fresh garden herbs, fruits and spices in a city that's more commonly known for mediocre Mojitos and syrupy frozen Daiquiris (though Miami's craft cocktail scene is growing). We recommend trying the Out For Blood (tequila, St. George Green Chili Vodka, red pepper, blood orange, pamplemousse, citrus, egg white) paired with one of the delightful savory bar snacks like the charred shawarma broccoli.
The next time you find yourself passing through the Lone Star state, make a pit stop in Austin and spend the night sipping on classics at Half Step. The bar is situated inside a renovated house, where you can sit in church pew-like booths and cool down with an icy cold Floradora (gin, lime, ginger, raspberry syrup). There's also plenty of seating outdoors, so you can sit under the stars with a Prescription Julep (Cognac, rye, mint, sugar) on balmy nights. Like the bar's motto says, "You earned it."