The Best Cocktails Bartenders Have Had in 2018 (So Far)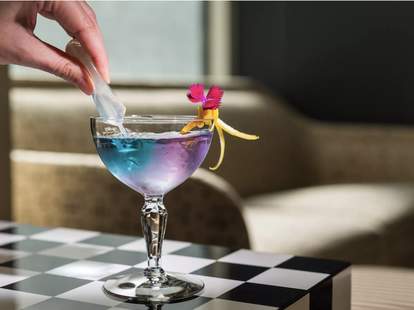 Courtesy of Barmini, Washington D.C.
Bartenders get to drink a lot of cocktails—it's one of the best perks of the job. If they're not tasting their own, they're trying their coworkers' creations or friends' libations at neighboring bars. So we asked bartenders for the inside scoop on where to find the best cocktails being made—right now. From a Rum Manhattan variation to a guava and Japanese gin Highball, these are the best cocktails top bartenders have had (so far) in 2018.
Chet Baker
"At the Varnish in Los Angeles I had the Chet Baker, made with rum, vermouth, a honey syrup and bitters. It's their twist on the classic stirred cocktail. The rum and honey pair very nicely with the complexity of the vermouth [that they use]. It's a very well balanced, almost lighter version of an Old Fashioned or Manhattan." — Jon Augustin, True Food Kitchen
Pandan Express
"The Pandan Express with scotch, aged cachaca, sherry, brown butter, pandan, orgeat and coconut water. It's easy drinking and involves a lot of lush flavors. It has pretty much every one of my favorite ingredients in one glass." — Gabriella Mlynarczyk, Accomplice and Fundamental DTLA, Los Angeles
Gopalito
Barmini, Washington D.C.
"A drink called the Gopalito with gin, amontillado sherry, lemon, honey, ginger, sudachi (a small Japanese citrus), and sesame. The drink is served simple—it's shaken and served straight up with a lemon twist. It was suggested to me by Sam, the bartender at Barmini in Washington D.C. I'd had an incredible experience dining next door at Minibar—complete with some incredible wines—and needed something to cut through and pick me up. My go-to for that is a Daiquiri so I asked about a variant that I spied on the menu. Sam beautifully suggested the Gopalito (which I butchered trying to pronounce). Not only was it the right balance of dryness, acidity and zip, it was complex and layered. Perfect after a rich (and incredible) meal." — Ryan Chetiyawardana, Super Lyan, Cub and Dandelyan, London
Guava
"Rosey, who works with us at Three Sheets, put it together. It's on the menu at Ikoyi, a West African inspired restaurant where we helped with the cocktail menu. It's so well balanced and easy to drink. Made with Nikka Gin, a guava cordial, citrus and soda water, the cocktail is perfect for the spring. It's also perfect next to their incredible—and incredibly spicy—food." — Max Venning, Bar Three and Three Sheets, London
Bamboo Tonic
"Best drink of 2018 has to be the Bamboo Tonic at Bar Goto. The drink is next level. First off, it is low-ABV—which is something that I'm really digging right now. It's an amalgamation of two classic drinks; the Bamboo (a classic low-ABV cocktail) and the Gin & Tonic. The result: a drink that is both complex and refreshing. It also pairs brilliantly with their kombu celery, which could be the best bar snack in all of New York—but that's another article."  — Devon Boyll, Saxon + Parole, New York City
Ghost Chili
Mace, New York City
"To me, Mace is a mix of great cocktails and great vibes. Nico de Soto always comes up with crazy inventive cocktails with new, interesting flavors. I particularly love their Ghost Chili cocktail (white cocoa fat-washed aquavit, passionfruit purée, coconut milk, ghost chili tincture, egg). It's creamy, fruity and spicy all at the same time. You can also add some sturgeon caviar to the top, which is an absolute must." —  Xavier Herit, NoMo SoHo, New York City
KC Loyal Tea
"Jill Cockson—the owner and bartender of Swordfish Tom's—has a cocktail that has a special place in my heart right now. It's elegant, easy to make but has a very complex pallet. Currently I have been on a serious Chartreuse kick and want it in everything. So it's no surprise that KC Loyal Tea is a cocktail I can't get enough of right now. It's equal parts Builder's gin, yellow Chartreuse and bergamot tea syrup, garnished with star anise. After a long shift it's nice to kick back and sip on this herbaceous, botanical forward, bright cocktail." — Kelsey E. Shelton, Parker at The Fontaine, Kansas City, Missouri
Trinidad Sour
Tonic, Santa Fe, New Mexico
"I recently visited Santa Fe and was eager to check out their cocktail bars. They have a pretty solid dive bar scene there—nestled between adobe style restaurants and shops. But we ended up at a bar called Tonic, which turned out to be our favorite spot of the trip. It was styled like a jazz bar in the 1920s. It teetered on being an actual speakeasy with the lack of signage and multiple doors to get through while still feeling intimate and welcoming. In short, Tonic was very striking. The cocktail list was strong and creative. It clearly utilized local and house made ingredients, such as things like a dandelion and herb-infused sotol. We decided to venture off of the cocktail list and ordered Trinidad Sours. As a bartender it's always fun to order a 'new classic' and see how others in the field recreate it. We were so pleasantly surprised when our bartender added egg white to the drink. The orgeat already offers a lot of body and depth to the cocktail, but with the added egg white, it really set it off. The cocktail was rich and creamy, but it didn't feel too heavy. It was the perfect spin on the drink and a really fun surprise to have an already beloved cocktail end up being even better than we anticipated." — Addie Hauber, Barley Swine, Austin, Texas
Greenseer
"So far, the best cocktail I've had is the Greenseer, made with eucalyptus infused tequila, mezcal, honeydew, spirulina, lime and habanero bitters. It's part of the Apotheke LA cocktail menu. I'm not usually a tequila or mezcal cocktail drinker. My go-to, if it's a cocktail, is whiskey or gin [based]. However, the ingredients were very intriguing. It's hard making a well balanced cocktail using a lot of different vegetal ingredients where the viscosity is not too thick. I hate drinking a cocktail and feeling like I'm having a meal or a smoothie (unless it's on purpose—e.g., a savory Bloody Mary or a blended drink). They did really well with this one." — Linda Linh, La Descarga, Los Angeles
Intermission
"The best cocktail I've had so far is the Intermission created by Derrick Henninger at Velveteen Rabbit. It consists of aged rum infused with dried orange peel, cinnamon and sarsaparilla root, Licor 43, Left Hand Nitro Milk Stout and yellow Chartreuse ice cream. Derrick always comes up with interesting cocktails and this one is particularly delicious." — Katie Cruz, Atomic Liquors, Las Vegas
Notorious P.I.G.
"It has WhistlePig 10 Year rye, barrel-aged maple syrup, honey, lemon juice and smoked salt. It was made by Adam Rains at the Flock and Fowl in Las Vegas. The sweetness and texture of the barrel-aged maple and the honey, combined with the spiciness of the WhistlePig 10 Year rye, makes this cocktail complex, yet easy to drink." — Ryan Woelfel, The Black Sheep, Las Vegas
Peaches
Bar Three, London
"There's a drink on the Bar Three menu called Peaches. I had it for the first time as a boomerang from the guys when we had just opened Horatio Street Social Club and it was so delicious I needed to go visit. According to Max, it's a team effort. I love Three Sheets. The drinks are the best in London, so Bar Three (their other bar) has naturally followed suit. There's a very particular style to the drinks these guys put out that resonates with me. It has helped me define my own bartending style and strike my own balance when making drinks for the Horatio Street Social Club menus. There's a lot of moving parts to Peaches, from a peach ferment, to a peach vinegar, to the soju. The drink is seamless and delicious. They manage to fold multitudes of flavor into their drinks while keeping it humble." — Jake O'Brien Murphy, Horatio Street Social Club, London
Tuxedo #2
"My favorite cocktail bar at the moment is the newly revamped Beekman Hotel bar. My must-have drink whenever I go there is the Tuxedo #2. This is a variation on a Gin Martini with Greenhook Ginsmiths, Dolin Dry Vermouth, maraschino and Regan's Orange Bitters. It's also mixed with a little bit of absinthe which gives a subtle licorice flavor that I enjoy a lot." — Shawn Chen, RedFarm and Decoy, New York City
Peel Me a Grape
"With Sipsmith gin, manzanilla sherry, St-Germain, a grape syrup and a basil oil-infused grape garnish, the drink is the perfect balance of strong, sweet, salty and umami. It's pleasantly unexpected and extremely satisfying." — Stacey Swenson, Dante at Genuine
Dirty Faces
"The Dirty Faces made with gin, beeswax Calvados, apricot and verjus. It was made for me by Jake O'Brien Murphy at the Horatio Street Social Club in London. The combination of the beeswax infused-Calvados, apricot and verjus compliment each other so well. Everything is brought together thanks to the botanicals in Ford's Gin. A simple sounding drink that has so many complexities. Top liquid from Jake!" — Noel Venning, Bar Three and Three Sheets, London