Graduating from college marks the end of an era spent in school and the beginning of life in the "real world"—but it also means it's time to graduate from Jägerbombs, Fireball shots and birthday cake-flavored vodka to something a little more refined. Further your favorite grad's cocktailian education with one of these boozy graduation gifts. Trust us; they'll enjoy these much more than a clichéd copy of Dr. Seuss' Oh, the Places You'll Go!
Recommended Video
Thrillist's Best (and the Rest): What You Actually Need to Know About Natural Wine
A Grown-Up Bottle of Booze
Like a mama bird pushing its baby out of the nest, nudge your grad into the world of high quality spirits by gifting them a truly respectable bottle of liquor—one that can become their new go-to order at the bar without giving them away as a newbie. If the pressure of choosing the right bottle is too much for you to handle, don't worry. We have plenty of suggestions for beginner drinkers, whether they like bourbon, rum, vodka or tequila.
Personalized Bottle Opener
If you're gifting someone known for impressing his fellow frat bros by opening beer bottles with his teeth, this bottle opener will (hopefully) help break that habit—and save thousands of dollars on dental work. The Bottle Breacher ($31) is a personalized bottle opener that's as sleek as it is handy, and it's made from a 50 caliber bullet, just in case your grad still wants to look hardcore.
Sparkling Wine Kit
Now that their nights won't be spent cramming for exams and churning out homework assignments, grads will have a lot of free time on their hands. Instead of just gifting a celebratory bottle of bubbly, give them the tools to make their own. Brooklyn Brew Shop's Sparkling Wine Kit ($70) provides the goods for brewing five bottles of sparkling wine—it only requires a bit of patience. After three months, they'll be poppin' bottles, hopefully to celebrate a new job.
Real Glassware
Unless you're hosting a barbecue, it's no longer acceptable to serve drinks in a Solo cups after college. Up a grad's glassware game by gifting a set of nice old-fashioned glasses, some fancy highballs, a quartet of coupes or even a pair of copper Moscow Mule mugs. With impressive drinking vessels at the ready, they'll be ready to entertain like an adult anytime.
Beginner Set of Bar Tools
Mixing drinks in college usually involves a travel coffee mug and a teaspoon. Arm new graduates with an arsenal of proper mixing tools, like this 13-piece beginner set ($25), which includes jiggers, a mixing glass, a shaker, strainers, a bar spoon, a muddler and an ice bucket, among other tools.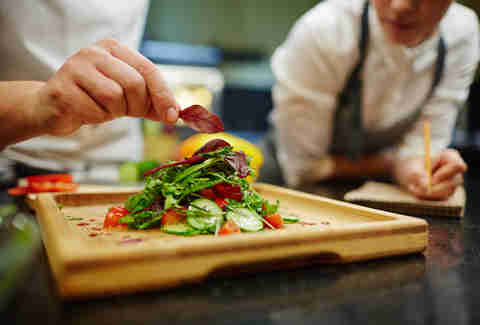 A Cooking and Mixology Class
The end of the era of Cup Noodles is nigh (though for anyone living off an entry-level salary, it may not yet be a thing of the past). Teach new grads how to cook a delicious dinner for themselves by paying for a local cooking class, ideally one that will also teach them how to mix a stiff drink to pair with their meal.
Bartending School Tuition
It's a tough world out there for anyone entering the job market, especially if they now have a degree in Medieval philosophy or English. Ensure that a grad can make ends meet in the interim by sending them to bartending school. Bartending school isn't necessarily a fast track to becoming a craft bartender, but it teaches enough basics to land someone a part-time job at a local joint without having to work their way up from barback.