The Best Distilleries to Drink Local in All 50 States
There has been an explosion of small distilling operations over the last 10 to 15 years, with more than 1,300 now open across the country. That means that no matter where you are, you aren't far from an excellent tipple. Here, our picks for where to drink local in every state in the union.
Alabama's first legal whiskey distillery in a century, John Emerald has been open since 2015 and puts out a variety of spirits including gin, single malt whiskey, vodka, whiskey-barrel-aged rum and spiced rum. Swing by the tasting room from 4 p.m. to midnight Wednesday through Friday, and 2 p.m. to midnight on Saturdays.
Anchorage's namesake distillery puts out mostly vodka, including an excellent version flavored with local blueberries. Their gin just brought home a gold medal at last year's San Francisco World Spirits competition. The tasting room is open Thursday through Saturday from 2 p.m. to 8 p.m.
The distillery, located near the Mexican border, puts out an interesting and diverse array of spirits including gin and vodka distilled from local Arizona grapes, rums made from Sonoran sugar and several different brandies.
The list of bottlings is massive for Rock Town, especially considering that the Little Rock distillery has only been around since 2010. But the standout sipper is their single barrel bourbon, which, in 2015, took home the prize for best micro whiskey from Jim Murray's Whisky Bible.
Predating most of the distilleries on this list by more than a decade (it opened its doors in 1982), St. George was a sort of proto-craft distillery. Today it makes some of the finest gins in the country, including the aromatic and herbaceous Terroir Gin, and the rich and almost whiskey-like Dry Rye Gin. The tasting room offers guided tastings every half hour starting at noon Wednesday through Sunday.
People literally camp outside the distillery to pick up a bottle of Stranahan's yearly Snowflake whiskey bottling, but there's no need to pitch a tent in the Colorado winter. The whiskey is available by the dram at The Lounge, the distillery's bar and tasting room. In addition to straight whiskey, bartenders also put together a number of Stranahan's cocktails.
Tours and tastings are still free at Litchfield, which opened in 2014 and, like many young distilleries, has a variety of flavored vodkas as well as a gin. Litchfield, though, also bought up 250 barrels of bourbon and has been playing with them in a variety of ways, including finishing the whiskey in ex-port casks. In just another year or two, they should have their own distillate ready to go.
Probably the only place you can get a scrapple flavored spirit, Painted Stave in Smyrna offers a few flavored vodkas, but they also got ahead of many newer distilleries with a young rye and straight bourbon, each aged for two years. You can book tours and tastings, available every weekend, on the Painted Stave website.
The name Wicked Dolphin sounds like a bar from a Jimmy Buffet B-side and Wicked Dolphin's labels look like they could be Buffet album covers. But all that makes sense for a distillery that produces high-end versions of often bottom-shelf bottles like spiced rum and coconut rum, which Wicked Dolphin makes with actual coconut water. It's enough to make you run out and buy a bottle of cheap coconut rum just to smash it on the ground. You can make reservations to tour the Cape Coral distillery and the tasting room on Wicked Dolphin's website.
As a Georgia single estate rum (everything involved in making it comes from one estate in Western Georgia) Richland is about as local as it gets. The distillery has been focused on putting out a single expression of barrel-aged rum for nearly two decades, and distillery tours, which are available Monday through Saturday, come with a taste.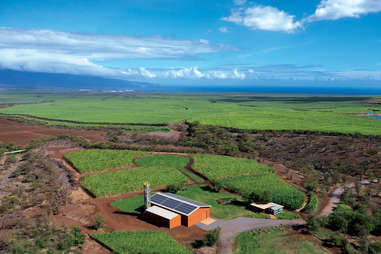 If you're in Hawaii, things are already pretty good for you. But do yourself a favor and pull yourself away from the beach for an hour to tour the Hawaii Sea Spirits Organic Farm and Distillery. There, they make crisp, clean Ocean Vodka. Just the thing to break up that endless run of Mai Tais.
Idaho produces more potatoes than any other state in America and it's also the only state that's trademarked its tubers. So if you're in Idaho you should be drinking something made of potatoes. As you would hope, Grand Teton makes all their vodkas from Idaho potatoes, including Channing Tatum's brand, Born and Bred.
Chicago has become a hotbed for the urban distillery movement. By the Chicago Tribune's most recent count, the Windy City now has 17. And Few is at the front of that pack. You can get a taste of their excellent rye, as well as a bourbon and two different gins, on distillery tours Wednesday through Saturday.
One of American whiskey's dirty little secrets is that at the dawn of the whiskey boom in the aughts, a lot of the juice came from one facility in Lawrenceburg, Indiana, now known as MGP of Indiana. MGP whiskey went into the bottles of a slew of producers from Tennessee to Utah. But smaller distilling projects have been growing in the Hoosier state, including Indianapolis's West Fork Whiskey Co., which, in addition to two corn whiskeys, is now offering its first two bourbons.
Besides some stellar brandies, Cedar Ridge also has a handful of single malt whiskeys available in their restaurant and tasting room from Wednesday to Sunday.
All the grain for Boot Hill whiskey, vodka and gin comes from a small handful of farms up the road in Scott City, Kansas. And besides those mainstay offerings, you can swing by the distillery's Dodge City tasting room to try some of its experimental bottles, which you won't find anywhere else.
There is so much bourbon in Kentucky, you don't want to limit yourself to a single distillery. At Lexington's Bluegrass Tavern, hundreds of different bottlings are crammed onto the shelves behind the bar, so you can have your pick.
Since 2015, the New Orleans distillery has been putting out vodka, gin and rum made from Louisiana sugarcane. And as Nora McGunnigle found out recently for Thrillist, the Haik brothers who own Cajun Spirits are conducting some interesting experiments with their booze by adding things like Japanese plums and Earl Grey tea.
Ned Wight's family began distilling back in the mid 19th century, but he didn't get into the business until opening New England Distilling in Portland in 2011. He's keeping his offerings small with a gin, rum and rye, which are offered up for tastings Monday through Saturday.
Some of the first rye whiskey in America came from Maryland. Like so many unfortunate spirits, it took a nosedive with the onset of Prohibition, but it's making a comeback in places like Lyon. The five-year-old distillery now has a rye to go along with its many rums.
The gins and bourbons put out by this Western Mass distiller are available in 19 states, but there's nothing like getting it straight from the source. The retail shop, which comes with complimentary tastings, is open every day from 12 p.m. to 5 p.m.
Though it doesn't have the outsized reputation of a state like New York, Michigan grows some of the finest apples in America. And anyone who wants to turn those apples into delicious booze is alright with us. Coppercraft puts out an applejack made with apples from Michigan's Fruit Ridge. The only downside, as far as we're concerned, is that, like its main ingredient, it's seasonal.
With stills built by co-owner Kyle Kettering, Copperwing is the newest distillery on this list, opening its doors just last year. Besides the vodka and gin you'd expect to see from such a new distillery, they also already have a light whiskey that's even aged in barrels from a Minnesota cooperage.
Because Mississippi was the first state to enact Prohibition (1917) and the last to repeal it (1966!) local distilleries are tougher to come by in the Magnolia State. Canton's Rich Grain is a throwback to a pre-Prohibition distillery from Kansas City of the same name. The brand has been reinvigorated in Mississippi and the distillery just put out the first legal bourbon in the history of the state.
Housed in an old horse stable, one of Kansas City's newest entrants into the distillery world started relatively small with just a single vodka and gin, as well as an absinthe. Try them straight or mixed into a cocktail at the distillery's bar.
It's tough to find a better setting for a distillery than the foothills of Montana's Glacier National Park where Glacier Distilling sits. Now going into its eighth year, Glacier has had enough time to get its aged whiskeys ready to go, but they also work on spirits many American distilleries won't touch, like slivovitz, a plum brandy from Eastern Europe.
Less than a half hour from Omaha in La Vista, Cut Spike is another new distillery just now starting to release brown spirits. Its first single malt whiskey (made entirely from Nebraska ingredients) came out in 2013. You can stop by the tasting room Wednesday through Saturday.
The first commercial distillery in the Silver State's history, Frey Ranch made its mark with clear spirits. But it began work on a whiskey in 2014, which means it's almost been the requisite four years the distillery needed to wait before bringing the spirit to the public, so you should be able to get a taste at the distillery soon.
Tamworth puts out a ton of different bottlings—five different gins and everything from chocolate liqueur to aquavit. But the surprising standout is likely the Art in the Age series, which includes a variety of different flavored spirits like a sweet potato vodka and a beetroot vodka.
Don't let their signage, which is slightly reminiscent of a funeral home, fool you. Lazy Eye has a solid, Jersey-made vodka and they are likely one of very few places in America that makes raki, a sort of grappa that gained prominence in the Ottoman empire.
In the small town of Algodones north of Albuquerque, the namesake distillery is working on a decidedly New Mexican take on corn whiskey. The whiskey (still in development) is made with New Mexico blue corn. But while you wait for the whiskey to hit the bottles you can still enjoy their vodka and gin.
Thanks to moves like the passage of the farm distillery bill, which made it easier for individuals to make and sell spirits made with New York ingredients, good distilleries are plentiful in the Empire State. Hillrock is one of the oldest and most well respected, and with good reason. The distillery's solera-aged bourbon has received national acclaim since it hit the market in 2012. And the distillery and its visitor center offer breathtaking views if you're in New York's Hudson Valley.
The distillery, which bottles under the name Troy & Sons, abuts the Highland Brewing Company in Asheville. So you can grab a pint and a dram in the same stop.
The Fargo distiller has a range of liqueurs and a new bourbon that should be out soon, but the thing to try when you stop in is their barrel-aged gin.
The bourbon and rye are made from Ohio grains and the vodka and brandy are made from grapes grown on the distillery's sister property, South River Winery, so everything is Buckeye State through and through. In addition to straight sips, the Red Eagle Whiskey Barn also offers a bar, where bartenders use its spirits to mix up seasonal cocktails
Unfortunately, Oklahoma is the only state in the union to completely outlaw tastings at distilleries. However, Prairie Wolf Spirits, one of the tiny handful of Oklahoma distillers, puts out a gin worth tracking down. Sidecar, a local neighborhood bar in Oklahoma City uses it in an all Oklahoma G&T, which is also made with Strong Tonic, another OKC product.
After becoming one of the most accomplished craft brewers in the country, Rogue turned to the harder stuff, using local Oregon ingredients to make a variety of bottles, including a chipotle whiskey that's good enough to convert even the biggest spicy spirit skeptic.
The heavy hitting rum distillery out of Pittsburgh makes bottles that every self-respecting tiki bar should have on the shelf. With apologies to Steelers' fans, Maggie's Farm is the most decorated outfit in the city, and you can stop by and try some rum neat or in a Daiquiri Wednesday through Sunday.
Considering they're from a state that you can drive across in less time than it takes to get through the TSA line at the airport, Sons of Liberty punches above its weight, especially with its sherry finished whiskeys, both a PX and an oloroso. You can get both as part of a whiskey flight for $10.
Charleston might be the best city in America for eating, but it's not bad when it comes to drinking either. At High Wire you can get a pour of their citrusy gin or an amaro made from ingredients foraged in the Palmetto State.
The first legally operating distillery in the state is also the only one putting out aged whiskeys. They also offer a vodka made from Dakota grains and a brandy made from Dakota grapes.
Tennessee has its share of historic spirits brands—labels like Jack Daniel's and George Dickel come to mind—but there have been new entrants into the state's booze world. One of the best is Corsair, which has a stellar gin and a 100-proof Wildfire Whiskey that smacks your tongue pleasantly with a big hit of smoke.
You'll find a wide range of Texas whiskeys at Balcones, which they've been working on for almost a decade. Make sure to try a single malt called 1 that has brought in accolades from all over the world.
Utah can be tough place to get booze of any kind. There have been some impressive recent entrants to the state's spirits market like gin from the Beehive Distillery and amaros from the Waterpocket Distillery, but they aren't equipped yet to offer tastings. Utah's only "ski in" distillery is, however. High West made big news several years ago when reps owned up to the fact that the whiskey in some of the distillery's highest-rated bottles, like Rendezvous Rye, was distilled by other people. But even if someone else did the distilling, High West has proven itself to be above the rest when it comes to blending. And now they do have some real Utah-distilled whiskey available on site, like their Valley Tan label.
The Whistle Pig tasting room is not actually at the Whistle Pig facility. Instead, it's at the Danforth Pewter Workshop in Middlebury. Regardless of where it is, stopping by will give you a chance to try some of the best rye in the country.
The fact that Virginia Distilling took home "best American single malt" at the World Whisky Awards should be reason enough for you to stop by. But while you're there you can also try some of their sweeter offerings, such as whiskies finished in cider and Chardonnay casks.
A real small batch operation, J.P. Trodden, named for founder Mark Nesheim's grandfather, produces just over 7,000 bottles of its bourbon a year. Nesheim keeps the whole operation hyper local as well, with Washington grains and a pot still from just over the border in Oregon. Being small, the distillery isn't open to the public very often, though. Stop by for a taste between 1 p.m. and 5 p.m. on Saturdays.
Maxwelton is the place to find excellent bourbon in the heart of Appalachia. Smooth Ambler has bottles under both their own name and the Old Scout label, which they source from other distilleries, although they are entirely up front about that.
Next to a Costco in a Madison suburb, Death's Door has been quietly putting out some of the best gin and vodka in America. In a part of the country that has become almost overrun with breweries, the distillery provides a welcome change of pace from ales and lagers.
On the outskirts of Kirby, Wyoming (can a town really have "outskirts" if it only has 92 people?) the Wyoming Whiskey distillery made waves in the brown spirits world with its flagship small batch bourbon. They're now up to five different bottles, all worth a try.