The 5 Best Distillery Restaurants in America
Distilleries offer so much more than tours these days, whether you want to stay the night or take in the great outdoors. And now, more and more distilleries are opening on-site restaurants, where they can showcase their spirits in cocktails and pair them with local ingredients to make the experience even more immersive. Here, five distillery restaurants that you need to try during your next visit.
Tuthilltown Spirits
You may know Tuthilltown for their signature liqueurs and Indigenous Vodka, but you
definitely
know them for Hudson Whiskey. If you make a trip to the distillery, a meal at their restaurant, Tuthill House at The Mill, is a must. There you can enjoy cocktails made with their signature spirits, like Oil Be There for You (olive oil, basil and bell pepper-infused Indigenous vodka, dry vermouth, chile oil) and Hell or Hibiscus (Hudson Corn Whiskey, hibiscus, lime, Tuthilltown Triple Sec, demerara). You can't go wrong with any of the dishes on the thoughtful menu, but don't leave without trying the
house-made charcuterie board
and truffle macaroni and cheese.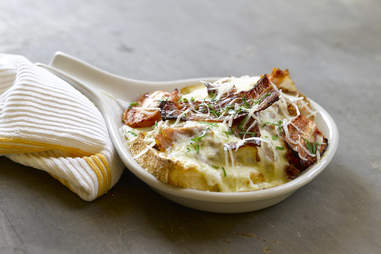 Courtesy of Star Hill Provisions
Maker's Mark
If you're embarking on a Kentucky Bourbon Trail journey, you have to stop at the historic Maker's Mark Distillery for a tour and tasting. All that
whiskey
sampling is bound to work up an appetite, which is why you should make a lunch reservation at the distillery's restaurant Star Hill Provisions. With a focus on local ingredients and seasonal flavors, chef Newman Miller creates hearty, casual fare like Kentucky hot brown sandwiches and fresh chopped salads with all the fixings. To accompany your meal, order the Star Hill Old Fashioned, made with Maker's Mark Cask Strength, turbinado simple syrup and Angostura.
Middle West Spirits
If you're unfamiliar with
Middle West Spirits
, now's the time to get acquainted with the distillery. From OYO Dark Pumpernickel Rye Whiskey to Vim & Petal Dry Gin, their collection of small batch, award-winning spirits deserves a place on your
bar cart
. Earlier this month, the brains behind Middle West opened their restaurant Service Bar, which is helmed by chef Avishar Barua, who previously worked at New York's Mission Chinese and WD-50. The menu is inspired by his Bangladeshi roots and Midwestern upbringing, and features dishes like tongue-numbing lamb dumplings, and pimento dip with pork rinds and barrel-aged hot sauce. Of course, there are also delicious cocktails made with Middle West Spirits, like 24 Carrot Magic—a mix of OYO Vodka,
sherry
, Suze, spiced pear liqueur, carrot anise shrub and black pepper.
CH Distillery
Chicago's CH Distillery makes a large variety of both core and specialty spirits, from
vodka
and aquavit, to a number of amari and
handmade limoncello
. Their 45-minute tour takes you behind the scenes of production and includes "The Tradition," which is CH's take on the Russian way to drink vodka, complete with rye bread and pickles. If you're still hungry after the boozy snack, stay for dinner at the distillery's Bar & Table restaurant. Choose from favorites like charcuterie and cheese plates, housemade mushroom and ricotta ravioli, and Peking duck tacos. Try a classic cocktail made with one of CH Distillery's spirits, or spring for a signature drink like the Frida (
mezcal
, CH Kummel, lemon, ginger).
Courtesy of Cardinal Spirits
Cardinal Spirits
Cardinal Spirits makes some of our favorite bottlings, from their
Lake House Spiced Rum
to their
Terra Gin
. Their distillery tour is one of the best in the biz and includes a tour of the facilities, cocktail of your choice and sampling of the full product line for only $10 (for $32 more, take home a full bottle of your favorite spirit). After the tour and tasting, you don't have to travel far for a solid meal—Cardinal recently opened their kitchen, where they serve delicious morsels like hand-pulled mozzarella and a rye-crusted pork chop. Continue your cocktail journey with one of their twists on the
Old Fashioned
or signature drinks like Apples in Tuxedos (Tiki Rum, apple cider syrup, lemon, fennel bitters).