12 Bucket List Distilleries You Need to Visit Once in Your Life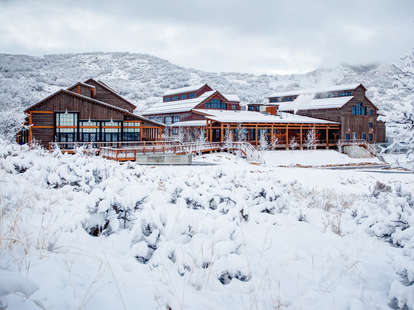 It's one thing to sip on your favorite spirit, but it's another to drink it at its birth place. Although there are dozens of amazing distilleries around the world worth visiting, these 12 should be on your bucket list. So pack your bags and head to Japan—or Scotland or Kentucky or Tennessee or Mexico—and get ready for the boozy trip of a lifetime.

While Jameson's Dublin location is the more well-known destination, the Midleton Distillery, which produces Jameson, Midleton and Red Breast whiskeys, should be at the top of any whiskey drinker's must-visit list. Located a short drive from Cork, the facility has been producing some of the country's greatest whiskeys since 1975. Learn about the spirit's creation and see how a large-scale distillery operates, then grab a bite (and a dram) at The Malt House, the distillery's on-site restaurant. Don't forget to hit the expansive shop before you leave, especially if the newly released Midleton Very Rare 2017 is in your budget. For those who want an even deeper dive, there's the Irish Whiskey Academy, which offers an experience that will give you expert-level knowledge of Irish whiskey and, more importantly, a premium tasting.

London is home to some great gin distilleries, but one of the best is Sipsmith, which produces its gins in the city's Chiswick neighborhood. See the three copper pot stills—known as Prudence, Patience and Constance—and taste a few of the brand's varieties, including the ultra juniper-heavy, ultra strong VJOP (Very Junipery Over Proof). Tours run several days a week, or you can book into the Sipsmith Supper Club for 85 pounds ($112), an evening event that pairs gin and fine dining. It even includes a bottle of Sipsmith's London Dry to take home.

Located about an hour's drive outside of Nashville in Lynchburg (an ironically dry county), the Jack Daniel's Distillery is an essential destination for every serious whiskey fan—or, really, anyone who likes drinking. The distillery was built back in 1866 next to Cave Spring Hollow, which provides the distillery with the water for its whiskeys. Experience a history of the brand and visit the massive facilities, which produce an incredible amount of Old No. 7. Be sure to reserve lunch at Miss Mary Bobo's Boarding House Restaurant, a communal dining room that's been serving up Southern fare for over 100 years.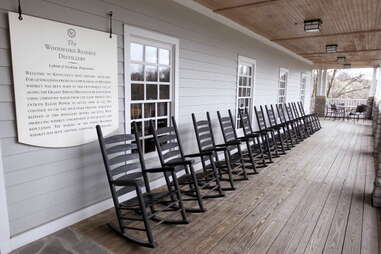 The Woodford Reserve Distillery is one of Kentucky's oldest and smallest distilleries. It still sits on the site where it all started way back in 1812. Drive from Louisville or Lexington to the beautiful, rural location to learn exactly how Woodford has been crafted for the past two centuries. Select from a one-hour tour, which offers an overview of Kentucky bourbon, or go deeper with the National Landmark tour, which explores the architecture of the distillery and its cultural significance within Kentucky. For budding bartenders, there's the Mixology Presentation Tour, during which you can learn how to make your own bourbon cocktails.

If you find yourself in the Yamanashi Prefecture region of Japan (as one does), be sure to pay a visit to the Suntory Hakushu Distillery, which makes some of the best Japanese whiskies on the market. Reservations are required and you can elect to explore on your own or take a guided tour (we recommend the tour). There's also a museum that discusses the history of Japanese spirits and a bar that serves up rare and limited edition whiskies. When you're finished learning about booze (and drinking it), head to the distillery's bird sanctuary, where you can follow a trail while watching for wild birds.

The outskirts of Park City are home to the High West Distillery & Tasting Room, which gives visitors a unique look into the production of the brand's American whiskeys, which include American Prairie Bourbon and Double Rye. Advanced reservations are recommended for the free tours, which take you through the back rooms of the distillery and reveal the history of whiskey production in Utah. Stop by the Western-themed General Store on your way out to grab a few souvenir bottles or try a flight of the brand's offerings.

The Hennessy distillery is interesting whether or not you're a Cognac aficionado. Located on the banks of the Charente River in the heart of French wine country a few hours south of Paris, the distillery is open throughout the year. Several tours are offered—each catering to individual interests and budgets—and include a tasting of Hennessy. If you want to get really crazy, book the A La Carte tour, which takes you into areas of the factory and distillery usually off-limits to visitors. Need more of a reason to visit? All tours arrive by boat. How cool is that?

Chase Farm, set in the picturesque English countryside, is the base for Chase Distillery. The brand's tour offers an inside look at the single-estate distillation process, and also gives you an opportunity to see a photo-worthy area of the U.K.—we're talking cows, hedgerows and picturesque ponds aplenty. If you want to make a weekend of it, stay at the nearby Verzon House Hotel, owned by William and Kate Chase, which features a package deal for the hotel and distillery. You'll be able to really experience the farm-to-bottle process, seeing raw ingredients like potatoes and apples used to make Chase's vodka and gin.

La Rojeña, which produces Jose Cuervo, is the oldest distillery in the Americas, dating back over 250 years. Located in Tequila, about 40 miles from Guadalajara, the distillery offers tours that explain the production process and offer a glimpse of the thousands of barrels of tequila currently aging in the warehouse. There are also private tastings (including one that pairs chocolate with tequila), tequila blending lessons and a tour that takes you through the agave fields.

The Glenlivet Distillery opened in 1824 in the Livet Valley of Scotland, an area of green, sweeping hills worthy of many, many Insta galleries. The whisky, a Speyside malt, has been produced here ever since. The tour will take you through the stills as well as across the surrounding lands, where early whisky makers smuggled their product. If you want a great souvenir, fill your own bottle from one of the casks, which you'll get to cork, cap and label (and drink).

The Laphroaig distillery, situated on the small Scottish Isle of Islay, is tricky to get to (you can either take a ferry or a tiny plane) but worth the effort. It dates back to 1815 and boasts over 200 years of whisky production. Book a tour and see the process of creating the single malt scotch, or take a trip to the peat banks during the summer months, where you can try your hand at cutting the peat used to malt the grains. Of course, you'll also want to taste some of the Laphroaig range, which is included in the tours.

While it's not open to the public, fans can reserve a tour of L.A.'s Lost Spirits Distillery online. You'll be able to spend two hours journeying through the distillery and lab, tasting some of the small-batch rums and whiskeys that are quickly aged using a scientific process, which you can experience firsthand. Though located in an unassuming building in Downtown L.A., the distillery is essentially a grown-up amusement park, complete with a boat ride and stills designed to look like dragons and a skeleton. It's a spirit nerd's dream come true.