The 11 Best Smartphone Apps for Home Bartenders
The smartphone may be a bit of a plague around bars these days, but at home, it can be as important a bartending tool as your shaker and bar spoon—thanks to some brilliantly developed bartending apps. Unlike apps that are simply made to distract you, bartending apps connect drinkers across the world by helping them share recipes, teaching them new skills, and providing supply-buying recommendations. Here, some of the best bartending apps out there that will take your home bar into the digital age.
Launched way back in 2010, Cocktail Flow is the oldie but goodie of cocktail apps, and no list would be complete without it. It's free, available to both Apple and Android users, includes a respectable 600 recipes (including some non-alcoholic ones), and its intuitive theme is enjoyable and easily navigable. If you're looking for a standard app for cocktailing at home, you've found it.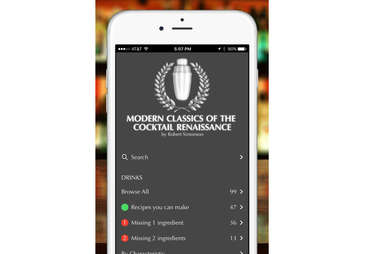 The Definitive Source: Modern Classics ($10: iTunes)
The problem with a lot of bartending apps is that you end up wading through countless janky, unbalanced, undesirable drinks before finding a decent recipe. Modern Classics cuts through the noise with 99 absolutely essential recipes. Drinks writer Robert Simonson of The New York Times culled recipes from elite bars of the last half-century, like the Penicillin from Sam Ross of Attaboy and the Barrel-Aged Negroni from Jeffrey Morgenthaler of Clyde Common.
The Not So Secret Speakeasy: PDT Cocktails ($10: iTunes)
Created by MixologyTech (who also created Modern Classics, above, and Total Tiki, below), the PDT app faithfully translates the cocktail menu from the famed New York speakeasy, Please Don't Tell. Unlike the well-regarded cocktail book produced by the bar, the app is constantly updated, as old recipes are perfected and new ones are added. If you're afraid to explore the speakeasy itself (or don't want to pony up for the trip to NYC), now you can get the same experience at home. (Just don't go telling your friends they need a password to get into your home bar.)
The Home Luau: Total Tiki — Beachbum Berry's recipe app ($10: iTunes)
Load up on tiki mugs and deck out your home bar in luau-appropriate chachkies; it's time to mix some tiki drinks at home. Jeff "Beachbum" Berry of Latitude 29 in New Orleans and international tiki renown has brought his copious tiki expertise to the digital realm. Among the 230 curated recipes, you'll find mid-century favorites like the Zombie, Painkiller and Scorpion Bowl, but also modern and lesser known tropical libations like the Cou-Cou-Comber and the Punky Monkey.
Assuming you live in one of the 30-plus supported cities, Minibar makes it crazy easy to order booze to your house (be wary of opening this app after a few rounds unless you want to receive drunken gifts from yourself). The service partners with local liquor stores in your area to deliver bottles straight to your door in just an hour. Now you don't have to squeeze in that liquor store run when you're stuck at home preparing snacks for a party or can't leave your boozy fruit leather in the dehydrator unattended.
The liquor store can be intimidating, especially if the staff isn't knowledgeable enough to guide you through the shelves upon shelves of spirits. Distiller navigates you through that decision process by providing thousands of reviews from liquor experts and fellow shoppers, helping you select the perfect bottle for your exact needs. You can also save your own tasting notes and provide feedback, which, in turn, will help the app suggest products for you to buy in the future. In the end, the reviews you give are equal to the reviews you take.
The Beautiful App: The Liquor Cabinet (Free: iTunes)
Leave it to Instagram expert Patrick Janelle and Maxwell Britten, former bar director of the ultra elegant Maison Premiere in Brooklyn, to create a truly stunning bar app. The drool-worthy photos give beginning bartenders something to aspire to (especially if they're going for the Insta-fame), while smart tips and the stories behind common bar gear entertain as they educate.
The Recipe Creator: Highball (Free: iTunes)
After you've graduated from following other people's recipes to concocting your own, you'll need somewhere to share those new drinks. Rather than post to Pinterest, you can write up a recipe card on Highball with ingredients, measurements, instructions and even custom (simple) illustrations. Unlike the stained, tattered recipe cards your grandma keeps in her pantry, the cards on this app are easily shareable and modifiable by other users, so your recipe can grow and evolve after it leaves your bar cart.
The Indecision Solver: Bartender's Choice ($3: iTunes)
After Sam Ross spent every night taking vague customer yearnings and executing them in bartender's choice cocktails at Attaboy, the bar manager made an app to do the same job at home. Just like answering a helpful bartender's questions about your preferences, you can select drink styles and tastes, and the app will produce the perfect drink for you to mix yourself. Or if you are truly open to anything, just shake the phone (consider it free cocktail shaking practice) and the app will give you five random suggestions.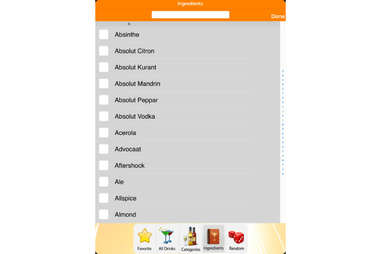 There's no mystery here; it's all in the name. This app will give you a whole lot of recipes for free. Since any drinks list this comprehensive can't possibly guarantee the quality of any individual recipe, you'll just have to try them all for yourself one by one. We'll see you in a few years when you're done.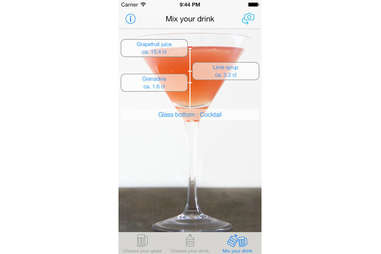 The Future: Cocktails—Virtual Drink Mixer and Recipes ($2: iTunes)
If you've ever ended up with too much cocktail for your glass, then you should get excited about the future of bartending apps. This augmented reality app allows you to hold your phone camera up to your selected glassware to automatically receive a graphic overlay with the measurements you need to fill it perfectly. If, for some reason, the app can't recognize your favorite Game of Thrones stein, you can still enter the containers measurements to scale recipes easily to your needs.