8 Flaming Cocktails You Should Drink Right Now
Courtesy of The Powder Room
Courtesy of The Powder Room
In the darkened depths of a moody bar, few things get one's heart racing quite like a cocktail set ablaze. It's wonderfully theatrical—the way the flickering flame dances in silhouette against the blackness. But, in reality, we all just like setting things on fire. Whatever the motivation, bars across the country and beyond are packing their cocktail menus with flaming quaffs that make googly-eyed patrons ooh, ahh and whip out their phones. Here are eight mesmerizing drinks that'll tap into your inner pyromaniac.
The Lucka the Nana
Chickpeas in a cocktail? The combo works in Lucka the Nana, a frothy drink from Union Fare in New York City. OK, technically the chickpeas in question are in the form of aquafaba, the viscous liquid that results from cooking legumes in water, which is an excellent vegan-friendly alternative to egg whites. In Lucka the Nana, it's mixed with lemon juice, fragrant banana liqueur and whiskey. The whole shebang is finished off with a mist of overproof rum and Angostura bitters, magnificently set aflame in front of guests.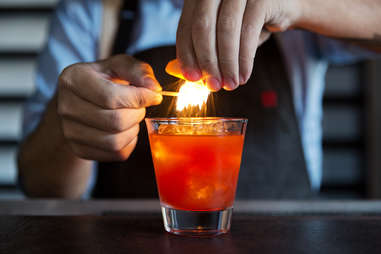 Slow & Low Old Fashioned
Ain't nothing wrong with an old-fashioned Old Fashioned, but who's to say it can't be improved? At Plan Check Kitchen + Bar in Santa Monica, California, bartenders keep the spirit of the classic cocktail alive with rye whiskey and Angostura bitters, but deviate with a burnt orange peel that delivers a hint of smokiness and a citrusy aroma. Plus, it looks real cool.
Cool Runnings
The intrigue factor runs high at LSXO, a petite restaurant-within-a-restaurant concept at Spanish-inflected Bluegold in Huntington Beach, California. Here, behind an unmarked door, you can find the Cool Runnings, a citrusy, spiced large-format concoction of vodka, Cognac, lime, pineapple and passionfruit. It's served in a giant pineapple—because why not?—and ignited tableside.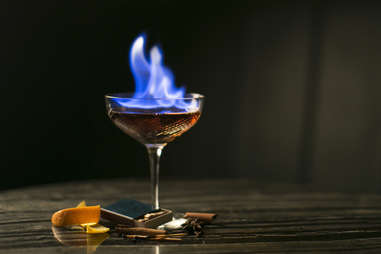 Playing With Fire
The 1920s-themed speakeasy The Powder Room in Singapore isn't one for subtlety when it comes to naming its cocktails. Case in point, the Playing With Fire, which is exactly what it sounds like: A flaming coupe of Cognac flavored with spiced dates and warming spices like cinnamon, cloves and star anise.
Goblet of Fire
Also in Singapore—or should we say, Hogwarts?—the Goblet of Fire is, well, a rum-spiked goblet of fire. The recipe, dreamt up by the whimsical minds at Harry Potter-themed restaurant Platform 1094, is purportedly a secret, but we got the down low from a restaurant rep: The drink's electric hue comes courtesy of blue curaçao, which is tempered with a squirt of lime.
Tiki Dreams
In Denver, Colorado, modern steakhouse Guard and Grace gets its tiki game on with Tiki This, a summer-forward sipper amped up with cachaça, Pimms No. 1, spiced falernum and passion fruit-infused simple syrup. The best part, though? The flaming half lime perched atop the rad tiki glass.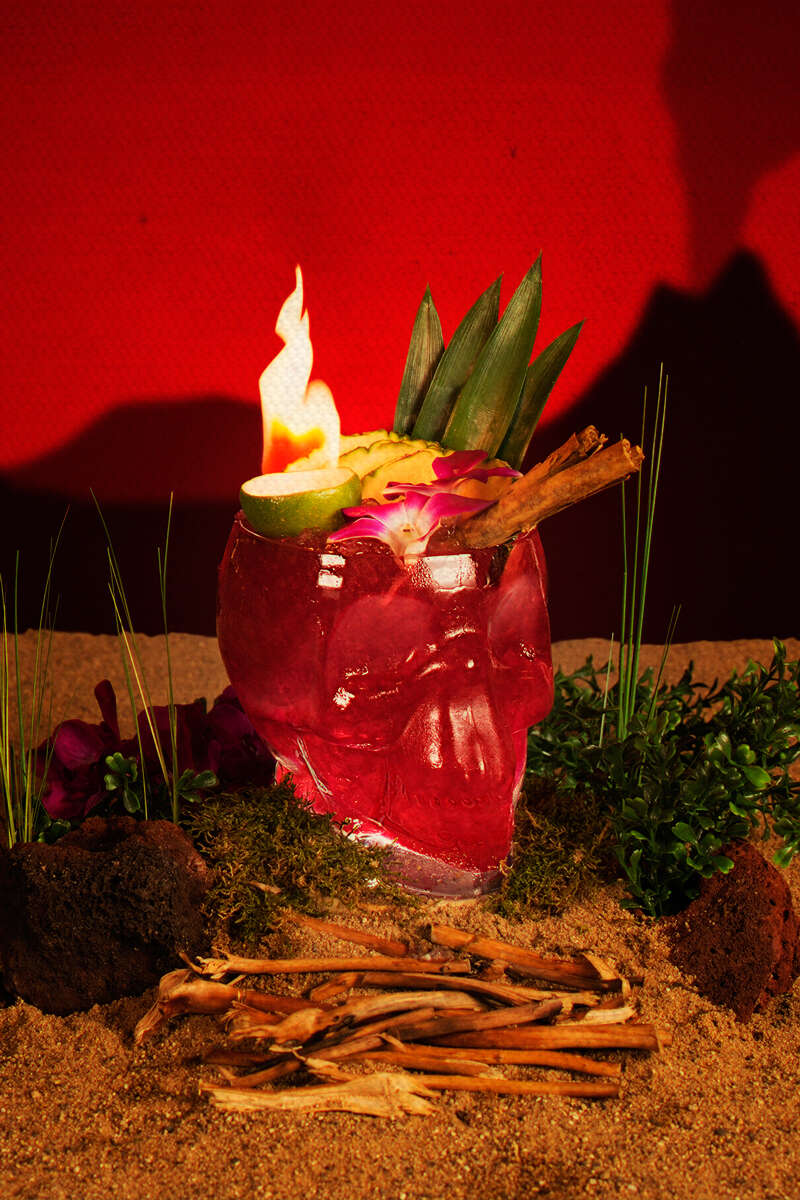 The Zombie
Speaking of tiki drinks, Three Dots and a Dash in Chicago is a master of that fruit-forward category. Among the flashiest of the house specialties is the Zombie, a boozy number zinged up by two types of rum—Jamaican and overproof—plus tart lime, grapefruit, pomegranate juices and a pinch of cinnamon. And, yeah, it's served in a crystal skull and set on fire, just in case you weren't already feeling the drama. Don't plan on drinking this all by your lonesome; one of these babies will do the trick for three to four people.
Wandering Samurai
There's nothing quite like a flaming large format cocktail to work up an appetite for sashimi. At least that's the guiding principle at Sakerum in Washington, D.C., which serves the Wandering Samurai, an icy rum-and-sake punch infused with yuzu, pineapple, blueberry and bitters. For garnish: a carefully positioned leaf piled with fresh slivers of sashimi. Also, two flaming shots of rum. Our advice: Eat before you drink, unless you want things to get messy.