Drinking outside seems like a great idea. But all too often, what starts as an idyllic al fresco cocktail hour turns into a day filled with dirt-caked beers, back-breakingly heavy coolers and lukewarm cocktails. For those who want to drink in the great outdoors without that pesky nature getting in the way, here are nine drinking gadgets that make everything from camping and hiking to picnics and garden parties so much better.
Temperature-Controlled Canteens
One of the biggest struggles with outdoor drinking, no matter the season, is making sure your drink is at the proper temperature. And sometimes lugging around a bulky cooler just isn't an option. That's where thermoses and canteens come in. Our favorite brand is Corkcicle, which makes canteens that are not only available in a variety of sizes depending on your needs—some can even hold an entire bottle of wine—but also very effectively keep drinks hot or cold for long periods of time. You'll never have to worry about drinking a warm Martini or a cold Irish Coffee again.
Mini Stove
If you've ever tried heating a Hot Toddy over a campfire, you know how easy it is to burn a finger or scorch a mug. For those who need a warm and boozy companion during a hike or camping trip, be sure to have a miniature stove in tow, like this collapsible option from Jetboil or this super compact and lightweight version from SnowPeak. They're easy to carry and will heat your cocktails to perfection.
Whether you're taking a trip to your favorite watering hole or meeting some friends at the park, this can cooler sling is the easiest and most unobtrusive way to transport cans while keeping them cool. It can hold up to six standard beer cans, but also fits tallboys, cans of wine and—our personal favorite—an array of canned cocktails.
Beverage Stakes
Setting down a chilled can or glass in the grass is a recipe for disaster. It will either immediately fall or get kicked over, or the next time you pick it up, you'll find grit and dirt sticking to the outside. The easiest way to avoid both of these scenarios is by keeping your drink in sight and off the ground. If there's no table available, a beverage stake will come in handy. They're available for cans, glasses and solo cups, or for a proper wine glass. It's like a portable cup holder that will never leave your side.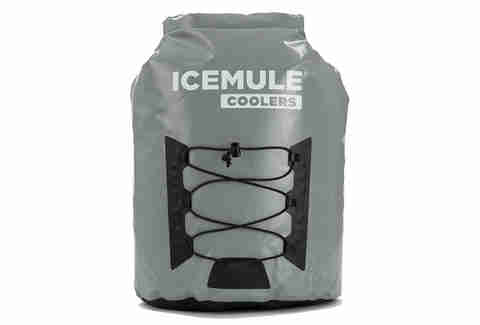 Carrying a cooler full of ice isn't always feasible when you're wandering around in nature—which is where this handy ice carrier disguised as a backpack can help. Pack a few drinks and snacks into the bag and cover them with ice, then sling them onto your back and get a good workout on the way up the trail.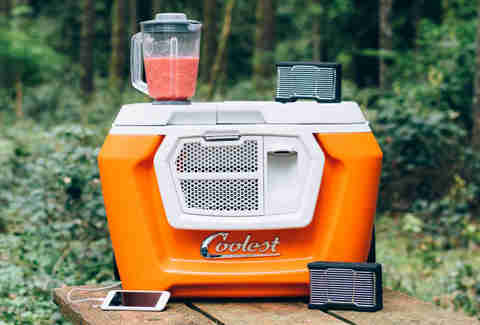 If you do have the option of taking a full-size cooler with you on your outdoorsy expedition, consider this beast from Coolest. It has speakers, a USB charger, a blender (for freshly made boozy slushies), a bungee cord to secure beach or picnic blankets and a compartment for plates and cups. The best part, though, is that it has plenty of space for ice and drinks—you could even fit a gallon-sized cocktail in there.
Sometimes the bulk of Solo cups or glassware is just too much. These plastic glasses collapse into discs when not in use, making them super easy to transport and pack.
If you want to avoid the bulky, breakable glass bottles, it pays to have a lightweight plastic flask like Highland's Fifth Flask. This handy, shapeshifting flask can carry up to nine ounces of your favorite liquor and even has a space to label the contents (just in case you want to bring two—or five). Once it's empty, you can roll it or fold it up for easy packing.
If you're looking for a more sophisticated way to drink outdoors and make an impression, opt for this luxe backpack. This Picnic at Ascot pack comes with a bottle cooler on one side, a blanket on the other, and a front pouch filled with all the drinking and dining accessories you'll need on an elegant picnic for two. The main pouch of the backpack is also insulated to keep food (and cocktail ingredients) cool until you're ready to dig in. That's our kind of backpacking.