25 Craziest Cocktail Garnishes on Instagram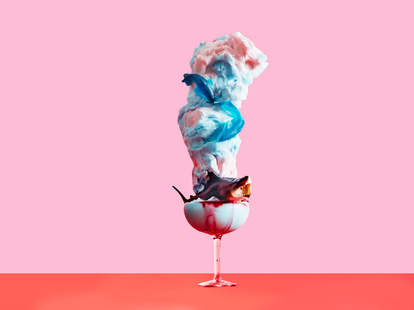 In the age of food and drink obsessed Instagrammers, elaborately garnished drinks have the potential to go viral. So social-media savvy bartenders looking to bestow Insta-fame upon their bars are going above and beyond with their garnish game, creating visually mesmerizing cocktails, all of which we are happy to let flood our feeds. Here, the 25 craziest, scariest and most awe-inducing cocktail garnishes on Instagram.
Insane Bloody Mary Garnishes
There is no shortage of ridiculous, over-the-top Bloodies out there, but this anthropomorphic grilled cheese-topped cocktail is both mouthwatering and adorable. We don't know whether to eat it or adopt it.
Leave it to Guy Fieri to create a 52-ounce Hangover Recovery Bloody Mary, a choose-your-own-adventure cocktail that comes with a choice of vodka or tequila, a protein and five garnishes from a seemingly endless list of options.  
Whoever thought to top a Bloody Mary with an entire roast chicken, you've won. We can all consider the Bloody Mary garnish arms race over.
Garnishes That Freak Us Out
It doesn't get any more nightmarish than the famous Yukon Sourtoe: a shot of booze garnished with a real severed, mummified human toe. In case you were thinking about swallowing it, be aware that doing so will result in a hefty cannibalism fine.
Nothing will keep you awake throughout the night quite like the vacant expression of a disembodied baby doll at the bottom of your drink.
This tequila cocktail is garnished with real buffalo worms, because someone out there clearly does not care for our happiness.
The Electric Kool-Aid Acid Test includes a baggy of citric acid and a nine-volt battery, which people are are encouraged to lick before drinking the ultra-sour cocktail.
This cocktail titled The Unpopular Vote features a tiny, creepy hand grabbing the cocktail by the...ahem...miniature kitten.
Delicate, Beautiful Garnishes
This perfume-inspired cocktail comes adorned with an entire vanilla bean wrapped around rosebuds to resemble a floral vine.
Dried rose petals and bergamot transform this standard whiskey on the rocks into a showstopping masterpiece.
This Middle Eastern spiced cocktail features a smoking pinecone to give off fragrant aromatics.
A gorgeous fall bouquet sits atop this colorful, smoking cocktail—perfect for leaf-peeping season.
This garnish made from dried apple slices and herbs looks like an antique rose.
Creatively Shaped Fruit Garnishes
Who knew a piece of fruit could be so NSFW?
This apricot and mint rose is so flawlessly crafted you would think it was made of plastic.
We're 99 percent sure this is supposed to be a scarecrow.
We'll pass on those frightening reptile-infused liquor bottles and stick to this harmless citrus snake instead.
Look deep into the apple fan, deeper, deeper. You're getting sleepy....and thirsty...
Garnishes That Make Us Smile
Banana dolphins are hands down the most adorable tiki garnish and should be featured on all cocktails until the end of time.
If this cocktail isn't made with scotchy, scotch, scotch, we will never forgive it.
The best way to celebrate the Kentucky Derby is not with a Mint Julep, but with your own personal miniature horse.
They look so happy in their boozy little world.
This Salt Beef Sazerac comes with a sidecar of English mustard, so you don't have to worry about asking the bartender for some like you usually have to.
They're so colorful we don't even care if these cocktails give us instant diabetes.
The Most Epic Cocktail Garnish of All Time
OK, so we're a little biased—this one's ours—but this Sharknado cocktail still remains our magnum opus.