When you're stumped on what to buy your favorite cocktail lover, look to the professionals for the best advice. We tapped some of our favorite bartenders from across the country and asked them what spirits, tools and accessories were on their holiday wish lists. They responded with everything from the perfect muddler to a medical grade centrifuge. Here, what to buy the bartender in you life, according to other bartenders:
"Escubac is on my holiday spirits list this year" says Bryan Schneider, head bartender at Quality Eats in New York. "It's a great herbal liqueur released this year by Sweetdram. It's distilled with baking spices like nutmeg and cardamom, and slightly sweetened with raisins and vanilla. It makes a great alternative to gin for any holiday cocktail party."
"Avuà just dropped a limited edition release, Tapinhoã," says Francis Verrall, the head bartender at Brooklyn's McCarren Hotel & Pool. "The cachaça is aged in tapinhoã wood, which is a extremely rare hardwood found in parts of South America. The wood imparts flavors of toasted coconut, fresh honeycomb and caramel. It's perfect for sipping with friends."
"Ever find yourself thinking that what you really need is a Vieux Carre in a can," asks Tyler Ott, the beverage manager at Odys + Penelope in Los Angeles. "Or have you, like me, thought jury duty would be much easier with a pull tab Hemingway Daiquiri? Meet the Crowler, an at-home canning machine that makes this and so much more possible. Hopefully the elves have knowledge of pneumatics!"
Nacho Jimenez, the head bartender at New York's The Daily, is currently coveting these colorful, made-to-order mixing glasses. They're made by the father of Ivy Mix, owner and head bartender of Brooklyn's Leyenda.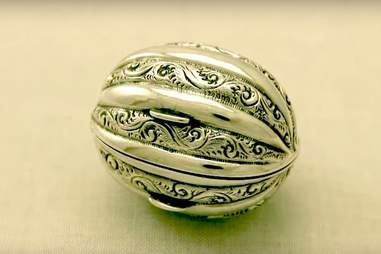 AC Silver
"I know it's crazy expensive," apologizes Julia Momose, the head bartender at GreenRiver & Annex in Chicago. "These were little graters that people used to carry around with them to grate nutmeg over their food or punch. Nutmeg was a rarity, and to be able to afford to buy nutmeg and a personalized sterling silver grater was a true sign of wealth and class. I love the history behind this, and at GreenRiver we garnish a number of our cocktails with this coveted spice. To have a personal nutmeg grater would be a special gift for bartenders who are familiar with this little bit of cocktail history."
This is the ultimate high-tech bar gift. "It is a super sexy centrifuge for clarification," says Hien Truong, bar manager at Bazaar Meat by Jose Andres in Las Vegas. "While there are a lot of different ways to clarify, the centrifuge is a great way to do it at high volume and to avoid the extra taste of clarifying agents."
"I really want a set of the Riedel Somm Series Black Tasting Glasses," says James Horn of New York's Añejo. "They're extremely high quality wine glasses that are all black so you can blind taste without seeing anything."
"I know there are a lot of synthetic options for muddlers but I just like the feel of wood," says Jeff Walters, spirits director of Frontera Grill and Frontera Hospitality in Chicago. "These handmade beauties are ergonomically perfect and tend to cut muddling time in half if not more."
"I'd be excited to get any amaro, especially one I haven't yet tried," says Jeremy Ganter, the head bartender at Brooklyn's Antica Pesa. "There a dozens to choose from. I really love to use Cynar (an artichoke-based liquor) in cocktails, but have recently been turned on to Cynar 70 Proof, which is twice the strength and less sweet. I prefer it straight or on the rocks. It would be awesome if someone gifted me that."
Tom & Jerry Set
"I have one already, but I'd always take another," says Ted Kilpatrick, director of service and beverage at Cushman Concepts, a New York- and Boston-based restaurant group. "A Tom & Jerry is the Midwestern cousin to the more ubiquitous Eggnog. It's made with cognac, rum, eggs, baking spices, and steamed milk, and cannot be properly served without a proper Tom & Jerry set." We at Supercall like this vintage set from the 1940s ($350), this festive red and green set ($25) or this minimalist black and white set ($45).
Cold Smoker
"I recently started playing with a cold smoker for cocktails," says Richard Breitkreuz, beverage director of BR Guest Restaurants. "Having one at home would be great. There are so many possibilities for applications and so many kinds of woods and spices and herbs that you can use with it." We're fans of this ultra-cool smoking box from Crafthouse by Fortessa ($200).