These Luxe, Boozy Glamping Experiences Make Us Rethink Hotels
There's nothing better than enjoying a night out in the great outdoors—away from the stresses of humanity and tethers of technology—sleeping under a blanket of stars with the sound of chirping crickets to lull you to sleep. But as much as we're willing to rough it (especially when there's fireside whiskey involved), we can't help but miss the luxuries of a hotel—including the comfy beds, flushing toilets and, most importantly, fully-stocked bars. Thankfully, we can have the best of both worlds by going "glamping," or glamorous camping. Glamping retreats offer everything we love about the outdoors alongside all of the amenities we're not willing to give up, like craft cocktails and extensive wine lists. So next time you're torn between a hotel and a tent, consider one of these 10 luxuriously boozy glamping destinations from around the world.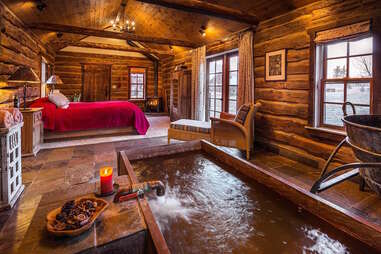 Nestled in the alpine valley of the San Juan mountains, this outdoor ranch is situated in a restored ghost town and offers rustic cabin camping with ultra-luxe amenities. Hand-hewn log cabins offer stunning views of the surrounding mountains and meadows, and a stay includes all meals and alcoholic beverages. Each of the cabins has its own unique features, but our favorite is the Well House Cabin, which is built around a private hot spring. On-site activities include fly fishing, hiking, yoga and skiing in the winter months, and romantic packages for two come with Champagne, flowers and chocolate-covered fruits on arrival. But if the idea of four solid walls is too fancy for you, they also offer glamping tents about 20 minutes up the road at their remote Dunton River Camp.
Every minute not spent breathing the Bali island air is a minute wasted, which makes the Sandat Glamping Tents an ideal accommodation, where white linen curtains are all that separates your king-sized canopy bed from the lush, tropical surroundings. The tents are all eco-friendly, and that green philosophy translates to their amenities—including yoga, meditation, and invigoratingly healthy food and drinks. Don't worry, though. They also offer plenty of cocktails, which you can enjoy during a private poolside dinner at the edge of the forest. There's also complimentary welcome cocktails for all, and a free mini bar in many of the lodgings.
Uluru, Ayers Rock, Australia
Longitude 131° is an oasis in the middle of the Uluru-Kata Tjuta desert that captures the spirit of the land's original pioneers. Canopied luxury tents showcase historic artifacts alongside local indigenous artwork. The rooms include outdoor beds that overlook the red desert (along with indoor options), fireplaces and complimentary in-suite bars. Should you ever want to leave your room, you can also indulge at the poolside bar or the Dune House, which serves meals prepared with desert-foraged ingredients. It also boasts an even larger open bar that's stocked with top-shelf spirits and Australian wines and beer.
This sprawling Montana resort knows how to do glamping well. They have seven stunning luxury camping locations on their property, and each offers gorgeous views of the Blackfoot River and Elk Creek along with a wide variety of amenities. There are several different types of tents within each camp (geared towards families, couples, friends, etc.), making it perfect for large group getaways. Each camp comes equipped with a chef and a camp butler to personally see to all of your desires, from fetching bottles of wine and starting fires to preparing s'mores and planning your daily itineraries. The rustic ranch dining takes place at a communal pavilion within each camp, and meals feature dishes like roasted rainbow trout, grilled bison steaks and baked cobbler. Local microbrews and house wines are complementary, but you can also choose from the spirits list and craft cocktail menu for an additional charge. There's even custom "kiddie cocktails," made with handcrafted syrups, available for the young'uns.
Blend in with the Alpine snow at this futuristic Switzerland resort, which features eco-friendly pod suites that resemble igloos made up of geodesic triangles. In each of the pods, you'll find a king-sized bed and, depending on your selection, amenities like indoor trees (complete with hammock), fireplaces, and bars with complimentary beers and génépi. Splurge on the 007 Suite, and you'll get to indulge in a private Champagne and gin bar. You can dine at the Restaurant Les Cerniers or order "pod service" to enjoy food and drinks within your cocoon.
Golden Triangle, Thailand
In the Northern Thailand region on the border of Burma and Laos sits this glamping site, which combines the best of jungle and mountain getaways. Spend the day hiking mountain trails and bamboo jungles and interacting with the nearby rescued elephants, or simply lounge by the pool, at the spa or in your luxury tent. Tents come equipped with leather chairs, a writing desk, a hot tub on an outdoor deck, a copper bathtub, and a complimentary mini bar. Your stay also includes an all-inclusive food package, house wines in the tasting room, spirits, cocktails, and a spa treatment.
If a classic African safari is at the top of your bucket list, look no further than this Botswana game reserve. Located on the remote 320,000-acre Selinda Reserve, this camp is home to large elephant and buffalo herds, as well as the endangered African wild dog, or "painted wolf." Arrive via charter plane to the compound where you'll find silk tents with private swimming pools, candlelit bathtubs and firepits. Your stay includes guided bush walks, game drives in an open 4x4 vehicle, boat-based activities, in-room massages, all-inclusive meals and premium alcoholic drinks to enjoy while you boast about spotting a big cat or giraffe in the wild.
Patagonia is a dream destination for many outdoor adventure lovers, and this eco-resort located at the heart of the region is sure to convince you to book that ticket. Stay in rustic, geodesic domes that feature wide windows, open terraces and enclosed porches with views of the Torres. Each dome is equipped with eco-friendly, low-emission wood stoves and state-of-the-art composting toilets, while a mix of hydraulic and solar energy powers everything else. Spend time in the Community Domes for complimentary cocktail hours, three-course meals (served with Chilean wine, of course), and activities like yoga, outdoor lamb barbecues and wildlife watching.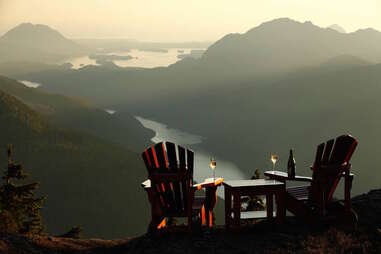 Tofino, British Columbia, Canada
This massive glamping resort is situated on the Clayoquot Sound, a temperate rainforest on Vancouver Island off the west coast of British Columbia. The diverse ecosystem means you're a stone's throw away from gorgeous lakes, rocky beaches and verdant forests, each boasting large amounts of wildlife like gray wolves, black bears and even humpback whales. Spend the day horseback riding, whale watching, fishing or hiking, then retire to your plush accommodations. The private tents have heated floors, woodstoves, vintage oil lamps and private decks that overlook the rainforest canopy. The communal lounge tents offer social activities like billiards and poker, Pacific cuisine, and comforting beverages like sherry and barrel-aged cocktails.
Formerly known as the Ventana Inn and Spa, this glamorous Big Sur resort is reopening this fall with a new name, new management and even more luxurious amenities. Tucked between redwood forests, mountains and awe-inspiring coastline, Ventana will offer "glampsites" in safari-style canvas tents in the middle of Redwood Canyon. You'll enjoy a fire pit, custom-curated picnic baskets, handheld lanterns, a hickory walking stick and a teak bathhouse with heated floors. Book a two-night stay, and enjoy a private guided hike and a $100 credit towards food and drink. The Sur House restaurant will serve forest-meets-sea cuisine, craft cocktails and beer, and the restaurant will boast a 10,000-bottle cellar of small-batch Central Coast wines curated by a team of local vitners and an in-house sommelier.