8 Beautiful Bar Tools That Cost $25 or Less
When it comes to stocking a bar cart, people are (understandably) far more focused on selecting bottles of booze than they are on buying tools and accessories. But that's what makes receiving these boozy accessories as gifts so wonderful—you probably wouldn't spring for a nice version yourself, so a stylish mixing glass or tool set would be greatly appreciated. Here are eight of our favorite home bar gifts that cost $25 or less.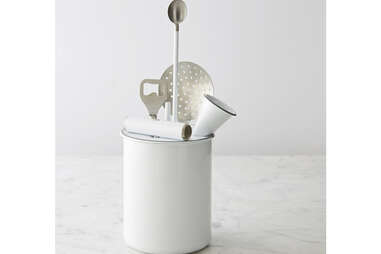 This sleek white tool set provides you with all the basics: a strainer, bottle opener, wine key, bar spoon and double-sided jigger, all neatly packaged in a white vessel that doubles as an ice bucket. This set from Williams-Sonoma used to go for $50, making it an absolute steal for the quality.
You can finally stop mixing your cocktails in Mason jars and graduate to this smoky black nickel cocktail shaker from CB2. The cobbler style means you'll get an integrated strainer. You also won't run the risk of the cocktail exploding all over the place from an improper seal, like you would with a Boston shaker.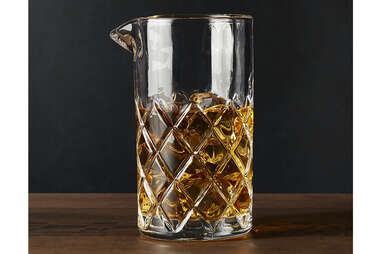 The elegant diamond pattern on this vintage-looking mixing glass resembles cut crystal, which means guests will think you're real fancy when stirring up their Manhattans. Modestly sized, it won't take up too much room on your bar cart.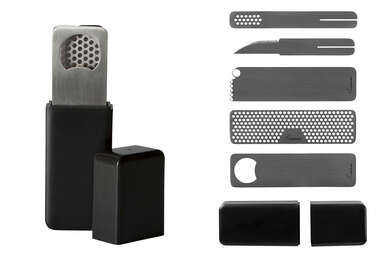 If it's space that you're worried about, meet your new best mixology friend: the Rabbit Compact Bar Tools set. Hardly any bigger than a lighter, this miniature tool set includes razor thin, stainless steel gear like a citrus zester, bar knife, stirring stick, bottle opener and strainer. The container can even be used as a jigger.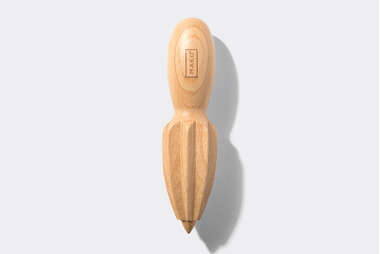 You should never skimp on fresh citrus when making a cocktail, and this artfully-designed beach wood juicer from Mako makes extracting juice easy. It features a sharp tip that's perfect for squeezing every last drop out of that lime.
This simple stainless steel muddler from Crate & Barrel has a curved handle that fits comfortably in your hand and a toothed base that grinds up sugar cubes for an Old Fashioned with ease.
Crushed ice is non-negotiable for making icy classics like a Mint Julep or experimenting with your own tiki concoctions. Instead of banging a bag of ice on the floor and getting water everywhere, crush ice like the professionals with a Mallet and Lewis bag—made from wood and canvas, respectively—like this one from Cocktail Kingdom.
No one likes paper straws, and plastic straws are a no-no if you're looking to be environmentally conscious in your cocktailing. These stainless steel straws from Williams-Sonoma are reusable, eco-friendly and stylish. Plus, they'll make your cocktail taste even colder as it hits your lips.