The 7 Best Hotels for Booze Enthusiasts
Some people choose a hotel for their next vacation based on location, the view it provides or the amount of stars it has on Yelp. We, on the other hand, pick our hotels based on their booze selection, whether it's at a complimentary happy hour, oceanfront bar or on-premise distillery—and we have yet to be let down. During your next vacation-planning session, forget researching the square footage of each room in a given hotel and pick a destination that goes above and beyond with booze. From housing one of the most iconic bars in the world to stocking the best mini bar on the East Coast, here are seven properties worth planning your vacation around.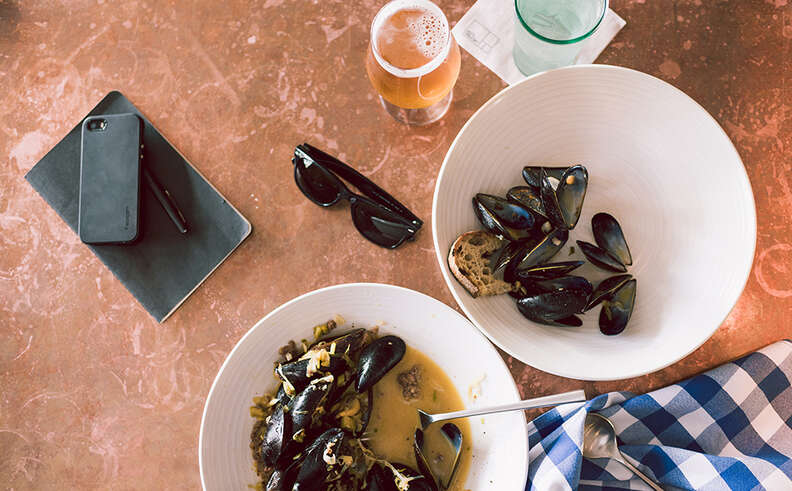 The Craft Beer Obsessor
Hotel Vermont, Burlington, VT
This Burlington hotel is so Vermont-y in the absolute best of ways. The property is stocked with tons of locally-made products, from the Lunaroma toiletries to the art to the in-room wooden trays and glassware. Anyone who loves to eat and drink will feel right at home with three excellent on-premise restaurants and bars (that highlight local ingredients, of course), but craft beer enthusiasts will surely want to move in. Not only does restaurant Juniper have 12 rotating taps of local Vermont brews, the hotel has a Beer Concierge Program during which a resident beer expert takes you on bike and brew tours, hosts informational tastings and provides one-on-one itinerary consultations if brewery visits are at the top of your vacay list (which they should be).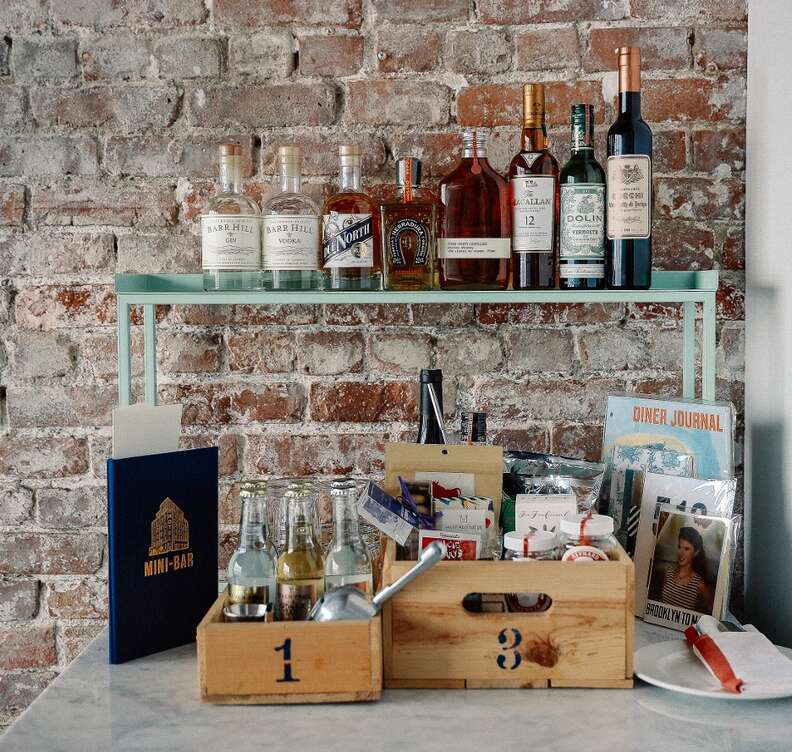 The Mini Bar Raider
Wythe Hotel, Brooklyn, NY
The hotel mini bar has experienced a revolution in recent years, and thankfully stale chips and overpriced airplane bottles have been replaced with local snacks and full liquor cabinets. And while there's finally no shortage of great mini bars, Brooklyn's Wythe Hotel definitely boasts our favorite selection. After a cocktail at the hotel's rooftop bar, The Ides, retreat to your room for a nightcap via the mini bar stocked with goodies like Barr Hill Gin and Vodka, locally-made Kings County Distillery Whiskey and Herradura Tequila. Mix up a cocktail with extras like Dolin Vermouth and Fever Tree Tonic while you snack on goodies from Reynard and Mast Brothers.
The Ultimate Relaxer
OPUS Hotel Vancouver, Vancouver, BC
Solid eats and drinks abound at this boutique Vancouver hotel. It boasts the award-winning Italian restaurant, La Pentola, Opus Bar cocktail lounge (with a killer daily $5 happy hour), and a continental breakfast with house-cured charcuterie and freshly baked pastries. But the real draw is OPUS' Beverage Butler, an in-room bar service that allows guests to imbibe without ever leaving their beds. Indulge in a Bloody Caesar bar for two, a wine and cheese spread, or a local beer-and-pork-jerky pairing for a quick, snacky pick-me-up.
The Wine-O
Calistoga Ranch, Napa Valley, CA
Not only is this Northern California resort a perfect escape from crowded Napa Valley wineries, it's one of the most luxurious properties on which we've ever laid eyes. The entire resort caters to vino enthusiasts with things like wine-blending classes, dinner for two inside a private wine cave, and an expertly curated poolside wine and cocktail menu. You can even indulge in an aromatic wine oil massage at the property's Auberge Spa. But perhaps the best part about Calistoga Ranch is that you never have to leave to enjoy the bounty of Napa Valley. Tour their vineyard and sample private label wines without ever leaving the resort grounds.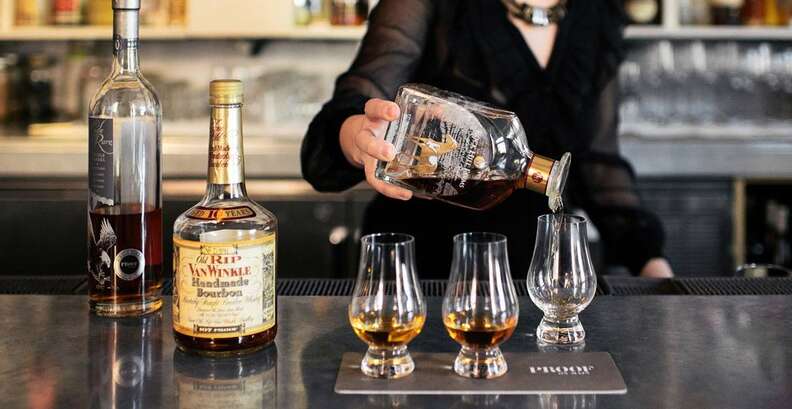 The Bourbon Collector
21c Museum Hotel, Louisville, KY
This Louisville property was the first of the 21c Museum Hotels, and it paved the way for the type of contemporary comfort you can expect from the small boutique chain. While we love the plush, modern rooms and curated art exhibits, we're really here for the property's widely lauded restaurant and bar, Proof on Main. Proof Bar takes their booze seriously and pays homage to its Bourbon Country roots with a selection of more than 120 bourbons including special barrels (like Woodford Reserve and Van Winkle) bottled exclusively for them. You can choose from a number of bourbon flights aimed at the connoisseur or tuck into a cocktail like the Poison Arrow—made with Heaven Hill Six-Year Bottled-in-Bond, China China liqueur, Campari and house blood orange bitters.
The Classic Drinker
The Roosevelt New Orleans, New Orleans, LA
It doesn't get more classic than this stunning NOLA hotel. Originally opened in 1893, The Roosevelt was a playground for some of the most eminent American jazz musicians—think Louis Armstrong and Cab Calloway—and now boasts all of the luxurious amenities we've come to expect from Waldorf Astoria while continuing to maintain its classic charm. But the Roosevelt's biggest draw is The Sazerac Bar, which opened in 1923 and is one of the most iconic hotel watering holes in the world. Order a namesake Sazerac or former Louisiana Governor Huey P. Long's favorite, the Ramos Gin Fizz. And before you even think about tasting a fake, sugary Hurricane, have the bartender make you the real version instead.
The All-Around Booze Connoisseur
Blackberry Farm, Walland, TN
Every farm-to-table food and drink enthusiast dreams of spending a long weekend at the James Beard Award-winning Blackberry Farm, a 4,200-acre escape set in the breathtaking foothills of the Great Smoky Mountains. The self-sustaining resort has a culinary expert for about anything you can imagine, from a forager to a cheese maker to a livestock team and butcher. Of course, this local spirit extends to the bar as Blackberry Farm brews their own line of natural beers and stocks 160,000 bottles of wine, which you can enjoy via an in-depth private tasting with a sommelier. Both the Dogwood Bar and Barn Bar specialize in whiskey from the American South, but they feature small-batch and premium spirits from all over the country.