The Best Hotels With Free Happy Hours
Vacations are expensive. Between plane tickets, hotel rooms and eating every meal out, you can quickly rack up a hefty bill. But there are a few tricks for cutting costs here and there. Our favorite: book a hotel with a complimentary happy hour. Here, a few of the best hotels across the country that offer gratis cocktail hours.
Not only does this hotel chain boast stylish decor and offer companion goldfish; each location also has a fantastic daily happy hour. Nightly socials feature local wine, beer and spirits tastings, live music, and occasional spa services or pet adoption meet and greets. According to the company's website, Kimpton was the first hotel group to ever offer free nightly wine hours, kicking the trend off in 1981 at their San Francisco location. We thank them for their service.

This revamped 1960s motel has been transformed into a mid-century retreat in the heart of Dallas's Highland Park neighborhood. After you've spent the day lounging by the pool, prepare for the night ahead with a glass of red or white at The Lumen's complimentary wine hour. Make new friends and gather some recommendations for the best places to eat and drink before jumping in the hotel's free car service to downtown.
Located in the heart of San Francisco's Union Square neighborhood, this elegant boutique hotel has 30 rooms and suites to choose from for a chic-but-cozy stay. The nightly wine and cheese hour runs from 5:30 to 7 p.m. and features California wines and locally produced cheeses. Bonus: After the wine and cheese hour is over, the hotel offers free cookies.
If you're looking for a great place to stay during a party-fueled trip to Miami, Catalina is the perfect spot. After relaxing at the property's two pools or taking a complimentary fitness class, enjoy free happy hour cocktails from 7 to 8 p.m. at the hotel bar. It's a perfect time to gear up for a night of clubbing on Collins Avenue.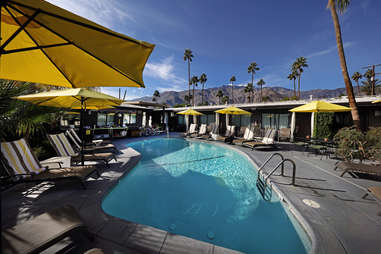 Whether you're escaping the bustle of Los Angeles or dedicating an entire trip to relaxing in Palm Springs, Avanti Hotel is your refuge below the San Jacinto mountains. Snag a studio with a pool view or spring for one of Avanti's suites that are built out with full kitchens. Whichever you choose, don't forget to indulge in some complimentary Margaritas before hitting the town.
Not only are the rooms (and minibars) at this downtown Chicago hotel some of the coolest we've seen; they host a nightly complimentary happy hour for hotel guests at their lounge, The Commons Club. The bar, which is a co-op workspace by day, serves signature cocktails like the Spaceboy, made with tequila, lime, creme de violette, Lazzaroni Amaretto liqueur and Aphrodite bitters. Good luck not wanting to move in come the end of your stay.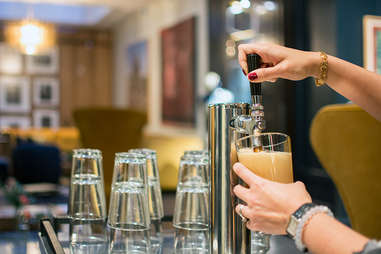 In true Portland form, the Hotel Lucia offers a nightly complimentary craft beer hour from 5:30 to 6:30 p.m., featuring locally produced brews on tap. After the happy hour is over, head to the hotel's restaurant, Imperial, for a Harlequin cocktail, which features gin, Aperol and sparkling rosé, along with honey made by the hotel's rooftop bees. Now that's some serious Portlandia-style drinking.