The 8 Coolest Ice Bars in the World (Literally)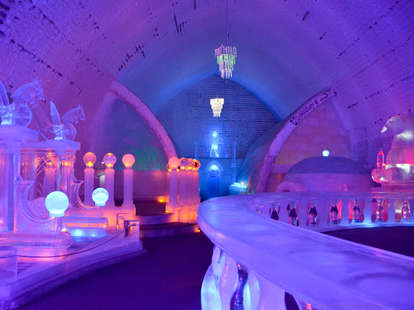 There's no bar cooler than an ice bar—literally. Why have your drink on the rocks when the entire bar is one big rock? Marvel at the ice furniture, luxuriate in the fancy robes, do your best '90s James Bondimpression and sip a super-chilled cocktail out of a frozen glass at any one of these stunning bars made of ice.
The bar at this ice hotel allows guests and non-guests alike to enjoy a bracingly cold drink from a carved ice glass. For $24, non-guests can purchase a cocktail package, which includes all-day access to the hotel and bar and a complimentary cocktail. Be sure to get there between January and March; the hotel is deconstructed annually during the warmer months, only to be rebuilt again once winter rolls in.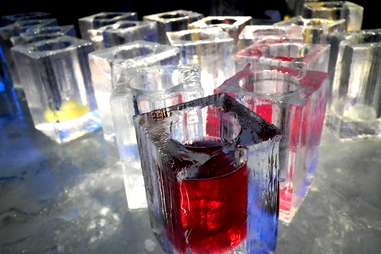 Shake your tailfeather on a dance floor made of snow at the Icebar in Jukkasjärvi, Sweden, where the ice both in and around your drink comes straight from the Torne River. Artists from around the globe help sculpt the bar annually, so the bar never looks the same two years in a row. Oh, and we're serious about dancing your butt off on the snowy dance floor; the bar maintains a below-freezing temperature, so you're going to want to keep moving to stay warm.
If you've ever seen those bizarre Jägermeister commercials and thought to yourself, "That looks like my jam," then you're going to want to plan your next trip around one of Minus 5 Ice Bar's three locations in Las Vegas, New York or Orlando. Packed with LED lights, neon cocktails, themed rooms and a lot of dancing, Minus 5 would even earn approval from Stefon.
The only ice bar of its kind in France, Ice Kube Bar's features prismatic tables carved from ice, stools frozen into icy blocks and conical ice glasses, along with artsy, icy accents. For €29 (about $32), guests receive night-long access, fun faux fur coats and four complimentary Finlandia vodka cocktails. A pretty cool deal, if you ask us.
Get cool with some Kiwis at the Below Zero Ice Bar. This kid-friendly ice bar is good for the whole family, offering neon mocktails for the youngins, and vodka drinks and ice cold shots for you. The bar sports a giant ice chandelier and sculpted ice bears with glass-sized slots carved into their hands, ready to hold your drink and keep it cool.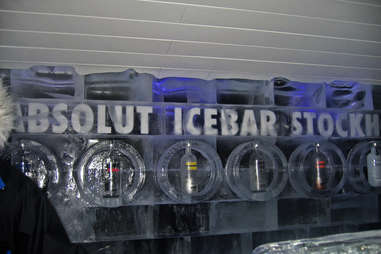 One of the few ice bars to serve food, Absolut offers burgers, onion rings and other standard bar fare, as well as a slew of cocktails ranging from the Hooded Crow, made with Absolut, vanilla, apple and cinnamon, to the Red Fox, a Prosecco cocktail with elderflower.
The Aurora Ice Museum is a winter wonderland of ice sculptures. There are frozen knights jousting, tribal masks, an icy representation of the Northern Lights—and there are also cocktails. The museum hand-carves ice blocks into cocktail glasses, then fills them with their signature Appletinis.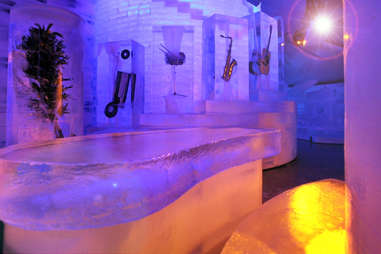 Guitars, keyboards, saxophones and a bunch of other instruments are encapsulated in ice blocks all around the Ice Space ice bar—but that's not all. Along with the frozen instruments, there are fish tanks made of ice, filled with live fish. Not enough for you? There's also an ice slide. Take a slippery ride down the icy shoot after you've had yourself a drink or two.