7 Super-Cheap Bottles of Costco Booze You Need to Buy Now
A Bar Above / youtube
A Bar Above / youtube
Costco verges on being a cult. But when your top-quality products are sold at prices that good, you won't hear us complaining—especially when it comes to Costco's in-house brand, Kirkland. The Kirkland Signature liquor line inspires extreme loyalty, even by Costco standards, with bottles bigger than your head selling for rock-bottom prices. Most of the juice comes from reputable (unnamed) distributors like Beam Suntory, so you should totally give Kirkland a chance the next time you're getting ready for a party (or stocking up on booze for doomsday).
Don't worry if you don't have a Costco membership. At least a dozen states—Arizona, California, Connecticut, Delaware, Hawaii, Indiana, Massachusetts, Michigan, Minnesota, New York, Texas, Vermont—have laws that require membership-only stores to sell alcohol to the general public, and store policies elsewhere vary.
Here, the best Kirkland brand spirits to stock your bar, all for less than $23.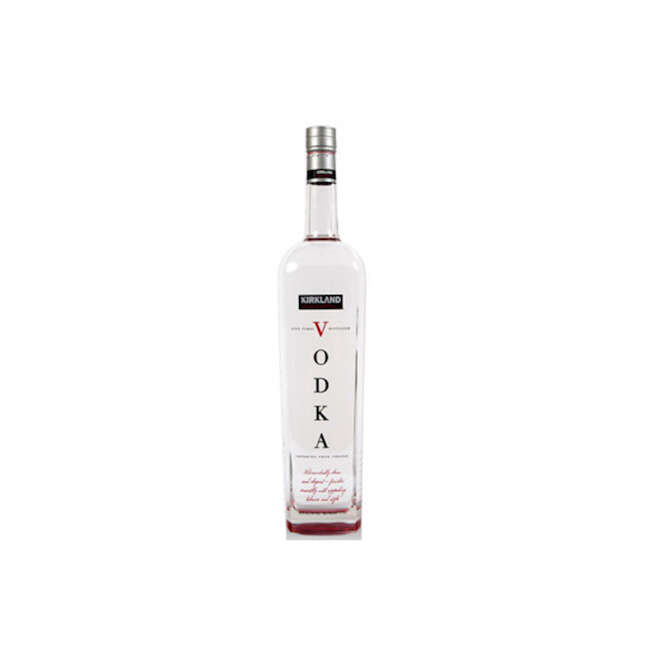 French Vodka ($20 for 1.75L)
This is the reason Costco fans go gaga for the store's spirits section, trading gossip about the Kirkland Signature French Vodka in hushed tones like it's Prohibition all over again. The rumor going round is that the vodka has close ties to the only other well known Francophilic vodka brand—cough, Grey Goose—and some even claim it's the same clear booze disguised in a Kirkland bottle. While you may or may not be snapping up Grey Goose for a fraction of the cost, if the vodka's good enough to sustain the rumor, it's good enough for your Vodka Tonic.
Blended Scotch Whisky ($20 for 1.75L)
Blended scotches often come cloaked in a bit of mystery, sourced from unnamed distilleries and, in this case, bearing no age statement. But we won't hold that against the massively affordable bottle. It balances approachable flavors—bright and buttery, with roasted fruits—with enough characteristic notes of malt and smoke on the back end to do a scotch cocktail proud.
Small Batch Bourbon ($22 for 1L)
Most Costco booze fans speculate that this 7-year-old bourbon comes from the Jim Beam distillery, so you can think of it as a budget Black Label or Knob Creek. It may not deliver the quite same smooth caramel and oak flavors bourbon aficionados seek, but the 103-proof bottle will certainly stand up in an Old Fashioned or Manhattan.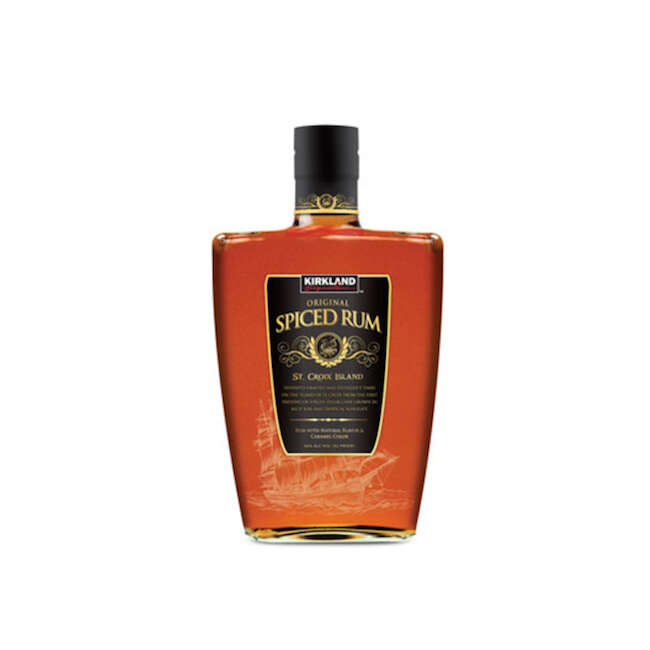 Spiced Rum ($15 for 1.75L)
Spiced rums aren't known for subtlety, so this sub-$20 bottle is not for sipping. But cautious buyers shouldn't let the price tag fool them—this rum is legit. While a cheapo bottle like this could easily be filled with ethanol dyed brown, Kirkland Spiced Rum doesn't just burn the back of your throat. Christmasy spices come through on top of a creamy sugar cane rum base, which makes it great for mixing into Coquito or a heavy spiced punch.
Canadian Whisky ($19 for 1.75L)
Consider this bulk bottle a great deal for your next party. This corn-forward dram is great for mixing into big-batch cocktails. And the sherry added to the blend (1 percent to 95 percent corn, 2 percent rye and 2 percent barley) makes for a smooth, sweet whisky that wouldn't be out of place in a shot glass.
Añejo Tequila ($20 for 1L)
It's fair to be a bit cautious about a bulk añejo priced at just $20, but you should set aside your hesitation. The 100 percent agave tequila actually scores pretty well for its mellow drinking. If you're tempted to test out an añejo Margarita but don't want to risk squandering a more precious aged agave spirit, this smooth, almost bourbon-like tequila wouldn't be wasted in a cocktail.
London Dry Gin ($20 for 1.75)
If you're shopping for gin at Costco, you're probably not seeking the most nuanced version of the spirit. Like any good budget gin, the Kirkland contribution fulfills the obligations of the London Dry style: The juniper is strong but not overpowering; clean, zesty citrus lingers on the palate; and a combination of botanicals makes you feel in touch with nature without dragging your tongue on the forest floor.