5 Store-Bought Margarita Mixes That Are Actually Worth Buying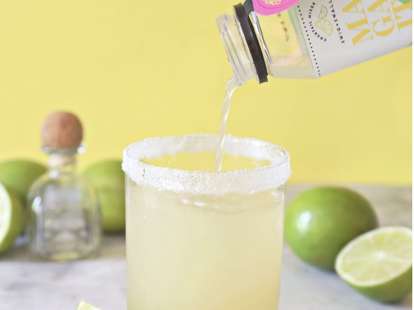 Natalie Jacob / @arseniclace
We at Supercall are vehemently anti pre-bottled mix. Whenever possible, we recommend using fresh citrus juice because it makes a huge difference and it's really not that hard. But there are times—when you're hosting a summer cookout full of thirsty guests, for example—when you don't want to be stuck in the kitchen squeezing limes while everyone else has fun not testing their forearm strength. When that happens, we concede that a mix can come in handy, as long as it's a good one. If you're looking to make a big batch of easy-as-pie Margaritas, try one of these quality pre-made Marg mixes.
Just because it's not 2013 anymore doesn't mean you can't still love Sriracha. The spicy, Thai chili sauce is still just as delicious, especially in cocktails. Made with fresh lime juice, agave nectar and small-batch Sriracha, this kicky mix makes for a deliciously spicy and bright Margarita. Try it with standard blanco tequila, then take it to the next level with mezcal.
While Swig + Swallow makes a delicious, extremely versatile basic sour mix (we like it for Whiskey Sours), their bottled Margarita mix is particularly tequila friendly thanks to the addition of agave syrup, orange peel and spices. The mix is made with fresh juices and contains enough to make 10 drinks. All you need to do is open the bottle, add tequila, shake and serve.
Royal Rose primarily focuses on premade simple syrups in fun flavors like rose, cranberry-spice and three-chile, but their sour mix should not be ignored. Made with both lemon and lime juice (the real stuff), cane sugar and water, it is good in pretty much any Sour, but it's particularly delicious in a Margarita with mellower reposado tequila.
This Brooklyn-based company currently offers two different Margarita mixes. For the traditionalists, there's the Citrus Agave, which combines lime juice concentrate with water, agave nectar, orange extract, cayenne and a touch of sea salt. For those who want something a little different, there's the Grapefruit Honey, which also includes a little hibiscus for color.
You shouldn't have a hard time tracking down this widely available mixer, but don't let its ubiquity deter you. Made with real cane sugar, this citrusy mix makes for balanced, sweet-tart cocktails. A touch of key lime adds that extra depth and tang.