The 9 Best Mezcal Bars in the United States
Bar Caló in Los Angeles / Courtesy of Skandia Shafer
It's becoming easier and easier to find a diverse selection of mezcals throughout the United States, whether you feel like drinking at home or want to hit a bar. If you're in the mood for the latter and unsure of the best places to go, there's likely an awesome spot near you to get your agave fix. From a New York secret to a tiny L.A. drinkery with garden-fresh Mezcal Margaritas, here are the nine best mezcal-focused bars in the United States.
This isn't the first time we've sung this bar's praises, and it won't be the last. Helmed by Ignacio "Nacho" Jimenez, formerly of The Daily, this vibrant, psychedelically lit bar has one of the best agave selections in the city. Not only is there an abundance of mezcal to sip neat (preferably with fresh guava slices and a little pile of sal de gusano), the cocktail menu changes with the seasons and features an array of Mexican-inspired drinks. Their classics are always a solid bet—think Mezcal Margarita (served frozen with cucumber and elderflower liqueur or made with huitlacoche), mezcal-spiked Palomas or Mezcal Old Fashioneds. With a combination of reggaeton, Mexican hip-hop and bachata blaring over the speakers, this bar is a guaranteed good time.
Located in the Lower East Side, this tiny mezcaleria is one of New York's best kept secrets. Owned and operated by Alex Valencia—who you can find behind the bar here or at their new sister location in the West Village—La Contenta feels like the type of bar you'd accidentally stumble upon in Mexico City. One look at the back bar, and you'll know that you've arrived somewhere special. Bottles of mezcal and tequila are so densely layered that bartenders have to dig to find what they need. Start with the incredibly refreshing El Picudo, which mixes mezcal with Ancho Reyes Verde and pineapple juice, then try the Tepache Apache, a funky combination of housemade tepache (a fermented pineapple beer common in Mexico), mezcal, pineapple and orange juice. Finish with a couple rounds of straight mezcal and their torta ahogada, a shrimp sandwich covered in a spicy red sauce, which is nearly impossible to find outside of Guadalajara.
Founded by Baltimore bartender and restaurateur Lane Harlan of W.C. Harlan fame, Clavel is worth the trip to Maryland alone. With more than 50 different mezcals behind the bar—all of which Harlan discovered on trips to Oaxaca or through personal relationships with mezcaleros or their distributors—this bar is a mezcal lover's dream. The cocktail menu takes advantage of Clavel's diverse selection of spirits with drinks that use mezcal, tequila and even more obscure agave bottlings like bacanora, sotol and raicilla. Most impressive is their aged Negroni with Por Siempre Sotol, which is aged in a glass demijohn and blended with older, more oxidized batches of the Negroni, some of which are around three years old. Don't leave without sampling co-owner and chef Carlos Raba's food, especially his rajas and lengua tacos. The bar also offers one-hour educational tastings with Harlan for $35, with $5 from every ticket going to the Tequila Interchange Project, a non-profit organization that promotes sustainability in agave production.
Located in Logan Square, this restaurant and bar is a one-two punch. Chef and owner Dan Salls and his team go way beyond any other Mexican restaurant in town with both the food and drinks. Expect corn tortillas that are pressed to-order and sauces that take inspiration from Salls' trips throughout Mexico. At Quiote and basement bar Todos Santos, Jay Schroeder—formerly of Rick Bayless' Frontera Grill and the much lauded Mezcaleria Las Flores—has amassed an impressive collection of agave spirits and created a cocktail menu that harnesses a variety of Mexican ingredients and flavors. Highlights include his take on the Michelada, which mixes Victoria Lager with fresh ginger, pimento dram, mezcal and an ancho chile salt; and the It Might As Well Be Spring, a lively concoction that pairs funky raicilla with cantaloupe, Cava, Chartreuse and tarragon. Schroeder offers a monthly mezcal master class that explores different agave spirits, complete with tastings. Tickets are typically around $45 a person and limited to 20 people.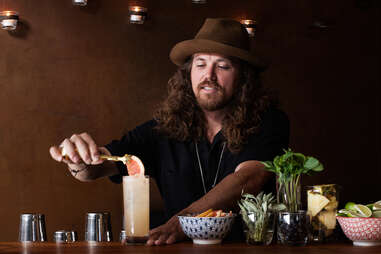 Located in the Mission District, this mezcaleria from the Tacolicious crew (which is adjacent to the restaurant) has one of the largest mezcal and tequila selections in the Bay Area. Bar Manager Candice Jae regularly travels to Mexico—primarily in Oaxaca—to procure hard-to-find bottles that you're not likely to obtain elsewhere. While you should definitely try their cocktails—we recommend the Fake Nuez with mezcal, rum, nocino, orgeat and mole bitters—we highly suggest having a flight of mezcal and asking the bartender what spirit they are currently drinking, because that's how you're likely to find a rare gem. After you get a good buzz, head next door to try the famous pastrami tacos and fried avocado tacos.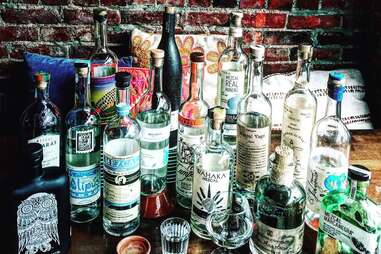 Tucked away in the Old Ballard neighborhood is Gracia, a restaurant and bar from chef Chester Gerl, who has spent years cooking in Seattle and New York kitchens. The bar has an incredibly dense selection of agave spirits to be discovered, whether you're in the mood for tequila, mezcal, sotol or raicilla. Cocktails are equally as impressive, with spins on classics like a mezcal and scotch Rob Roy and a sotol-based Sazerac with celery bitters. If you've never been to Mexico, Gracia's food is one of the closest examples of what you'd eat in Oaxaca and Mexico City. Gerl not only imports rare types of corn to make his masa from scratch, his sauces are as rich and decadent as any we've tried south of the border. While this menu definitely requires more than one visit, you have to order the tamales on the first go. They go down perfectly with one of the incredible mezcals offered behind the bar.
Hidden inside the adorable El Rey hotel in Santa Fe, La Reina is a new mezcaleria from husband and wife design team Jay and Alison Carroll (who also co-own the hotel). With its impeccable design, laid-back vibe and comforting energy, this is a spot that's hard not to love. All of the drinks are straightforward and not at all intimidating, even for mezcal novices. Ranch Water is on the menu (Texas's signature cocktail, made with Topo Chico soda water, lime and mezcal) as well as a delectable hibiscus tea cocktail with Ancho Reyes Original and mezcal. The Margarita twist features a split base of jalapeño-infused tequila and mezcal, pineapple juice, and a a smoked chile-salt rim. Best of all, cocktails are available to drink on their outdoor patio, which has a swimming pool and a poolside bar. Book a room in the hotel for the perfect Santa Fe retreat. Locals take note: Not only will they take 10 percent off your tab if you present a New Mexico driver's license (Thursdays only), there's a pool club with swimming and drinking benefits.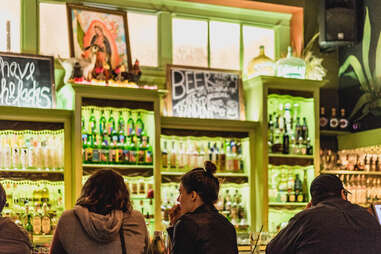 When Las Perlas opened in the historic Sante Fe building in downtown Los Angeles in 2010, it was one of the first true mezcal bars in the country. Modeled after traditional Oaxacan cantinas, this mezcaleria features more than 450 different agave spirits and counting. While cocktails are more traditional and mainly riffs on the Margarita or Daisy, you can expect them to come garnished with toppings like wild hibiscus flowers, spicy worm-laden salts, and roasted chapulinas—aka grasshoppers, a delicacy in Oaxaca. Our favorite drink is the Rosemary's Baby, which is made with mezcal, watermelon agua fresca, honey and blood orange. Most nights, there's free live music after 10 p.m., which only adds to the bar's appeal and its deep, Oaxacan vibes.
Bar Caló—which just opened on July 6—has major potential and is already destined to be the "it" hang for agave lovers in Los Angeles. All of boxes are checked off from the get go: there's an impressive selection of agave spirits, the cocktails are unique and the vibe is akin to some of our favorite mezcalerias in Mexico City. With a garden attached to the restaurant and bar, you can also expect head bartender Jeremy Simpson and head chef Carrie Funk to turn out cocktails and dishes using fresh ingredients sourced on-site. Forget over-hyped L.A. destinations—one look at this spot's menu should excite you enough to book a flight to the Left Coast.