The Best Mini Fridges for Your Home Bar
At the core of every great home bar beats the heart of a mini fridge, keeping garnishes crisp, mixers cold and vermouth fresh. But if you think that's all it does, think again. When picking out a mini fridge, you need to be thinking about storage space, temperature options, and, most importantly, looks. With that in mind, here are the best mini fridges for your home bar.
Grabbing your laptop for
some music
when your friends arrive? Plug this super-cheap USB-powered fridge into one of your USB drives and have the miniest of mini fridges handy for quick cooling. It's the perfect place for miniature
vermouth
bottles and garnishes, or the ideal, in-and-out VIP parking spot for someone's
White Russian
or chilled
Martini
.
If you are just getting started on your home bar and looking to get your feet wet with your first mini fridge, the Sunbeam is a good, affordable option. With a number of differently sized compartments, this standard mini fridge allows you to store anything you might need, from garnishes, to cans, to bottles, all for a price that won't keep you up at night.
When it comes to your home bar, looks are just as important as functionality, and no bar-friendly mini fridge marries the two better than this retro model. Designed to complete any home bar aesthetic you might be going for, you won't want to hide this colorful fridge underneath the counter. Available in pink or blue, it comes with a built-in opener for
beers
, has an
ice cube
chamber with tray for cocktails, and its sleek front door, which can fit a 2-liter bottle of soda, opens up both ways for versatile storability. It's affordable, sleek and rocks enough space to fit virtually any
liquor bottle
.
This Whirlpool mini fridge really is a "mini refrigerator," in that it contains ample space to store your drinks and includes freezer space up top in case you want to whip up some boozy
ice cream floats
or frost some glasses. On top of that, it also features an adjustable thermostat control, crystal crisper and slide-out glass shelves for easy access.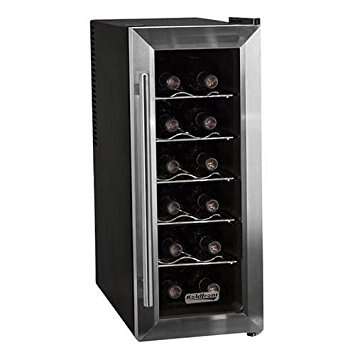 If you have a lot of liquor or wine bottles you'd like to keep cool―and show off―the Koldfront Wine Bottle Cooler is the fridge for your bar. This fridge sports deep shelves for all your bottles. It also has clear glass doors, and it's thermoelectrically cooled as opposed to being cooled through vapor compression, which means no pesky fluid leaking on your nice liquor bottles.
OK, it's time to get really fancy. Among the many wine and liquor coolers in
Vinotemp's
catalog, this wall-mounted six-bottle wine cooler is truly next-level. Perfect for
smaller apartments
or bar areas, this high class cooler is mounted on the wall like a flat-screen TV, saving you valuable floor and counter space while keeping bottles of wine and liquor at whatever temperature you desire. It also sports a touchscreen, solidifying this fridge as the true Cadillac of mini fridges.
Your home bar will start edging into "actual bar" territory with the purchase of this kegerator. Big enough to store two 40-inch kegs (or one along with a few bottles and cocktail ingredients), this CO2-powered monster sports two taps for you and your guests to pour your own drafts or mix your own
beer-tails
. It also sports flip-down wheels for easy mobility. It's pricey but perfect for any serious host or home bartender looking to turn their place into the hood's hot new
speakeasy
.