Drinking in New York movie theaters has always been controversial. A Prohibition-era state law prohibits film goers from imbibing in front of the big screen, but that didn't stop one theater from changing the game. Back in 2011, after lobbying for the repeal of this ancient law, Nitehawk opened in Brooklyn's Williamsburg neighborhood and became the first theater in the city to provide a full in-theater menu and seat-side service. The catch—they had to have a full restaurant on site, which has become the exception to the rule.
Since Nitehawk paved the way, more full-service cinemas have popped up all over the city, providing people with the boozy movie-going experience they've always wanted. Here, five of our favorites and what you should sip while catching a flick.
Editor's note: While there are additional movie theaters in NYC with on-site bars and restaurants, they don't allow guests to bring drinks and food into the theater. To that we say, what's the point? This list only includes theaters that actually let you imbibe in front of the big screen.
Recommended Video
Thrillist's Best (and the Rest): What You Actually Need to Know About Natural Wine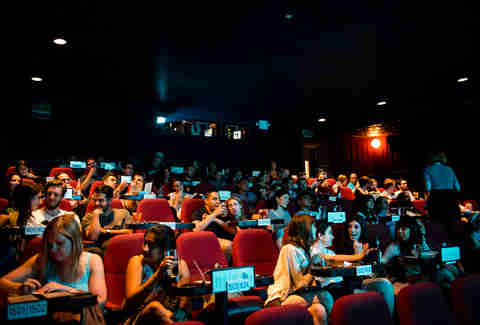 This Williamsburg, Brooklyn, theater is the OG. They were serving moviegoers food and drinks long before anyone else in the city. The menu goes way beyond artisanal popcorn and queso (although they do have both of those things), with items like fried chicken sandwiches and octopus ceviche. Order a beer or some wine. Or opt for a delicious, seasonal libation from Nitehawk's on-site bar Lo-Res, like the Firewalker, made with house-infused jalapeño tequila, passion fruit, orange curaçao, fresh lime and a chile-lime salt rim. If you really want to get in the spirit, spring for one of the theater's custom food and drink movie pairings. A recent menu inspired by Get Out included a glass of The Family Estate wine and a dish called The Sunken Place (crispy fried tofu with a sweet tea-soy glaze, Tuscan kale, Fuji apples, lemon-tea vinaigrette and crispy shallots). The theater also offers events like kitsch midnight movie screenings and quirky series like Spoons, Toons & Booze, which pairs classic Saturday morning cartoons with bowls of spiked cereal.
You can waltz into Syndicated and simply grab a table or a stool at the 30-seat bar to enjoy their American menu and cocktails. Or you can buy tickets to one of their classic movie screenings (think Jaws and Clueless), and have your dinner and drinks delivered to you in the theater instead. Their utensil-free menu highlights comfort food favorites like cheesy tater tots, pulled pork sliders and specialty popcorns seasoned with things like Old Bay and curry powder. A movie-themed cocktail menu features a small but well-curated selection of drinks like the Easy Rider, made with gin, Cappelletti, mint, cucumber, lemon and honey syrup. Make sure to end the night with their Adult Milkshake, a tempting blend of Root Liqueur, dark rum, Oddfellows ice cream, whipped cream and caramel corn.
"Forget dinner and a movie, it's all about dinner AT the movie." We couldn't agree more with the national movie theater chain, which landed in NYC proper last year (the Yonkers location opened in 2013). Snag a couple of reserved seat tickets to the latest release and settle in to their comfy recliners with a menu. They have everything from salads to flatbreads to tacos, with lots of vegetarian options for our non-meat eating friends. But our favorite part of the menu is the cocktail section, which is divided into G, PG, PG-13 and R ratings depending on the strength. Lightweights can enjoy a G-rated Moscow Mule while more advanced imbibers can partake in an R-rated Brooklyn. Save room for cookies fresh from the oven or one of their alcoholic Baller Shakes like the Bee's Kiss, made with Santa Teresa Aged Rum, honey, Honeycomb cereal and vanilla ice cream.
Luxury is the name of the game at this South Street Seaport theater, which provides guests with plush recliners, blankets, pillows and complimentary popcorn—all included in the cost of a $28 movie ticket. Chef Sherry Yard's Tuck Room services the theater with bites like reuben croquettes, lobster rolls and filet mignon sliders. If you're in the mood for a sweeter take on a classic cocktail, order a Tuck Old Fashioned, which is mixed with Evan Williams Bottled In Bond Bourbon, wood-fired New York maple syrup and Godfather bitters. iPic always has the latest blockbusters on deck, so go here to get your fill before anyone slips a spoiler.
Old school Brooklynites remember Videology when it used to be a good ol' neighborhood video store. But as Netflix started taking over, they decided to pivot their business to focus on something that'll never go out of style: booze. Now, Videology is a full-blown bar with a 40-seat screening room in the back where you can order food and drinks as you take in their daily presentation. Catch classic indie flicks like Pulp Fiction (which comes with a boozy vanilla milkshake) and Twin Peaks: Fire Walk With Me, or join them for interactive events like movie trivia and Arrested Development bingo. They have an extensive list of both classic and signature cocktails, the latter named after favorites like the Seven Year Itch and the Deer Hunter. Munch on snacks like a spicy buffalo hot dog or spinach artichoke dip while you sip.