It has been a great year for cocktail bars around the country. All star bartenders have brought their talents to brand new cities, the tiki resurgence remains in high gear and there are more homey, neighborhood bars than ever getting serious about their cocktails—those are just a few of the things we noticed as we were putting together this list. There are so many worthy new bars, but of all of them, these are the best spots to open this year. Presented in no particular order.
The Chicago debut from the legendary Jim Meehan (a Chicago native himself), Prairie School takes inspiration not from the cocktail world, but from a Midwestern style of architecture popularized by architects like Frank Lloyd Wright. Its elegant, organic aesthetic imbues every aspect of the new bar—including the cocktails. "We're resisting the urge to overcomplicate mixtures so the ingredients remain the focus of our drinks," Meehan says. The curated menu features just 12 minimalist drinks. They're Midwest meets Far East—many feature local ingredients but include a nod to Japanese-style bartending, just as Lloyd Wright included many Japanese touches in his buildings. There are cocktails like the King Kamehameha, a take on a John Daly (a spiked Arnold Palmer) made with rum, wild mountain tea, lemon juice and maple syrup, and the Whisky Highball made with Suntory's Toki and dispensed from a specialized Hoshizaki tap system. (While the Highball is usually served in a Collins glass, regulars can become part of the Highball Mug Club and own their own hand-turned ceramic tumbler, which is kept behind the bar and used specifically for their Highballs.) For Meehan, though, the Lemon Ice most aptly represents the bar. "It uses the lemon ice I grew up with at Johnnie's in Elmwood Park as inspiration for a local vodka and sparkling wine-based twist on the classic French 75," he says. He shaves ice over the mix using a Japanese kakigori machine. "The result is a highly-quaffable, Julep-like, vodka French 75 that celebrates what's delicious and traditional in Chicago, using a Japanese preparation method."
326 N Morgan St, Chicago, IL 60607
When you walk into the recently revamped Four Seasons, the blatant decadence is awe inspiring. Opulence drips from every square inch of the restaurant from the Major Food Group—from the glimmering chandelier that hangs over the Martini bar at the front of the restaurant, to the staff clad in crisp, white, Tom Ford tuxedos, to landlord Aby Rosen's private collection of modern art adorning the walls. The luxury continues just above the maze of the restaurant at the cocktail bar with which it shares space: The Pool. Labeled as "poolside-inspired," the Pool separates itself from The Grill and the Martini bar with a menu of caviar, sea urchin, lobster, and bold cocktails created by Thomas Waugh, the Major Food Group's in-house beverage director. Each cocktail highlights a fruit or a vegetable, trying to hone in on the tastes, smells, and the nostalgia wrapped up in the freshest version of these ingredients. Drinks like the Tomato Cocktail mix a tomato-infused vodka with freshly muddled cherry tomatoes, elderflower liqueur, tequila and lemon juice. It is easily the one of the best cocktails we've tried this year, and reveals how sad, boring and tomato-less a Bloody Mary really is. Each drink is presented with a massive garnish (think whole jalapeños, giant mangoes dangling from the side of the glass and hundreds of paper-thin cucumbers layered upon the walls of a coupe), like a glittering piece of statement jewelry. Some have pegged the bar as a riff on the tiki trend, or have interpreted the meaning of "poolside lounge" to mean that the bar leans heavy on the tropical; Waugh thinks differently. "Everyone wants to pin us as this tropical, poolside bar—but I wouldn't say that's what we're actually going for. It just happened to be summer when we opened and the cocktails reflected that. I actually take more inspiration from the original Four Seasons, and their menu that changed four times a year and took the best things from every season." With an already decadently delicious and forward-thinking cocktail menu in place, we couldn't be more excited to see where Waugh takes the bar and its cocktails in the next three seasons.
99 E. 52nd St., New York, NY, 10022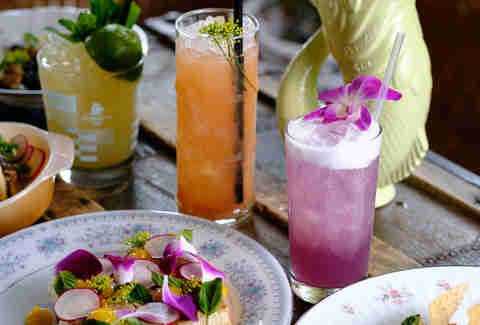 The second new bar in the last 16 months from wife/husband team Anu and Chris Elford—she, the force behind Emerald City mainstay Rob Roy and he formerly of Canon and Amor y Amargo in New York—is Seattle's first modern tiki concept. And for the Elfords, "modern" may be the operative word. "The checklist of things that have to be in every tiki bar didn't appeal to us," Chris says. While they have great respect for classic tiki bars, the Eflords didn't want the nebulous Polynesian tchotchkes, they didn't want the dark, "cavernous" interior. Instead, Navy Strength is a bright, airy spot—a counterpoint to the often grey skies of Seattle.
The cocktail menu reflects their modern take as well.  With the "tiki" and "tropical" sections of the menu, they try to get people away from tiki stereotypes. For example, their first menu didn't include a single frozen drink—a move inspired by the Elfords' feeling that part of the bar's responsibility is to educate Seattle's drinking public on tiki and cocktails more broadly. But it is the travel section of the menu that cements Navy Strength as a totally new breed of tiki bar. Every six months the Navy Strength team creates a menu based on the flavors of a single country. "We're taking flavors we find inspiring in those countries and putting them through the lens of tropical cocktails," Chris says. And since some of the countries may not all have robust cocktail histories, the flavors are not limited to what you'd ordinarily find in drinks. Their first travel menu featured flavors from India and a drink made with kokum, a dried fruit from the mangosteen family that was all sourced from the farm where Anu's father grew up. And with every menu (now they're serving one from the Phillipines), Navy Strength will try to tell a story and open the minds and palates of their customers to ideas and flavors they've never experienced before. "The best drinks" says Elford, "have some element of autobiography in them." And Navy Strength is currently assembling that autobiography cocktail by cocktail in Seattle.
2502 2nd Ave., Seattle, WA 98121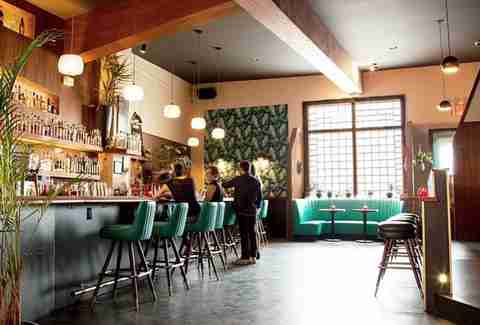 Sam Ross knows New York City. He took downtown Manhattan by storm when he opened Attaboy—the menuless, always-a-wait drinking den on the Lower East Side—in 2013. Now, four years later, he's opened Diamond Reef on an industrial stretch of Atlantic Avenue on the border of Brooklyn's Clinton Hill and Bed-Stuy neighborhoods. But this isn't a speakeasy-style, hostess-helmed exclusive bar. Diamond Reef is spacious and welcoming, designed with high ceilings, turquoise leather upholstery, and enough greenery to make you second guess if you're in the city at all. The bar features a patio that's just as large as the interior, which houses a permanent food truck serving charcoal grilled meat and veggie skewers along with key lime pie. Outdoor spaces in NYC typically close hours earlier than the bar itself, thanks to neighbors who live in very close proximity. But like the bar, Diamond's Reef's patio stays open until 3 a.m.—the nearby car repair shops don't seem to mind—making it more reminiscent of Austin or Miami than Brooklyn proper. The cocktail menu changes often, and you'll find everything from Planter's Punch to an Extra Cold Dry Martini. Three frozen drink machines are always spinning Ross' latest concoction, whether its his famed Penichillin or the Coffee Banana Hammock—a mix of rum, banana, coffee, lime and more rum. If the cocktails don't tickle your fancy, you'll find one of the best bottle selections in Brooklyn lining the bar's gorgeous built-in wood shelves. Lively but not insanely crowded with good drinks that aren't bougie, Diamond Reef is just what a neighborhood spot should be.
1057 Atlantic Ave., Brooklyn, NY 11238
Images of bats on the walls eventually leading to a door on the second floor of China Live, San Francisco's massive Chinese market/restaurant space, are the only way to find your way to Cold Drinks Bar for the first time. There is no sign anywhere—an idea China Live owner and executive chef George Chen considers a romantic homage to the past. And to hear Chen tell it, the original idea for his hidden whisky bar lies somewhere in the space between history and legend. "I read a story decades ago about this famed place known simply as Cold Drinks Bar in the French Concession in Shanghai," he says. But Chen couldn't figure out if the bar had ever actually existed—he found no record of it in the archives—until he connected with Tess Johnston, a Shanghai historian. She told him that it was the sort place many modern "speakeasies" harken back to: a bar populated by movie stars, writers and gangsters, where well-dressed barmen chiseled the ice for every Old Fashioned out of a massive block sitting on the bar. Chen's version of Cold Drinks might not have as universally colorful a clientele as the Shanghai original, but inside it may still transport you to another place and time. He kept the tuxedoed barmen and calls the interior, from award winning designers AvroKO, "old Shanghai, with some Blade Runner and James Bond mixed in"—a sort of Chinese deco dystopia. The drinks, almost all scotch cocktails designed by Duggan McDonnell, match the luxury of the space. McDonnell, who has since left the bar in the capable hands of Bourbon & Branch alum Yong Zhu, found new uses for scotch in Long Island Teas and Mai Tais, as well as totally original concoctions mixing it with everything from banana liqueur to Gewurztraminer.  
644 Broadway, San Francisco, CA 94133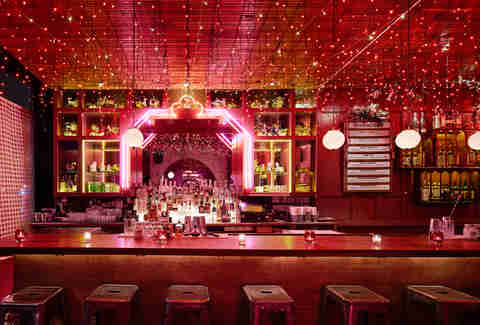 If you forget the name of this agave spirits-focused bar, just look around you. Its eponymous beast of burden is everywhere in the form of ceramic glasses and figurines—both small and nearly life-sized. "One of the owners has a ranch in Napa and there are a couple of wild donkeys that hang out there," bartender Nacho Jimenez says of the origins of the odd name. "She's very fond of them." Plus, the donkey theme connects the bar to its neighboring sister bar, Saxon + Parole, which has equine overtones. As for the ghost part? "We thought it was cool," Jimenez says. Decked out with brightly colored lights that dangle from the ceiling, it's warm, inviting and ready to show you just how good mezcal and tequila can be. Sure, there are a select few non-agave-based cocktails on the menu—for the stubborn skeptics—but you'd be a fool not to order one Jimenez's agave-fueled cocktails. The bar offers a side of tequila or mezcal that will appeal to pretty much everyone, regardless of your usual order. Try the striking, black-hued Mushroom Margarita made with funky huitlacoche (aka corn smut), or the ever-evolving Mezcal Negroni, which, right now, is made with mole sauce-flavored mezcal, Cynar, Rabarbaro Zucca, Cocchi Torino and chocolate bitters. And whatever you do, don't leave without ordering one of the bar's signature nachos—not only are they delicious, but when will you ever get the chance to order nachos from a man named Nacho again?
4 Bleecker St, New York, NY 10012
Like Diamond Reef, another favorite bars of ours this year, Bar Clacson is owned by bartending royalty. Eric Alperin and Richard Boccato (like Diamond Reef's owner Sam Ross) were all disciples of the late Sasha Petraske. Boccato and Alperin, like Ross, have paved the way for the new movement in cocktail bars: drinking well and actually having fun while doing it.
While Bar Clacson feels like an American dive bar, it has a bold European accent and offers high-end craft cocktails instead of cheap beer and shots. The bar's unique vibe is a paean to its owners' heritage, their travels and experiences growing up between Europe and New York (Alperin has French roots while Boccato is Italian). Behind the bar you can find a diverse array of amaro and the cocktail menu leans heavy on European spirits—especially bitter-forward aperitifs, digestifs and eau de vies—and cocktails with simplicity, and elegance. Favorites include the Mezcaletti, a bitter homage to the Old Fashioned, which mixes mezcal with Meletti amaro, and the Separatist, a long drink over crushed ice that has blood orange, bourbon and orange-y amaro Cio Ciaro. If cocktails aren't your thing, skip a beer and go straight for the Lambrusco on tap.
Between the dangerously easy to drink cocktails, low-key vibe, epically good soundtrack and indoor pétanque court (France's answer to Bocce ball), Bar Clacson is the kind of place where you can have fun with friends, or lackadaisically lounge away the day by your lonesome—and often.
351 S. Broadway, Los Angeles, CA 90013
This new Saint Paul bar really is a wonderland. Opened in January of 2017 by a group who wanted to make art more fun and accessible, the 19,000 square-foot bar/Putt-Putt/arcade/performance space has everything you could ever want at any given time. There's an 18-hole mini golf course with holes designed by 56 local artists (including one hole where you hit the ball off a tee with a baseball bat), two main bars offering Willy Wonka-esque cocktails designed by Bittercube, live music, R-rated puppet shows put on by Jim Henson alums, bingo, and there's even a giant pink stegosaurus that hides a secret bar. The drinks, which co-owner Jennifer Pennington refers to as "carny drinks," range from the indulgent (like the Death of a Circus, a spiked vanilla-and-banana malt topped with circus peanuts) to the downright insane (like the That Carrot Drink, which comes in a terracotta pot with edible dirt). "We strive to make it a really fun experience—but one that's not ever the same," Pennington says.
755 Prior Ave N #004, St Paul, MN 55104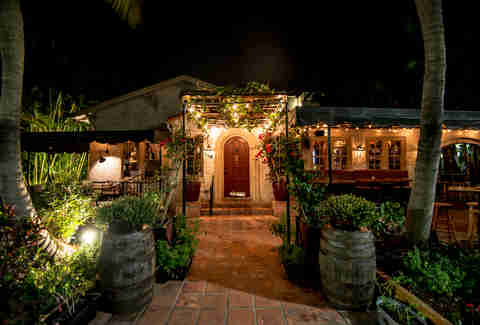 Eat. Drink. Chill. That's the tagline of this laid-back Delray Beach spot, which strives to be a neighborhood respite just outside of the tourist (and snowbird)-heavy parts of Delray. Opened by partners Ayme Harrison, Isaac Grillo, April DeVona and Annie Blake, the bar is all about passion for great cocktails and the local community. "Death or Glory was the battle cry of the British Queen's Royal Lancers, forever honored by the Clash song with the same name," Blake says. "Simply put, it means go big or go home!" Located in the gorgeous historic Falcon House—which was built in 1925 and remains one of the few nearly-100-year-old homes in the community in its original location—its lush outdoor setting and cozy interior perfectly mimics the bar's craft-cocktails-mixed-with-tiki personality. When they're not hosting the holiday Miracle pop-up, the bar's menu is a mix of signature drinks like the Sunburn—scotch, Cherry Heering, Salerno, Cocchi Torino, lemon, blood orange—and tropical tipples by Harrison, which includes her take on the Daiquiri and creations like the Night Marcher (Smith & Cross Rum, banana liqueur, creme de cacao, cold brew, pistachio cream, blackstrap bitters). We recently settled into one of the bar's comfy couches for a drink and a snack, and we felt right at home. "Our neighbors and friends come to relax in our house, and we love having them," Blake says.
116 NE 6th Ave., Delray Beach, FL 33483
The classic 1950's soda fountain is reimagined at this playful cocktail bar at the Maven Hotel in downtown Denver, offering boozy takes on soda fountain treats, like a fernet and chocolate egg cream or a mezcal and homemade raspberry phosphate soda. The sleek space nods to Midwestern nostalgia without being kitsch with a geometric black and white tiled floor, mint green leather sofas and free, vintage pinball machines in the corner. Halfway between a comfortable neighborhood bar and an excellent—yet affordable—craft cocktail bar, what lies at the core of Poka Lola is the idea of conviviality, memories and, above all else, fun.
"Our bartenders may be experts at making craft cocktails, but they also have a really welcoming attitude and love throwing a great party," says Brandon Wise, vice president of beverage operations. "We want people to think less about their drink order and more about having great conversations and experiences." That's not to say you won't have trouble deciding what to order, from twists on classics—like a Jungle Bird made with acid phosphate and a pineapple gomme syrup—to the sharable Poka Punch, to a round of Snaquiri shooters on a shotski, to innovative highballs like an Absinthe & Root Beer or the Midwestern-inspired Rye & Faygo. But at the end of the day, the decadent, boozy soda fountain classics are not to be missed.
1850 Wazee St., Ground Floor, Denver, CO 80202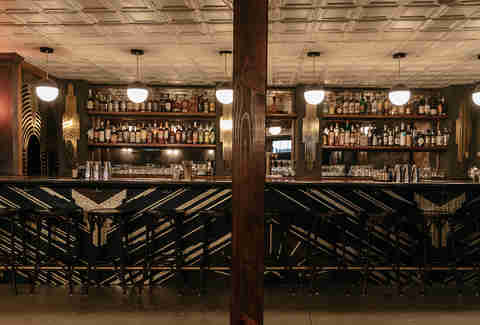 Plush velvet seating, rich wooden details and perfectly appointed vintage touches certainly makes The Fox Bar & Cocktail Club one of the most beautiful bars that opened this year. But this Nashville drinking den is more than just a pretty face. Inspired by global travels and the constant quest to find the perfect hangout, Bryan Rushton and Andrew Cook opened a place where you can drink exciting cocktails in a relaxed atmosphere. For the East Nashville community, the bar is a welcome addition to the neighborhood. "Both the public and our business neighbors have been fantastic and welcoming," Cook says. The menu has our heads spinning with delight and features unique takes on classic cocktails, as well as signatures like the Dumb Blonde—made with Copper and Kings Brandy and Apple Brandy, ginger, lemon stock, lemon curd, dry curaçao, and Angostura bitters. There's even a section of the menu dedicated wholly to Tennessee whiskey cocktails. But every season brings something new, and the looming holidays are no different. "The aged tequila eggnog is pretty exciting," Cook says. "It's been on Will Benedetto's (our bev director) mind for quite some time, and now that the winter months our upon us, we felt it was the right time to unleash it. It's nothing like the stuff you buy in cartons at the store; this stuff is special, and will blow you away!"
2905 B Gallatin Pike, Nashville, TN 37216
Eight years ago, The Franklin Bar (then The Franklin Mortgage & Investment Company) brought the speakeasy craze to Philadelphia, offering craft cocktails and quality ingredients in a town then mostly devoid of good drinks. In 2017, the bar team, lead by incoming bar manager Jason Elliott, caught Philadelphians up on another countrywide trend, the tiki bar, bringing a much needed slice of Polynesia to the space just upstairs from the sunken speakeasy. Together, the bars form a one-two punch that would make an ideal night out (with dinner in between).
Elliott tapped tiki expert Brian Maxwell to help develop an exuberant coloring book menu (yes, really) that combines old tiki classics with Philly-specific modern updates, like the Dr. Penn (above), which brings home the tiki staple Dr. Funk by using local Maggie's Farm rum from Pittsburgh. Decorations also reflect the crossroads of the Northeast and Caribbean. A mural of the Philadelphia skyline (which predates the tiki takeover) is covered, but not covered up, by nautical bric-a-brac and vines, in a style Maxwell says "feels like a punk rock tropical pirate ship." Denizens of the City of Brotherly Love happily pile into booths with perfect strangers to share large format punches, or get cozy at the small bar with coconuts exhaling dry ice and slushy rum drinks overflowing from anthropomorphic glasses.
Upstairs Bar, 112 S 18th St, Philadelphia, PA 19103
It took three years, but Harry Kho and Chris Parker finally got the doors to their eclectic bar Vacation open. Now the bar is pouring at full strength. Inside Vacation, which is housed in a century-old building in downtown Santa Ana, Parker says there is a real "hotel lobby feel." Vacation, hotel, they go together—but it's the sort of retro Palm Springs-in-the-'50s sort of lobby where you'd actually want to hang out a while and have a drink or two. The cocktails though are in no way limited to a single place or moment in time. The menu, entirely designed by Gaby Mlynarczyk, who has done cocktail programs for bars and restaurants all over Los Angeles, jumps from destination to destination and will continue to move around the globe as it changes several times a year. Right now it features stops in Marrakech (green tea vodka, mint, Chartreuse, sumac, lemon and cucumber) and London (blackberry, dry gin, vermouth, lemon and sparkling rosé) amongst others. But Parker emphasizes that even with meticulously designed décor and an elite set of drinks on the menu, Vacation is still very much a neighborhood bar where he has already cultivated a devoted set of regulars. Seeing Vacation pop up smack in the middle of Orange County, California is a welcome indication of the vibrancy of cocktail culture outside the expected hubs like New York and Los Angeles.
204 W. 4th St. Santa Ana, CA 92701
When B-Side Lounge veteran Dave Cagle and East Coast Grill founder Chris Schlesinger joined forces to open The Automatic, Cagle put his favorite trashy '80s drinks—a Mudslide, a Frozen Blue Margarita, a Sex on the Beach—on the menu as a joke. "I was trying to make it obvious we weren't opening a mixology bar…that arm garter, waxed handlebar mustache sort of place," he says. "People responded so well to it, that now I can't take 'em off. We sold so many Mudslides, it's insane." This platonic ideal of the neighborhood hang is unapologetically irreverent, blending together a mishmash of decorating styles from the '50s to the '80s, indulgent eats (including the bone marrow-topped Freaky Fries and an In-N-Out-inspired burger), garish drinks made with quality ingredients and serious technique, plus a killer, eclectic vinyl collection—pretty much everything the duo enjoy in life. Come here in your basketball shorts and sip a classic Sazerac, or come in your business formal and dive into a "top shelf Long Island Iced Tea" called the "Sexy Sexy," or come as you are and get a rare $5 tequila-and-Tecate combo. To see the bar at its prime, stick around after 1 a.m., when the evening diners shuffle out and the industry crowd shows up for greasy food and slushies.
50 Hampshire St., Cambridge, MA 02139