Companies with the Best Office Bars in America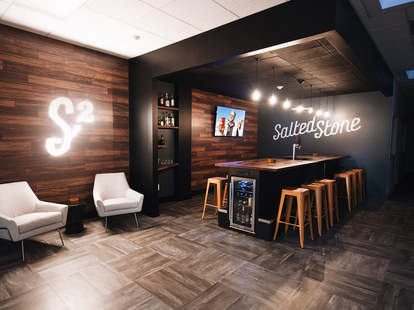 Office culture has changed since the Mad Men era of personal bar carts in every corner office. Mainly, things have gotten more egalitarian and far less Martini-soaked. But while there's less office drinking going on in general, there are a lot more office bars. It's not uncommon to see employees of modern companies pour themselves a brew from the keg when 5 o'clock hits. Some companies, however, take it to the next level. From drinks businesses to real estate offices and everything in between, these are some of the top office bars in the country
Edrington
The company:
An international liquor company that owns Scotch
whiskies
like The Macallan, The Famous Grouse, Highland Park and Cutty Sark, as well as Brugal
rum
and Snow Leopard
vodka
.
The bar: A centrally positioned island bar with more open space than you'd see in a typical New York spot. It's designed for tastings, cocktail hours, kicking back and relaxing, and it can hold up to 200 people for events. As far as the drinks go, Edrington has plenty of options to choose from and keeps some rare bottles from The Macallan on hand.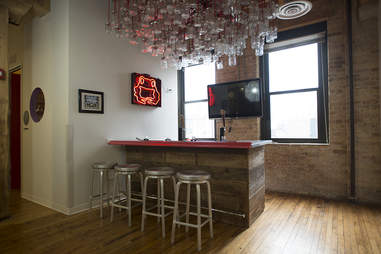 Red Frog Events
Red Frog Events in Chicago, IL
The company:
An event production company that works on music festivals like Firefly Music Festival and beer festivals like the American Beer Classic.
The bar: The office bar is where staff members can gather for impromptu happy hours, celebratory cheers, or "an extreme game of flip cup," director of operations Kelly North says. "We don't have a hard time finding a reason to crack a beer and gather around the Red Frog Bar."
Sweet&Chilli
The company:
A specialist drinks agency that provides bar experiences for brands, businesses and events.
The bar: Sweet&Chilli's whole business revolves around providing unique custom cocktails to clients, so it makes sense that the in-office bar is something to behold. It's used as a lab of sorts to play around with flavors and drink concepts with endless possibilities of what can be made.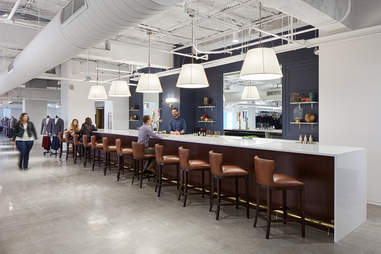 Trunk Club
Trunk Club in Boston (pictured), Chicago, Dallas, Los Angeles, New York and Washington, D.C.
The company:
A personal shopping service where stylists pick out garments based on your preferences, then mail the clothing to you.
The bar: Each Trunk Club location has a bar that matches the city it's in and that's designed to make everyone feel at ease. In Chicago, for example, local breweries send beers that are renamed for events (a pale ale in March was renamed March Plaidness). In L.A., in addition to drinks, there's cold brew on tap and kombucha is served.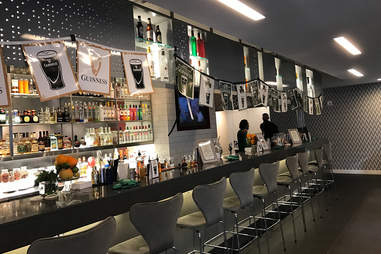 Diageo
Diageo in New York, NY
The company:
The world's largest producer of spirits, which owns companies like Johnnie Walker, Guinness, Ketel One, Tanqueray and more.
The bar: Walking into the office bar at Diageo is like walking into any well-stocked bar in New York. The space is used for events, happy hours, media visits and more.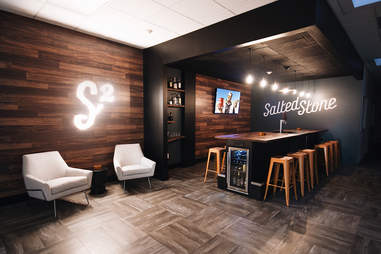 Salted Stone
The company:
A full-service digital marketing agency that provides clients with web design and development, market strategy consulting, brand development, public relations, and influencer marketing.
The bar: Built by creative director Mitch McKenzie, the bar has three kegs of local beer that the employees get to choose, each with a custom tap handle. A TV is there to stream innings of Dodgers games, and employees gather on Fridays for a "Pour at Four" and to discuss client strategy. The office also has lots of office dogs, which isn't exactly bar specific, but who doesn't love an office dog slash office bar dog?
Handshake
The company:
A mobile sales and business-to-business commerce platform that enables wholesale businesses to sell product online.
The bar: Handshake's bar is for employees, customers, partners and other Handshakers, and it offers beer, wine and spirits. Over the years, it's been the location for casual meetups, lavish dinners, engagement parties, wine tastings and game nights.
Mast-Jägermeister
The company:
The U.S. home office for the Jägermeister brand.
The bar: You would be forgiven for thinking you had walked into a full working bar. The Jägermeister office bar has everything: Glass rinsers, glassware freezers, a 1-by-1-inch ice cube machine, a pellet ice machine and plenty of Germany's most recognized liqueur. It's hosted distributor seminars, bartender master classes, photoshoots and employee town hall meetings.
DineAmic Group
The company:
A Chicago restaurant group behind establishments like
Prime & Provisions
,
Public House Chicago
,
Bombobar
and others.
The bar: You'd expect a restaurant group to have a good bar at their corporate office, and in DineAmic's case, you'd be right. As soon as you step out of the elevator onto DineAmic's floor you see the bar, which is a gathering place for the employees. Top Chef alum Fabio Viviani works with the company and has been known to drop by with wine, and the corporate sommelier brings over new wines and beers for everyone to sip.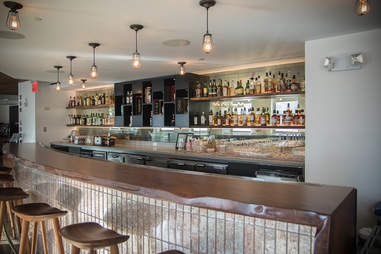 John Tran
The company:
An international wine and spirits company that owns brands like Del Maguey, Beefeater, Absolut, Jameson, The Glenlivet and others.
The bar: The recently renovated bar in the Pernod Ricard USA office has everything you need to make your favorite drink. Regular company happy hours are hosted at the in-office bar, along with recruiting fairs, tastings and charity events.
Night After Night
The company:
A brand management agency that works with musicians like Kings of Leon and alcohol brands like Jameson, Altos Tequila and Bronx Brewery. They've also launched their own craft spirits brand, Barking Irons Applejack.
The bar: Working at Night After Night has been named one of the best jobs in New York by Thrillist, and you might as well tack the office bar up there among the reasons why. They hold monthly meetings at the well-stocked bar, as well as public events like vinyl listening sessions, live gigs and random weeknight ragers.
Inverse
Inverse in New York, NY
The company:
A publication that covers science, technology, entertainment and culture.
The bar: The fridge at Inverse is typically packed with PBR and Tecate, while the bar is filled with an eclectic mix of spirits nestled between life size Han Solo and Darth Maul posters. Some of the things always on the bar: Crystal Head Vodka, Lucid Absinthe, Nemiroff Honey Pepper vodka, Bulleit Bourbon, Hypnotiq and Rumple Minze, to name a few.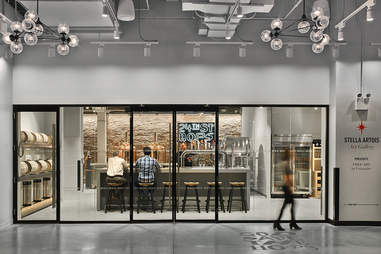 Anheuser-Busch
The company:
The largest beer company in the world, which owns brands like Budweiser, Goose Island, Blue Point and others.
The bar: Anheuser-Busch has a large bar on the first floor that's used for happy hours, and the bar's decorations can change depending on the beer brand hosting the event. But the office has so much more than just a bar. There's a full-on test brewery as well, and a 12th floor biergarten upstairs. The bars are used for company happy hours, media events and anything that's made better with a cold beer or two.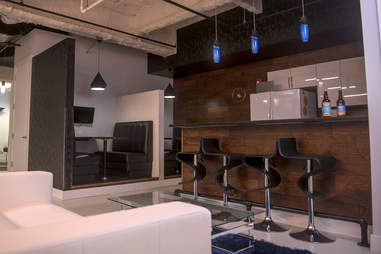 LifStyl
The company:
A personal growth-based real estate brokerage company.
The bar: What looks like a normal casual bar doubles as a spot where company brewed beer is made and served. Employees go to the bar to celebrate, and training sessions and social events are held at the bar as well.
Marisa Chafetz / Supercall
Supercall in New York, NY

You didn't think we'd leave ourselves off, right? On one side of the office, we have our bar with bottles used for samples, testing out cocktails and photo shoots (pictured). On the other is our kitchen, where we host happy hours with various spirits brands. Supercall is all about drinking better, and if you're at the office, that's not hard to do when the end of the day rolls around.