7 Best Cities to Celebrate Oktoberfest in the U.S.
Celebrating Oktoberfest in Munich isn't just a fun trip; it's one of the absolute best drinking experiences to have before you die. But if a jaunt to Bavaria isn't on your agenda this year, you can celebrate a genuine(ish) Oktoberfest right here in the United States. From picturesque Little Bavarias, to places with large German immigrant populations, to cities that just love to party, here are the seven best places to celebrate Oktoberfest outside of Germany.
Cincinnati, Ohio
With over 500,000 attendees annually, "Zinzinnati" is America's largest Oktoberfest celebration and the closest you'll come to Munich. This three-day event (September 15-17 this year) is jampacked with German music, food and lots of sponsor Samuel Adams' OctoberFest beer. Get in an arm workout by competing in the stein holding contest or test your stomach capacity gorging on bratwurst, soft pretzels and jumbo pickles.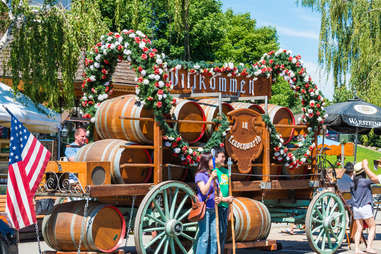 Leavenworth, Washington
Quaint Leavenworth is a year-round Bavarian village in miniature, but the sleepy Washington town livens up come Oktoberfest. Over the course of three weekends (September 29-30 and October 6-7 and 13-14), lederhosen-clad folk flock to Leavenworth to experience German cultural activities with the backdrop of the snow-capped Cascade Mountains that could certainly pass for the Bavarian Alps.
Helen, Georgia
One of the longest running organized Oktoberfest events in the United States, Helen is entering its 47th year of celebration. In the heart of the Blue Ridge Mountains, this Georgia town is a recreation of a traditional Alpine village, with many specialty shops selling handicrafts and German imports. Stroll the uber-quaint town browsing artisan cuckoo clocks, then hit the festhalle for traditional food, drink and dance.
Fredericksburg, Texas
Situated in scenic Texas Hill Country, Fredericksburg keeps the story of its original German settlers alive year-round with museums, living historical farms and German heritage events. The highlight of the year is, of course, Oktoberfest, which totally takes over downtown. Be sure to catch the "OkTubaFest," the annual live tuba performance, and participate in the traditional Hauptstrasse Chicken Dance.
Tulsa, Oklahoma
This massive four-day festival in Tulsa combines everything we love about Midwest country fairs with the cultural stylings of Germany. Authentic food stands, beer, amusements and live entertainment abound (they have everything from polka dancers to magicians), as do vendors selling their takes on Bavarian cheesecake.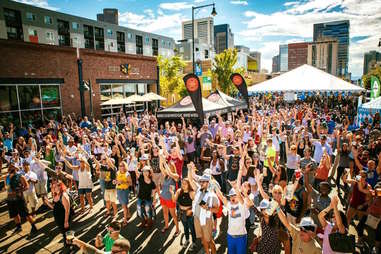 Denver, Colorado
If you're less enthusiastic about wearing suspenders and a feather hat, and more excited about downing copious amounts of beer, Denver is the Oktoberfest city for you. A more modernized celebration, Denver's Oktoberfest puts an emphasis on the beer (you'll find a lot more craft Oktoberfest-style beers here), as well as live music from a variety of up and coming talent. Don't worry; they're not too cool for schnitzel.
San Francisco, California
You'll find a little bit of everything at San Francisco's annual Oktoberfest By the Bay: elderly Germans in polka bands playing the glockenspiel and accordion, families enjoying a host of activities, and young adults partying it up on the tables, overflowing steins in hand. The three-day festival (September 22-24) features non-stop music, singing and dancing (of both the professional and not-so-sober variety), a seemingly endless supply of beer, and good vibes for everyone all around.