Cocktail Omakase Is the Boozy Luxury You Can Afford (Here's Where to Find It)
A night out at a bar can get expensive, quick. And while an expertly-mixed libation, made with handcrafted syrups and top shelf booze, is totally worth the price, there is a way to get more bang for your buck when you're imbibing in an upscale bar: cocktail omakase. The Japanese word "omakase" essentially translates to "I'll leave it up to you," and it applies to more than just sushi. These six bars offer fantastic cocktail flights for a price that won't make your jaw hit the floor.
Every cocktail omakase menu at San Francisco's Roka Bar has a theme, the most recent of which was childhood memories. Think inventive drinks like the Summer Camp, made with graham cracker-infused Kikori whiskey, crème de cacao, graham cracker syrup, rice milk and mallow root foam, served with s'mores that you roast and assemble yourself. The $78, five-course tasting includes Japanese-inspired food pairings, and the bar only accepts five reservations a night to ensure each guest has ample time to interact with the bartender.
Based on "shiki," or Japanese seasonality, the cocktail tasting at Gen Yamamoto changes to reflect fresh, local produce and whatever spirits the bartender wants to feature at the moment. The tasting menu isn't set; bartenders create a bespoke experience for every customer. Recent cocktails have highlighted ingredients like tomatoes, chestnuts and ume salt plums. In addition to a $9 cover charge, a four-cocktail tasting costs $40, while six cocktails will set you back about $58.
Seasonality also drives the tasting menu at The Walker Inn when it changes every six to eight weeks, so you can expect themes like California citrus to lead their lineup of inventive cocktails. Seventy bucks gets you five expertly crafted drinks—the first of which is typically a wine-tail—and an explanation of how each one was made. If you're up for more after the tasting, order The Closer, which covers a room in the above hotel and a bottle of sparkling wine for $99.
The ritual and craft of Japanese bartending inspired Derek Brown to create Columbia Room, and the influence is clear when you experience the team's meticulously made cocktails and food pairings. Settle into the tasting room where you can choose from a seasonal menu of three ($79) or five ($108) cocktail courses and snacks. This past season's focus was "Ocean," and each cocktail was inspired by a different body of water. The Indian Ocean, for example, was made with batavia arrack, white port, cashew feni, black pepper, cinnamon, coconut orgeat and calamansi, and paired with coconut kuzumochi with lime zest and seaweed toffee.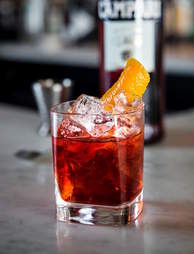 Steve Hill
Bruce and Eric Bromberg started a late-night dining revolution when they opened NYC's first Blue Ribbon back in 1992 (the kitchen stays open until 4 a.m.), and bartenders have been going there post-shift ever since. While their Downing Street Bar doesn't stay open quite as late, they do offer plenty of tasty snacks and libations into the wee hours. Their Cocktail Omakase is an especially great deal at $45, consisting of a custom three-drink flight. Simply tell the bartender what you like or don't like, and he or she will tailor the experience to your personal tastes.
Brothers Will and Dave Willis make a plethora of handcrafted spirits at their Boston distillery, from whiskey and rum to a resurrected version of early 1900s party staple Hub Punch. After taking a tour of Bully Boy, stop into the plush tasting room and cocktail bar to sample the fruits of their labor. While you can sip any spirit straight, they also offer a variety of cocktail flights that feature three mini versions for a mere $15. Choose from Moscow Mules, Old Fashioneds or Daiquiris to experience their spirits mixed with homemade syrups, tinctures and fresh juices.