While there are plenty of cozy cocktail bars on our bucket list, sometimes what we really want is to commune with nature while sipping on a well-made drink. Luckily, there are plenty of bars around the country that feel the same way. Whether you feel like sipping Old Fashioneds on a mountaintop or getting in touch with your tropical side on a floating lake bar, here are the seven most outdoorsy bars to visit in America.
Recommended Video
'Last Week Tonight' Writer Josh Gondelman Takes Shots, Talks About Working For John Oliver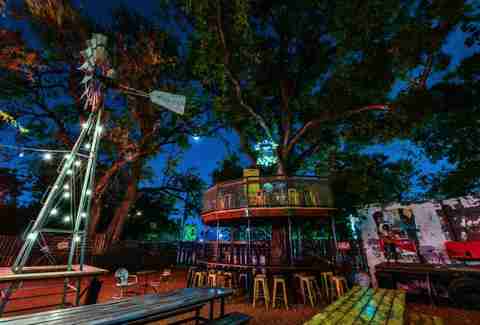 Being old enough to drink doesn't mean you're too old to hang out in a treehouse. At this Dallas, Texas, watering hole you can take your Mexican Frozen Coffees (coffee, tequila, Irish cream) and Mai Tais (lime, Cruzan rum, triple sec, orgeat, agave syrup) into the elevated bar, and sip to your heart's content while you survey the happenings below or stare serenely into the treetops. Just be careful not to overdo it before you come back down—those treehouse steps are a doozy.
Nestled in a cavern between two waterfalls, you don't even have to get out of the water to enjoy a cocktail at the Grotto Bar. Once you've had enough time in the sun, swim through a cascading waterfall into the bar for snacks and a refreshing cocktail, like the Bryan Would Go (gin, Orchid guava liqueur, lime juice, Valley Isle coconut kombucha, fresh mint) or the Liquid Haupia (aged rum, crème of coconut, pineapple juice, fresh orange).
Acrophobic drinkers beware: You need to travel 11,966 feet up to get to this ski-in, ski-out bar situated on the edge of a mountain. But it's worth it to sip glasses of fine wine on the bar and restaurant's multi-tiered deck, surrounded by snow-capped trees and peaks. Cozy up with sheepskin throws and Italian bites before returning to the slopes.
You could always spend an evening sipping a Martini at a lakeside bar, but why bother when you could sip and float at the same time? This small but mighty floating tiki bar offers tours of the Lake George area while providing its buoyant patrons with live music and boozy refreshments.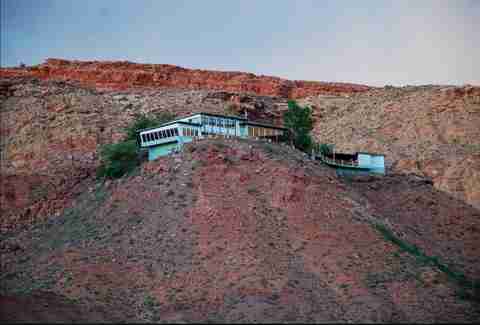 Moab is known for its breathtaking views of red rock formations and mountainous terrain—and there's no better way to take it in than with a measure of Utah-made High West whiskey at the Moab Sunset Grill. The bar boasts panoramic views of the mountains, and no matter where you are among the four dining rooms and three patios, you'll have an impressive view.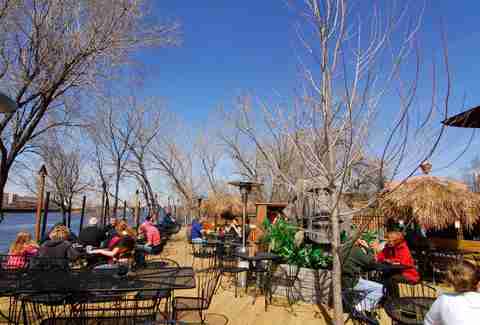 Psycho Suzi's is known for its impressive tiki cocktails and immersive tropical decor, including an indoor waterfall, but the outdoor seating isn't too shabby either. When the temperatures allow, guests can sit on the outdoor patio overlooking the Mississippi River and a lush garden. With a Poisoned Spear (various rums, cinnamon, pineapple, almond) or Blood of the Jungle (Maker's Mark, lemon, citrus, bitters) in hand, you'll feel more like you're on a tropical island than in the middle of Minnesota.
If you've ever wondered what it might be like to visit a bar in the Wild West, this saloon on the border of Arizona and California is probably the closest you'll get to finding out. It's smack dab in the middle of the Buckskin Mountains in what used to be a mining camp. The indoor and outdoor bars (accessed by a covered bridge) run solely on solar energy and regularly host live music. Keep in mind, though, that the Nellie E Saloon is only open October through April—the summer months are just too hot to kick back and enjoy a cold one in the desert.