We Tried Every Pickle Juice to Find the Best for Picklebacks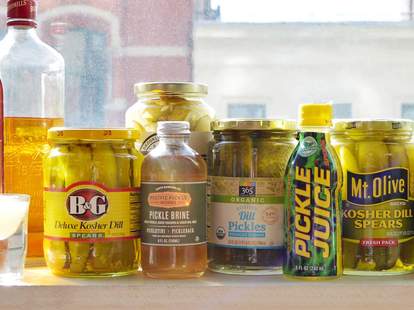 Marisa Chafetz / Supercall
Picklebacks are divisive: You either love the bracing flavor of salty brine after a shot of whiskey, or you think every one of the previous words is revolting. If you're one of the former types, there's a good chance you still only consume the combo in the judgment-free zone of a dive bar. But people have been drinking pickle brine with their alcohol for centuries in Eastern Europe. Word is, pickle brine can maybe even prevent a hangover. So stop all the nonsense about not liking Picklebacks or hiding your love for them in the shadows of dark bars. It's time to take the Pickleback back, people. Here are Supercall's nine favorite pickle juices to use for Picklebacks so you can be that person who is ready to serve them anytime, anywhere.
Among this Santa Barbara, California-based company's wide selection of pickled products is Pickle Brine, which is marketed specifically for Pickletinis and Picklebacks (with a small note that mentions it works as a post-workout sodium and electrolyte replacement). It tastes fruity and citrusy with a bright orange flavor you can't miss. There's almost a salad dressing thing going on with the consistency and flavor—in a good way. No wonder it won a silver medal from the Los Angeles International Spirits Competition.

It's hard not to notice a fat stamp that reads "PROBIOTIC" in all caps on the front of Farmhouse Culture's pickle juice "Gut Shots." According to a government study, probiotics increase bowel flora that are killed from drinking alcohol, as well as improve liver enzymes. No one is claiming this is an equalizer to a shot of whiskey, but the excuse is there if you need any justification for downing 120 milligrams of sodium with your beverage. It's wild fermented and has a tang not unlike a sour beer, and it has somewhat of a tannic quality to it. We ran into a bit of a pickle on whether it should make the list, with people either liking or disliking it. In the end, it did the trick and covered up any whiskey flavor entirely. Definitely give it a try if you're into anything wild fermented. Side note: Farmhouse Culture also suggests this as one half of a tequila Pickleback.

McClure's makes one of Supercall's favorite Bloody Mary Mixes with its Spicy Dill juice, so expectations ran high before testing it as whiskey's soulmate in a Pickleback. We weren't let down. Spice heads should rally around this jar with a bottle of sweetish Irish whiskey or bourbon for a nice contrast of flavors. The Spicy Dill is for you if you like spicy drinks, but if you want just pickle juice, the regular McClure's won't disappoint.

Whole Foods' 365 brand is here if you want the Pickleback without all the salt. Their reduced sodium dill pickles have five percent of your daily value per serving versus the 12, 20 and 38 percent daily value you find in others on this list. Taste wise, it's a nice, inoffensive beginner's pickle juice. It's a little sweet without being sugary like a bread and butter pickle. You can still taste the whiskey at the end, and we think it would play nicely with a bourbon.

Vlasic's pelican mascot has no doubt stared you down from the back of many fridges throughout your life. It's a standard, crowd-pleasing pickle that goes with just about anything—including whiskey—and has an instantly recognizable artificial color. Vlasic tastes a little minty with a cooling herbal thing going on. It's sour and and has a nice weight to it. You can't go wrong with this classic.
Mt. Olive's has been around since 1926. The Pickleback didn't become a widely accepted term until 2006, when Brooklyn bartender Reggie Cunningham christened the combo. Those 80 years of separation was far too long for some of our tasting panel, and not long enough for others. Mt. Olive is a little sweet, toasty and bready, kind of like a muffin. It It tastes fake, but in all the right ways.
Speaking of old pickle brands, B&G traces its history as "a New York tradition" back to 1889. Yankees probably weren't using B&G brine in their illicit speakeasies, and Mad Men types surely won't downing it with bourbon in the 1950s (but no one would have blamed them if they were). B&G has a savory barbecue thing going on and does its job in the Pickleback combo well. Shoot it with bourbon.
Embrace the high-low combo and elevate your Pickleback with Maille cornichon brine. The French company, which has been around since 1747, is the type of brand that people who use "summer" as a verb keep around their home. In a Pickleback, it's very savory and has a lot of onion flavor. Shooting it with whiskey makes for the Gibson of Picklebacks. It's intensely sour and goes better with a powerful rye whiskey than a gentler Irish whiskey.
The South knows whiskey, and if Alabama-based Wickles Pickles is any indication, the area can make some darn good pickle juice to go along with that whiskey. Wickles has a sweet Southern heat that makes it stand apart from anything else that we tried. Its brown sugar notes pair well with the fiery jalapeno flavor. It's not your average Pickleback, but you won't be upset about it.

Somehow this company was able to lock down the name Pickle Juice as a registered trademark. Started in 2001 (five years before Reggie Cunningham started calling whiskey and pickle juice a Pickleback), the Pickle Juice company is a fitness brand with the tagline "get Serious About Eliminating Muscle Cramps." It also happens to make a Pickle Juice Chaser designed for drinking with your whiskey. The Chaser tastes lighter and less ocean-water salty than most of the others that made the cut, with a strong dill flavor that'll cut out any whiskey burn.
Wake up and smell the garlic. Pik-L-Bak is a "pickle juice mixer & recovery aid" that pours a clear highlighter yellow and tastes tart and garlicky. It was created by the granddaughter of the woman behind the famous Best Maid Pickles, which sells gallons of pickle juice on Amazon. The bottle looks like it belongs behind a bar because that's what it was made for. Pickles to eat wasn't even in the books for Pik-L-Bak. In fact, it's a pickle juice in name only—the juice is bottled before it touches a single cucumber. It's tart and flavorful and can stand up to pretty much any whiskey worthy of shooting alongside bright yellow juice.