There's no shortage of bars that are surrounded by beautiful scenery—from beachy lounges to luxe wilderness experiences. But perhaps our favorite time to sip a drink in the great outdoors is as day turns to night, during Mother Nature's pyrotechnic, bigger-than-IMAX performance: sunset. Not only do these seven bars serve top-notch wine, spirits and cocktails, but they do it with a stunning, fiery backdrop to boot.
Recommended Video
Thrillist's Best (and the Rest): What You Actually Need to Know About Natural Wine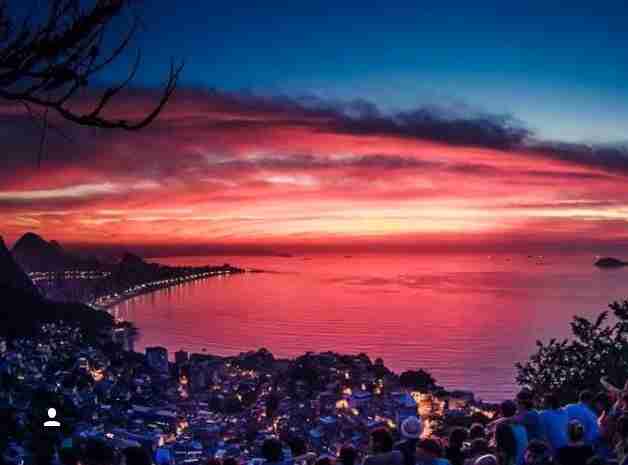 Perched atop the Casa Alto Vidigal hostel, this rooftop bar and lounge is a popular place for young tourists to party well into the wee hours. The space is known for its stunning sunset views, so we suggest you arrive late in the afternoon to sip Caipirinas and dance to DJs spinning beats before the purple and pink colors set in. If you're lucky—and have the will to stay awake—you might catch a nice sunrise, too.
This Malibu bar and restaurant sits right on the Pacific Coast Highway and offers panoramic views of the city's legendary, smog-filtered sunsets. They have a killer sundeck as well as an indoor dining room that makes you feel like you're on a boat. Catch the fiery red skies with a signature Martini or glass of sake in hand.
As the country's Westernmost state, Hawaii is already a perfect place to catch the sunset. But if you head to Kailua Kona Bay on the Big Island, you'll get the most stunning view possible as the sun sinks below the ocean behind a backdrop of majestic volcanic rocks. Settle in at Island Lava Java for an expertly-made cocktail, whether you're in the mood for a Mai Tai, Kona Coffee Martini or Bloody Mary rimmed with lava salt.
Sunset Pier at Ocean Key Resort & Spa is the place to catch a gorgeous sunset in Key West. Grab a seat on one of the colorful stools and enjoy snacks like fresh stone crab and oysters to the sounds of live nightly entertainment. They have mini menus dedicated to Margaritas, Bloody Marys, boozy lemonades and Mojitos, so there's a liquid treat for everyone.
Sedona is famous for its red rock buttes, which are illuminated an even deeper shade of crimson as the sun sets. The best place to enjoy the scenery is SaltRock Southwest Kitchen, which features a beautiful outdoor patio with plenty of comfy seating. Their cocktail menu is killer too, and includes a selection of signature Margaritas, as well as seasonal creations like the Heart Beet.
If you plan a trip to Portugal, make sure you don't miss out on the country's stretch of Azores islands. Their beautiful beaches and stunning sunsets are worth any extra travel time. Make a trip to Lagoa and stop by Bar da Caloura, where you can indulge in island life to the fullest. Go for a sunset swim in the bar's ocean pool before kicking off the evening with a glass of Portuguese wine and a plate of fresh seafood.
Santorini's town of Oia is hands down one of the best places in the world to catch a sunset, so there's no shortage of restaurants and bars that offer spectacular views. But Katharos Lounge, which is perched on its own little quiet piece of cliff, is a respite from the hordes of tourists that flock here every evening. Take in the sky's orange and red hues as you sip chilled ouzo and nosh on succulent lamb kabobs.