There are rules to a successful pregame, and one of our non-negotiable pregaming commandments is "thou shalt create an appropriate playlist." You can't risk putting your iPod on shuffle and revealing your closet Hanson obsession to your friends—you need genre-spanning songs that are upbeat, fun to sing and, above all, bound to get everyone hyped. It's a very serious undertaking, but don't worry, we did all of the hard work for you. Here are the 45 greatest songs for your pregame playlist. Give them a listen, save them to your Spotify and play them to get the party started this weekend.
Recommended Video
Thrillist's Best (and the Rest): What You Actually Need to Know About Natural Wine
You Give Love a Bad Name - Bon Jovi
In the immortal words of Barney Stinson, "people think a good mix should rise and fall. But people are wrong. It should be all rise, baby!" Just like Stinson, this Bon Jovi hit is the lead of our own "get psyched" playlist because nothing gets the adrenaline pumping like belting out "shot to the heart!" as loud as you can.
All Star - Smash Mouth
Fact: Nobody dislikes this song. It may be the only Smash Mouth song that stuck with people through the years, and that's because it's an evergreen pleasure from the first "someBODY."
Crazy in Love - Beyoncé feat. Jay Z
You can't go wrong with most Beyoncé songs, from the empowering "Single Ladies" to the sexy "Partition" to all of Destiny's Child's greatest hits. But there's something about this explosive early collab with her future husband that gets us extra excited for what the night may bring.
Timber - Pitbull feat. Kesha
Pitbull and Kesha specialize in club bangers that are meant to get people in the party frame of mind. Naturally, their joint hit about "it going down" was destined for eternal pregame song status.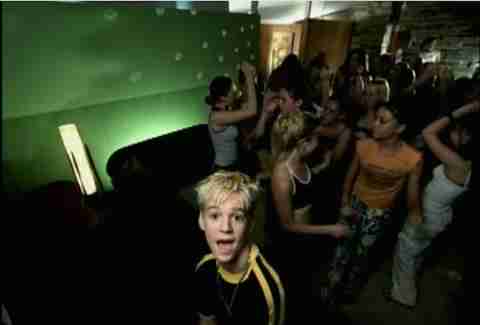 Aaron's Party (Come and Get It) - Aaron Carter
For many millennials, this was the first "hard" partying song your parents ever let you listen to, probably because Aaron Carter gets grounded for his actions at the end. People will surprise themselves when they dig the G-rated rap lyrics out from the recesses of their brains.
I Gotta Feeling - The Black Eyed Peas
We're pretty sure The Black Eyed Peas wrote this song to corner the market on Bar Mitzvah party anthems ("Mazel Tov! L'Chaim!"), but it gets us pumped up even when we're not attending a coming-of-age celebration.  
Can't Hold Us - Macklemore & Ryan Lewis feat. Ray Dalton
This infectiously upbeat, horn-laced rap song from Macklemore & Ryan Lewis is an even better party track than their mega-hit "Thrift Shop." But don't worry, we won't stop you from rocking a wolf on your noggin.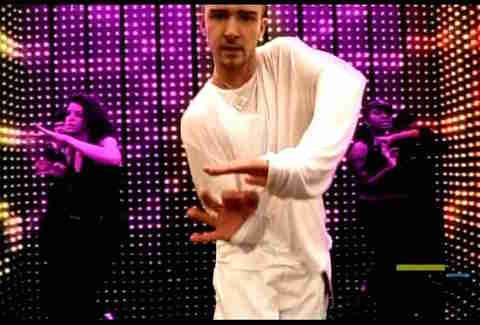 Rock Your Body - Justin Timberlake
Justin Timberlake is, dare we say, the modern-day King of Pop, cranking out hits that could easily amount to a killer party playlist on its own. But "Rock Your Body" remains the catchiest thing the man has ever put out, and it's guaranteed to get everyone moving.
Wannabe - Spice Girls
We dare you to find a partying-age female who doesn't know every lyric of the Scary Spice bridge. Actually, scratch that—it's safe to say that most men are game to rap it too.
Cheap Thrills - Sia feat. Sean Paul
The most recently-released song on this playlist, Sia's "Cheap Thrills" is all about the pregame ritual of getting glam for the night with your friends and being happy to have each other's company even if you don't have any money to blow at the club.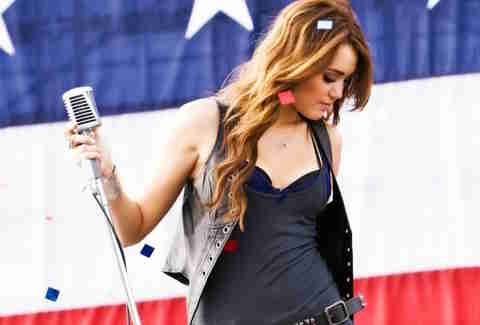 Party in the U.S.A. - Miley Cyrus
The modern Miley Cyrus may be a hard partier, but the post-Hannah-Montana-era singer was responsible for the best party tunes. This good-natured, fun song will coax a smile out of even the most cynical pregamers.
The Middle - Jimmy Eat World
Anyone who grew up in the '90s will get psyched when this pop-rock song comes on, as it encourages headbanging along with the guitar in the chorus.
Lose Yourself - Eminem
Not everyone knows the words to Eminem's high-stakes rap, but those who do will loudly prove it to the room. Anyone who was once an angsty teenager can relate to this song a little too much.  
Hotline Bling - Drake
Even though this is the chillest song on this playlist, Drake's legendary dad-like dance moves in the "Hotline Bling" music video still make everyone excited to imitate their favorite meme.
American Girl - Tom Petty and the Heartbreakers
When this song comes on with a few drinks in the belly, everyone becomes an American girl who can't help thinking that there's a little more to life somewhere else.
Yeah! - Usher feat. Lil Jon, Ludacris
Usher's most memorable hit to date has stood the test of time because every single part is entertaining—from the verses to the hook to the screeching rap from Lil Jon, the king of crazy party tracks.
Forget You - CeeLo Green
We may be including the PG version for appearances' sake, but while it's just as catchy, we have to admit it's a little more satisfying to sing the f-bomb version instead.
Come on Eileen - Dexys Midnight Runners
You probably won't be able to hit the high notes, but this one-hit-wonder is a crowd favorite that will have everyone pretending like they know all of the words, when they're really just making noises.
Call Me Maybe - Carly Rae Jepsen
Love it or hate it, "Call Me Maybe" is pop genius that will either inspire genuine enthusiasm or ironic enthusiasm, but guaranteed enthusiasm nonetheless.
Gold Digger - Kanye West feat. Jamie Foxx
Our actual favorite Kanye West pregame song is a certain NSFW-titled collab with Jay Z and the cast of Step Brothers, but this OG hit with Jamie Foxx is a super close second that makes us nostalgically miss the old Kanye.
Your Love - The Outfield
Much like "Come on Eileen," you can't hit the high notes of this '80s classic, but that doesn't make it any less fun to try—though maybe not for your neighbors.
Get Low - Lil Jon & The East Side Boyz feat Ying Yang Twins
Like we said, no one knows how to write a club earworm quite like Lil Jon, and with seemingly very little effort. Between "Turn Down for What" and "Shots," Lil Jon just needs to scream into the microphone for people to get hyped. But we believe "Get Low" to be his pièce de résistance, mostly because it includes whole sentences.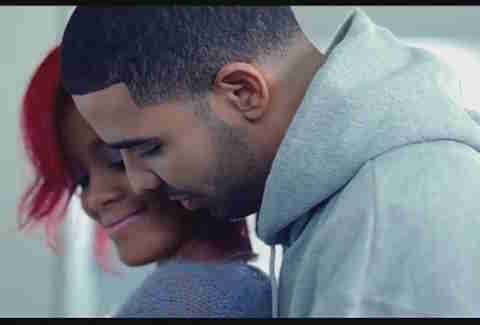 What's My Name? - Rihanna feat. Drake
Rihanna is our #DrinkGoals queen, from carrying a bedazzled flask at award shows to her penchant for stealing wine glasses to her bonafide drinking anthems. But this duet with Drake gives us all the feels and is one of the most fun ones to sing, too.
Feel the Love - Rudimental feat. John Newman
The remixes for this international sensation are killer, but the original track featuring John Newman is soulful, powerful and chock full of maximum hype-age.
No Diggity - Blackstreet feat. Dr. Dre, Queen Pen
When this beat kicks in, everyone will be leaning back and swaying side to side, holding their drinks in the air like it's a '90s R&B music video.
September - Earth Wind & Fire
This is the happiest, most upbeat, infectious song ever written. We'd argue that it may be the GREATEST song ever written, but that's just one biased writer's (correct) opinion.
Get Lucky - Daft Punk feat. Pharrell Williams
Though not enough time has passed to put this song in the realm of classic throwbacks, the modern disco track is still fun to get down to, if not just for the memories of Stephen Colbert and Bryan Cranston doing synchronized rollerskating on The Colbert Report.
Lose Control - Missy Elliot feat. Ciara, Fatman Scoop
Missy Elliot is cooler than we'll ever be, but this song allows us to pretend that we exist in her world, if only for three minutes and 46 seconds.
Dancing Queen - ABBA
Whether you were a genuine ABBA fan back in the day or you just went through a pretty heavy "Mamma Mia!" phase, "Dancing Queen" deludes us all into agreeing yes, we can dance.
Uptown Funk - Mark Ronson feat. Bruno Mars
Let your funk flag fly with this song that sounds like it could have came out of the golden era of the genre. Get your whole crew dancing in sync until you all feel "too hot" for anyone.
Temperature - Sean Paul
Even after all these years, people only know about five percent of the words to this song. We're pretty sure Sean Paul doesn't even know them all, but that won't keep us from emphatically pretending.
You Make My Dreams Come True - Hall & Oates
There's a reason Joseph Gordon-Levitt's character mentally joins the city of L.A. in a dance number to this Hall & Oates jam after he gets together with his crush in the movie 500 Days of Summer. It's pure, aural joy.
Fancy - Iggy Azalea feat. Charli XCX
There are two types of people in this world: those who rap every one of Iggy Azalea's lines flawlessly and those who wait to crush Charli XCX's hook and declaration of "let's get drunk on the minibar!"
I Will Survive - Gloria Gaynor
The perfect rebound song if you're getting over a breakup, this empowering track will get you ready to hit the town and show whoever wronged you that you're over it, via Snapchat story.
I Want You Back - The Jackson 5
Alternatively, if you're pining over a lost love and drinking to forget, this song may give you the courage to get him or her back. Just don't do it over a late-night text message.
Can't Feel My Face - The Weeknd
Choose to ignore the actual inspiration for this song (lots of drugs), and instead think of it as a tribute to a true love, which most people think anyway because it's just so dang cheery.
Empire State of Mind - Jay Z feat. Alicia Keys
Everyone loves to belt this one out. But if you happen to actually call New York City home, you'll sing it extra loud because it inspires a pride we thought only Billy Joel could instill in us.
All I Do Is Win - DJ Khaled feat. Ludacris, Rick Ross, T-Pain, Snoop Dogg
DJ Khaled is more professional hype-man than DJ, so it's no surprise that this song gets everyone pumped up and shoots their confidence through the roof.
Hey Ya! - OutKast
This whole song is a masterpiece, but the bridge of "shake it, shake it like a Polaroid picture," has to be one of the cleverest lyrics ever written. Do it justice by indeed, shaking it.
All the Small Things - Blink-182
You have to keep your inner punk buried deep at your job, but now that it's the weekend, set it free as you yell "work sucks! I know!"
Mr. Brightside - The Killers
This song is experiencing a second coming in the form of a popular meme, but those who grew up with this Killers' tune will always cherish it for its ability to inspire a glorious group sing-along.
We Are Young - Fun., feat. Janelle Monáe
Indulge your alcohol-fueled emotions with this song, which will make you appreciate your friends and partners, the memories you've made at your pregame and the night you'll have out together. Expect this to end with a group hug and everyone saying "you know, I just love you guys."
Sweet Caroline - Neil Diamond
We may not all like the Red Sox, but when this song comes on and we've had a few to drink, we're all in for the tradition of fist-pumping along to "bah-bah-bah!"
Bohemian Rhapsody- Queen
By now, you should all be significantly buzzed enough to sing this song with the enthusiasm and group participation it deserves. Either divvy up the sections into groups or go in together on each part for the most rousing rendition of "Bohemian Rhapsody" this neighborhood has ever seen.
I'll Make a Man Out of You - Donny Osmond, Mulan
It's time. You're ready to go out into the world and take on the night and whatever challenges it may bring with the force of a great typhoon. So go ahead, sing everybody's favorite Disney hype song as you get into your car, and don't worry about bringing your Uber rating down a point. It's worth it if it means defeating the Huns, aka your morning hangover.