4 Remote Control Coolers to Set Your Summer Off Right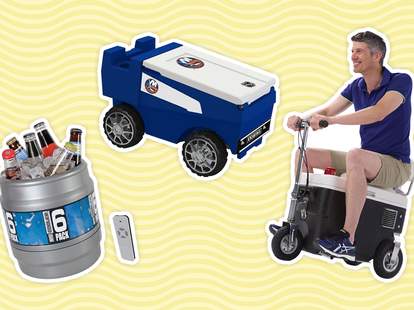 We've all been there—you're having a good time at a raging summer bash, and your glass is empty. You stare down the cooler all the way on the other side of the party, groaning as you think about weaving through all those people just to get another drink. What a buzzkill! Good news: You don't have to bother getting up to grab another cold one any more. Instead, invest in one of these remote control coolers to bring the party to you.
This cooler is available in 14 colors and is a lazy partier's dream. The durable, double-wall insulation keeps your drinks nice and frosty, and it has a remote-controlled operating system that let's the user drive it in four directions (forward, reverse, left and right) via remote control with a 100-foot range capacity. It has built-in Bluetooth speakers and bright LED headlights so you can keep the party going after sunset.
If you want to test the waters of remote control cooler life on a budget, this R2-D2-esque design will show you the ropes without breaking the bank. This compact cooler is large enough to hold six bottles or cans of your favorite booze (or a couple large bottles of liquor) along with enough ice to keep them cold. Four sturdy wheels get your beverage into your hand with the simple press of a button from up to 60 feet away. It works indoors and outdoors, and is compact enough to take with you wherever the party is this summer.
Football fans, hockey fans, sports fans in general, there are remote control coolers just for you. They come decked out to support a variety of teams and are big enough to fill with drinks to last through the whole game. The inside can hold 30 12-ounce cans, and the body is sturdy enough to double as a seat if you're catching the game on TV. You can choose how fast you need your drink with the three-speed remote control. Built-in Bluetooth speakers and LED headlights are both playful and functional.
If money is no object and you want to party like an absolute boss this season, this rideable, three-wheeled cooler will make you the coolest dad or dad-wannabe on the block. Equipped with a 1,000-watt electric motor that propels this baby up to 12 mph, it'll let you transport chilled beverages at near-lightning speed without lifting a GD finger. The insulated bin accommodates up to 24 12-ounce beverages and eight pounds of ice. Try carrying that much sauce with your bare hands. The handlebars are designed with an easy-to-use brake lever so you don't have to crash into the apps table to stop, and the throttle let's you start and accelerate with ease. Three pneumatic tires provide traction on gravel or pavement so you don't slip, slide and spill your drink, which you can conveniently stash in the cup holder placed right between your knees. The 48-volt battery provides up to 10 hours of leisurely riding, and the whole shebang supports up to 320 pounds.