The Best Small Town for Drinkers in Every State
Small town charm becomes a lot more endearing after a few rounds, so some of our favorite tiny communities around the U.S. are the ones where you can get a decent drink. Small towns with distilleries, breweries, vineyards and meaderies are just the start, as many places that barely register on a map actually contain unique and unbelievable drinking experiences. So that you can get in on the fun in your local area or while travelling, we rounded up our favorite small towns across the country. And when we say "small town" we mean "small"—like, people know each other on a first name basis and might be related small. Here is the very best small town (capped at 25,000 people) for drinkers to visit in all 50 states.
Fairhope, Alabama
Population: 19,400
When you think of Alabama, a town like Fairhope probably isn't what comes to mind. It's bordered by Mobile Bay on one side, a little inlet of the Gulf of Mexico, that gives the whole area a casual beachy vibe to it. The drinking scene is a mix of cocktail bars like Tongue and Groove Drinkery, live music joints and a whole lot of dive bars. Right in the middle of town is Fairhope Brewing Company, a brewery and taproom with locally made, rustic furniture and well regarded, hyper-local craft beer.
Sitka, Alaska
Population: 8,900
Sitka is the paradigm of an isolated small town. Located on Baranof Island, the town is hemmed in between snow-capped mountains and the sea, making it accessible only by plane or ferry. Wedged in with the town is Pioneer Bar—aka, P Bar, as the locals call it—which looks like a shanty mixed with a diner, decorated with photos of ships that are the lifeblood of the town's harbor, as well as a massive bell that hangs over the bar. Ringing the formidable instrument announces to the bar that you've just bought a round for the entire crowd of rowdy seafaring regulars, so ring it with intention or else steer clear.
Bisbee, Arizona
Population: 5,200
Bisbee is full of characters that can only be described as colorful. The town is just north of the Mexican border, and is populated by hippies, artists and bikers—all of whom, it appears, love a good drinking scene. The old mining town has mainstays like the St. Elmo Bar, which has been around since 1902 and welcomes all walks of life, and other saloons, dives, wine bars and cocktail bars. There are also two breweries in the town, Old Bisbee Brewing Company and Beast Brewing Company, making award-winning and innovative brews. In short, Bisbee is an oasis on the Arizona-Mexico border.
Eureka Springs, Arkansas
Population: 2,000
Visitors come to Eureka Springs for the big cat refuge, the ghost tours and chance to explore Onyx Cave, but you'll find the locals drinking it up at Eureka Live, "Eureka's only downtown underground video dance bar & beer garden" the website says (we're not sure there was a lot of competition for that title). While in town, you should also check out Lucky 7 Rooftop Billiards for a great view of the area along with drinks and pool, as well as other local hangs like Cathouse Lounge and the Rowdy Beaver Den (seriously, how can you dislike a town with a bar named Rowdy Beaver Den?).
Sebastopol, California
Population: 7,600
Many small towns across the country have good bars (that's why this list exists in the first place), but not many small towns have 20-plus wineries, twobreweries, one cidery and a distillery on top of great bars and tasting rooms. It's hard to stand out when you're in the middle of California wine country, yet Sebastopol manages to do so. Whatever your drink of choice is (even if your drink of choice is green tea-infused whiskey) the town has something for you.
Salida, Colorado
Population: 5,600
According to the Wood's High Mountain Distillery website, the distillers who call Salida home took inspiration from the great mountainous landscape of Colorado when they crafted their whiskey, gin and elderflower liqueur, some of which even include local Colorado ingredients. While you should follow the distillers' lead and spend your time hiking, camping, hunting and generally living it up outdoors around Salida, you'll also find quite a few tap houses in town, including the tasting room at Soulcraft Brewery, where you can pick up some boozy provisions for your next rural outing.
Derby, Connecticut
Population: 12,600
The best beer bar and beer garden in Connecticut is in a town with fewer people than a mid-sized college. The Hops Company is a beer lovers heaven with more than 40 draft options, as well as ciders, wine on tap and cocktails. What really turns THC (yes, it goes by THC, The Hops Company) from a good spot into a great spot is the 4.5-acre beer garden and outdoor bar. Play giant Jenga without having to worry about hitting someone's beer when it inevitably falls over, toss bean bags as far as you want in a game of Cornhole, and throw darts in a much safer environment than a crowded city bar. It's the type of spot that you can go to time and time again without ever getting bored.
Rehoboth, Delaware
Population: 1,500
The Dogfish Head brewery and distillery may be located in Milton, but the best spot to sit and drink the famed brand's brews and spirits is 15 miles east in Rehoboth Beach. In the seaside town, Dogfish Head has two bars next door to one another, the seafood-focused Chesapeake & Maine and the brewpub Brewings & Eats, where the Dogfish story began. If Dogfish isn't your speed (do you hate puppies and flowers too?), you can find a few local dives along the boardwalk serving brews and fishbowls alongside fried fish.
Santa Rosa Beach, Florida
Population: 12,400
Florida's Emerald Coast on the state's panhandle is lined with small beach towns, but none compare to Santa Rosa Beach. Yes, there are the expected sugar sand beaches and the bright, pleasantly warm water, but there's also a nightlife that you don't want to miss. There's the Grayton Beer Company, a brewery that's a community gathering point for people along the 30A highway, as well as Idyll Hounds Brewing Co., which makes beers with a "local first" mind set. If a change of pace is what you're looking for, drinking in the view (and the cocktails) on the rooftop bar of 723 Whiskey Bravo is the perfect escape from the real world.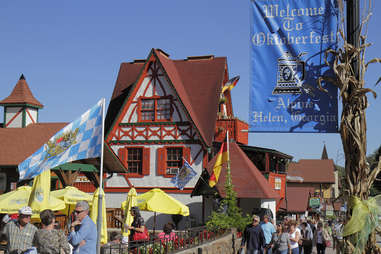 Helen, Georgia
Population: 500
While this petit Georgian town sits in the Appalachian mountains, it looks as if it belongs in the Alps. The Bavarian lookalike boasts several beer halls, including King Ludwig's Beer Garden and The Wurst House, but the real party happens in the fall, when the town celebrates Oktoberfest. One of the longest running celebrations of the beer-fueled bash, Helen's Oktoberfest will transport to a little village around the world.
Pa'ia, Hawaii
Population: 2,600
There are very few bad places to have a drink in Hawaii. With that said, few experiences match drinking in Pa'ia. The tiny town in Maui is home to Charley's, which Willie Nelson blessed by calling the bar "my kind of place." Opened in 1969, Charley's is a place where you can "take a step back in time and find true Aloha," especially if your true aloha is a country saloon. If it's not, Pa'ia is also home to Rock and Brews, a craft beer bar, and Milagros, a tequila bar with 38 different agave spirits.
Victor, Idaho
Population: 2,000
Right on the border between Idaho and Wyoming, you'll find Teton Valley, a string of teeny towns along Highway 33, and the Grand Teton operation, which operates a brewery in Victor and a distillery in nearby Driggs. If you don't believe us when we say the area is worth a visit, trust Channing Tatum, who's Born and Bred Vodka is made at Grand Teton Distillery. While you could easily visit both towns in an afternoon, we give the title of best to Victor for the Grumpy Goat Shack, an utterly confusing, summertime-only shack of a bar, which oddly combines a goat petting zoo with a collection of women's undergarments nailed to the ceiling. Idaho is a weird place, man.
Galena, Illinois
Population: 3,200
A free trolley ride to downtown Galena is like a ride through America's idealized Main Street. Come for the history, small-town beauty and outdoor activities, stay for the drinks. Taste through local wine at the Galena Vineyard or tasting room, and hit Arbor Hill Vineyards to learn why two grape varieties—Marechal Foch and Frontenac—are actually perfect for the Midwest. Three other nearby wineries have tasting rooms in town. Galena Brewing Co.'s taproom offers a sudsy change of pace with beers that throwback to the town's history as the home of Ulysses S. Grant.
Nashville, Indiana
Population: 1,100
No, not that Nashville. While the Indiana town of the same name doesn't have the same Southern charm of the familiar Tennessee city, it does hide quite a bit of music and booze up in the woods. Bear Wallow Distillery and Hard Truth Distilling turn local grains from the heartland into liquid Americana. Many of the local venues also combine booze and music, like the Indiana RedBarn, the Chateau Thomas Wine Club, and the annual GnawBrew Beer Art & Music Festival.
Decorah, Iowa
Population: 8,000
Toppling Goliath Brewing Co. is a giant when it comes to beer that beer lovers crave most. PseudoSue, King Sue and others are consistently ranked as some of the best beers available, and the entire brewery was named BeerAdvocate's second-best brewery in the world. To get the freshest taste, you have to travel to the little town of Decorah, where each beer release brings in more than 2,000 visitors, equivalent of a quarter of the town's population. Toppling Goliath is the biggest draw, but there are also places in town making great beer with less hype like Pulpit Rock Brewing. Or just skip beers altogether and bar hop along Water Street.
Hays, Kansas
Population: 21,000
We love a good college town, and while Lawrence may be the most recognizable one in Kansas, it's much too large to qualify as a small town proper. On the other hand, Hays, home to Fort Hays State University, is just on the cusp of small town status (what's an extra thousand people among friends, right?). With a solid population between 18 and 34 years old, the town has plenty of going on, but the best of the lot is Gella's Diner & Lb. Brewing Co., a duel restaurant and brewery that takes inspiration from the area's working German immigrant heritage with award-winning in-house brews on tap and German fare.
Bardstown, Kentucky
Population: 13,200
When it comes to eye-catching small town monikers, it's hard to beat "Bourbon Capital of the World." Bardstown earns that name by being the home of Four Roses, Willett, Maker's Mark, Barton 1792, the Jim Beam American Stillhouse and the Heaven Hill Distilleries Bourbon Heritage Center. The town is also home to Talbott Tavern, the oldest bar in Kentucky. Bardstown pushes the tagline that "there's something beautiful about a small town," and when that small town is filled with as much bourbon and history as Bardstown, it's pretty clear what makes it beautiful.
Mandeville, Louisiana
Population: 12,000
Just across Lake Pontchartrain from New Orleans, Mandeville has taken some influence from the Big Easy in music and Daiquiris, but offers these simple joys in a more chill setting. After knocking back a few at the ultra divey Red Barn Pub (where they offer free jambalaya) or the town's location of Daiquiris & Creams (which offers Daiquiri flavors like "Alligator" and "House Special Abuse"—don't ask us, we don't know either), catch a show at the church-like Dew Drop Lounge for some down home entertainment.
Bar Harbor, Maine
Population: 5,200
The New York Times writes that what makes Bar Harbor great is that it's "deliciously frozen in time." There's definitely something delicious and (sometimes) frozen about Bar Harbor, but it's the drinks, not the time. Eat local seafood and drink local beers at Geddy's on Main Street, then kick back with even more beer at the Atlantic Brewing Company. When the weather's nice enough, grab a bottle from Bar Harbor Cellars and explore Acadia National Park until you find a nice place to lay out a picnic blanket. Plus there's no better place to push the limits on how many drinks go good with lobster.
Berlin, Maryland
Population: 4,600
The idyllic Berlin clinched the title of Coolest Small Town in Budget Travel's annual contest (it was probably this amazing song, "Cool Berlin," by a local songwriter that did it), and we're sure the local drinking scene helped. For example, The Globe is a renovated theater that combines a bar, restaurant, performance space and art gallery under one roof. The town is also home to Burley Oak Brewing, which serves its large portfolio at its taproom (often to the accompaniment of local musicians) including their Home Grown series, featuring hyper-local grains grown just 15 minutes away.
Newburyport, Massachusetts
Population: 18,000
Sometimes all it takes to turn a small town from a nice place to drive through into a destination for drinks lovers is one bar. For Newburyport, that bar is The Paddle Inn. A backtrack of vinyl records plays at the cozy bar, while a long list of beer and seafood options keep your taste buds satisfied. What makes Paddle Inn truly stand out, though, is the cocktail list, which is headed up by the heralded team from Boston's Trina's Starlite Lounge. Cocktails include a secret Rum Punch recipe from the Caribbean, a black tea infused bourbon cocktail called Rockin' Chair and tiki drinks galore. Whether there's sunshine, rain or snow, let the beach vibes flow at The Paddle Inn.
Traverse City, Michigan
Population: 15,500
Hanging off the ring finger of the Michigan hand like a hangnail, you'll find Traverse City far in the north of the state, so it makes sense that the city's liquor production would be anchored by "The Whiskey of the North," as Traverse City Whisky Co. calls itself. At the distillery's Stillhouse Cocktail Bar, you can taste their locavore distillates like the American Cherry Edition made with local cherries or their North Coast Rye, "a tribute to the water and lakes that surround [the distillery]." When you're done there, head out for craft cocktails at The Parlor, an upscale bar located in an old cherry warehouse (they take their cherry history seriously up in Traverse) or hit Rarebird Brew Pub for their huge selection of craft brews.
New Ulm, Minnesota
Population: 13,300
The Germans know how to drink, and the closest you can get to German drinking in America might just be in New Ulm. First off, there's Schell's, Minnesota's oldest running brewery that bills itself as "the place where the story of German Craft beer began" and runs the summer blowout Bock Fest. Speaking of festivals, visit in July for beer, wine and summertime entertainment during the Bavarian Blast Festival. No visit would be complete without grabbing some beers and hitting the great outdoors in the Great North.
Oxford, Mississippi
Population: 23,300
It's true that bars close at midnight in Oxford (the county seat of Lafayette County), but thankfully there are a ton of great spots packed into a small area, The Square, so you can get your fill in record time. You can pair southern eats with cocktails at the City Grocery (and enjoy their second floor balcony seating), grab a slushy cocktail from Funky's Pizza and Daiquiri Bar, hang with Ole Miss revelers at The Blind Pig Pub, get classy at the aptly named The Wine Bar or get weird at the paradoxically named Library Sports Bar, and still get home in time for your eight hours of shuteye.
Branson, Missouri
Population: 11,400
In the 1880s, Missouri was the top wine-producing state in the country. Those days are long gone, but there's still Branson, the heart and soul of Missouri wine. Head to Curling Vine Winery for a taste of wine made from the official state grape, norton. Bottle your own wine from a 600-gallon French oak barrel at Mount Pleasant Winery. For the ultimate Missouri wine experience, go to Lindwedel Winery, grab a bottle of wine, sit in the wine garden overlooking the bluffs, and take in the live music.
Augusta, Montana
Population: 300
With three bars and only 300ish residents, Augusta beats out plenty of larger towns for boozy density. Lazy B Bar and Cafe looks like a debaucherous community center, while something literally called Western Bar is decked out in wood and Flintstones-esque faux stone, but it's Buckhorn Bar where you want to spend your time for a true Western drinking experience. The bar overflows with taxidermy, especially elk antlers donated by locals. You'll find plenty of those locals there as well, as the bar is a gathering place after church or the yearly Augusta American Legion Rodeo.
Monowi, Nebraska
Population: 1
In Monowi, Nebraska, there's only one tavern. Yet it has the highest bar-to-resident ratio in the world, because there's also only one person. The World Famous Monowi Tavern is owned by 84-year-old Elsie Eiler, the same person who is the mayor, clerk, treasurer and bartender of the smallest incorporated town in the U.S. The regulars come from miles away to sip the coldest beers in town, and you're welcome too (except on Mondays, when the bar is closed). Monowi offers a truly singular drinking experience that you can't find anywhere else.
Goodsprings, Nevada
Population: 200
About 45 minutes south of Las Vegas, Goodsprings looks like nothing more than a mirage in the desert. The one-bar town hardly seems worthy of a stopover, until you discover Pioneer Saloon. Founded back in 1913, about 30 years before the first casino opened on The Strip, the bar now acts as a gathering point for car clubs and as a last minute pitstop between Vegas and L.A., but you should know about it as a whiskey oasis. Beyond its own selection of whiskeys, the bar has partnered with the Las Vegas Distillery to offer a barrel program in which visitors can purchase their own barrel to be stored at the bar and utilized whenever the buyer likes.
Lincoln, New Hampshire
Population: 1,600
Ski season is one of the best times to visit New Hampshire. The countless mountains and trails are one reason, and the killer apres ski bars is the other. The Paul Bunyan Room at Loon Mountain just a few miles from Lincoln is one of the best, and is the standard for what New Hampshire apres ski can be. The bar features more than 30 draft beers, a regular line up of live entertainment, hot cocktails and wine. You don't even have to do the ski part of apres ski to have a good time at the Paul Bunyan Room, you just have to show up ready to party.
Asbury Park, New Jersey
Population: 15,800
There are a number of towns along the Jersey Shore that buck the area's reputation (thanks a lot, Jersey Shore), and the best of 'em is Asbury Park. There are plenty of venues where you won't run into Snooki, like the experimental pizza-cocktail bar Porta or another pizza-cocktail combo at Talula's or the totally unrelated-to-pizza Cuban bar Cubacan where you can sip a serious Mojito by the sea.
Ruidoso, New Mexico
Population: 7,700
Bar hopping in Ruidoso is unmatched. The town of just over 7,700 has the nightlife of a city 20 times its size. Drink longnecks and go two-stepping to live music at the landmark Win, Place, or Show honky tonk. Sip Martinis in an overstuffed leather couch in front of a roaring fire at Cattle Baron. Or just go out and shoot pool at any of the other eight bars nearby. The mountain resort town has something for everyone.
Gardiner, New York
Population: 5,700
Tuthilltown Spirits was the first distillery to revive distillation in New York state since Prohibition and it Hudson Whiskey has became a staple at many a cocktail bar, so visiting it is a rite of passage for anyone who enjoys the growing category of New York spirits (or just generally enjoys some Northeastern pride). A hop, skip and a jump from Poughkeepsie, the distillery makes the perfect weekend trip from NYC. You can sip many of the distillery's spirits in its shop or at its restaurant, Tuthill House at the Mill, but if you should also try a local spot like Gardiner Liquid Mercantile, which also sells local craft beverages from the area should you wish to pick up a souvenir.
Kill Devil Hills, North Carolina
Population: 7,100
Kill Devil Hills is located in the heart of North Carolina's Outer Banks, and the town's history as the location of the Wright Brothers' first flight is only matched by its beachy drinking scene. First things first, you can drink on the beach legally here (so long as you don't bring glass), which takes care of all of the day drinking you could ever want. Head indoors at the Outer Banks Brewing Station, the first wind powered brewery in America, which often has live music. If you're down for a bit of a trip, you can go to the Fish Heads Bar & Grill tiki bar. Finally, no trip to Kill Devil Hills would be complete without a trip to Jolly Roger for some liquid courage fueled karaoke.
Arthur, North Dakota
Population: 400
A quick survey of Arthur doesn't reveal much. There is a bar, Coaches Corner, but it doesn't look like anything to write home about. But you're not here for a bar. You're here for a barn. Arthur's Barn, now owned by a local couple, has been hosting barn dances since 1952, where the drinks flow and the line dances never stop—well, they've stopped temporarily due to a fire in late 2017, but the barn is on the rebound and should reopen by the time you get yourself to North Dakota. When it does, you too can experience the majesty of a truly lit barn with a cupful whiskey and a crowd of amped line dancers.
Put-in-Bay, Ohio
Population: 130
The Lake Erie island is home to the best beachy, tiki and kitschy bars in the Northern Midwest. It's hard to top a 9,000-square-foot pool with a swim-up bar like the one at the Sand Bar. You may be in Ohio, but you'll feel like you're in a tiki wonderland with Florida beach sand and pool games. Find your way to Mojito Bay for more Mojitos than Mr. Worldwide can shake a stick at. Whatever you do, don't leave Put-in-Bay without going to the Beer Barrel Saloon and seeing one of the longest bars in the world (405 feet and 10 inches long, according to the Guinness Book of World Records).
Broken Bow, Oklahoma
Population: 4,100
As the gateway to Beavers Bend State Park, Broken Bow (and nearby community Hochatown) is a prime spot of water-loving types looking to take advantage of the area's many beaches, islands and fishing, but it holds just as much draw for small town drinkers. The Choctaw Casino offers plenty of drinking and gambling should you need to escape from nature, while Hochatown's Beavers Bend Brewery offers a midpoint between outdoors and in, with a patio where you can sip brews as you watch life pass by. Abendigos cocktail bar and the Hochatown Saloon provide plenty of opportunities to mingle with locals over drinks as well.
Newport, Oregon
Population: 10,300
The essence of Ireland can be found in Newport, Oregon, at Nana's Irish Pub. The mother-daughter combo who run the pub create an ideal Irish pub experience complete with fish 'n chips and a properly poured Guinness. Like many of the other bars in Newport, Nana's features regular live music. Rogue House of Spirits, one of the locations of the much loved Rogue Ales and Spirits brewery and distillery, makes craft liquors for classic cocktails and serves more than 30 beers.
Jim Thorpe, Pennsylvania
Population: 4,600
We're not sure where you'd expect to find an absinthe bar (except maybe a dark side street in Paris), but Jim Thorpe is definitely not high on the list. And yet, there's Encore, a restaurant in the repurposed Albright Mansion, which hides the oldest absinthe house outside of New Orleans. For your stay, consider the opulent Harry Packer Mansion B&B, which hosts a murder mystery party every weekend and an all-the-time Libations Lounge. Then check out local producers like Stonekeep Meadery or Big Creek Vineyard.
Exeter, Rhode Island
Population: 6,400
One of the smallest towns in the smallest state in the union is where you can find some of the freshest beer in the country. Tilted Barn Brewery is a farm-to-beer brewery that started as a hop farm. They still grow hops, and they're taken right from the farm and thrown into the beers for an unbeatable experience of what a beer is supposed to taste like. If you need more than that or just want a good cocktail, head to Back 40, a giant cocktail and beer bar with an upscale, refined atmosphere.
Beaufort, South Carolina
Population: 13,400
What do you get when you combine Coastal Living's 2013 "happiest seaside town" with USA Today's "drunkest town in South Carolina?" Beaufort—you get Beaufort. The waterfront is packed with bars, like the divey Hemingway's, barbecue and beer haven Q on Bay, and the upscale Saltus River Grill. Pretty much every establishment within spitting distance of the water offers weekly live music, either by professionals or karaoke stars.
Deadwood, South Dakota
Population: 1,200
You can't think about South Dakota without thinking about Deadwood. The iconic Wild West town is filled with as much cowboy kitsch, gambling and beer bars as you would imagine existed in the seedy, lawless Jesse James days (although it's a lot safer now). You don't have to enjoy country music and honky tonks to have an unforgettable night in Deadwood, especially if you happen to roll through at the same time as the Sturgis Motorcycle Rally.
Gatlinburg, Tennessee
Population: 4,200
When in Tennessee, drink as the Tennesseans do … Tennesseeans? Tennessites? Doesn't matter, you're drinking moonshine. Between the Ole Smoky distillery, Doc Collier Moonshine and Sugarlands Distillery, you'll have plenty of unaged whiskey to taste while in Gatlinburg, a town perched on the edge of the Smoky Mountains. If you prefer your moonshine straight from an unregulated still in a mountain shack, you can at least enjoy Gatlinburg's extensive wine community with several wineries and cellars.
Marfa, Texas
Population: 1,700
Out in Marfa, far from the many large population centers in the Lone Star State, there's a boozy oasis that justifies any trip getting lost in the desert. The town is mostly known for its art scene, but Bar Nadar in the Hotel St. George is the reason you should pay attention to this small village in West Texas. Sip on classic Margaritas, frozen Margaritas or prickly pear and tamarind flavored Margaritas. When you get too hot, wade into the pool that doubles as the bar's centerpiece.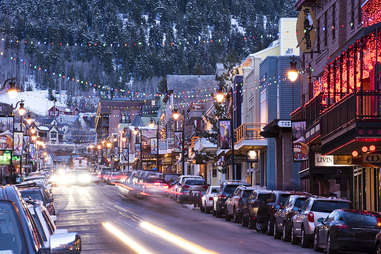 Park City, Utah
Population: 8,300
The next time you head to the Sundance Film Festival, make sure you carve out time between screenings for High West Distillery. The "gastro-distillery" as the brand calls its duel Saloon and production center offers a taste of Western whiskey. Pay extra special attention to their special releases—if you're in town for the festival in January, consider the Midwinter Night's Dram. Then stop in for high class cocktails at any number of expensive joints catering to the movie star crowd.
Stowe, Vermont
Population: 4,300
If you know anything about beer, you know that Stowe is one of the most cherished towns with one of the most cherished breweries: The Alchemist. The Alchemist's Heady Topper and Focal Banger are extremely hard to find outside of Stowe, and are worth the trip on their own. Beer lovers will also need to visit Idletyme Brewing Co. and the von Trapp Brewery and Bierhall. Outside of beer, Stowe has an impressive apres ski scene thanks to live music bars like the Rusty Nail Stage and the food, drinks and dancing at the Matterhorn Restaurant.
Middleburg, Virginia
Population: 800
While Middleburg isn't quite known as the Napa of the East, it does pack in three wineries and a cidery/distillery into a tiny town of 800. Boxwood Estate Winery, Chrysalis Vineyards and Greenhill Winery & Vineyard flood this northern section of Old Dominion with plenty of vino, while Mt. Defiance fill out the region's boozy portfolio with an absinthe, amaretto, apple brandy, rum, cassis and whiskey. A marathon of tours across all four producers would make a lovely day trip from D.C.
Chelan, Washington
Population: 4,000
Washington state is home to an overwhelming number of wineries and breweries. Chelan is a prime example of why. There are 20 wineries in the area—one for every 200 people. Spending a day in a tasting room in Chelan for the local wines would be an exercise in tasteful endurance. Then there's the two breweries and five cideries. The lakeside town has so much to do and so many places making local alcohol that you might as well pick up and move there if you want to experience it all.
Lewisburg, West Virginia
Population: 4,000
If you're selecting a small town for a getaway event, consider hosting your party at the Smooth Ambler distillery in Lewisburg, which offers cocktails and space for 60. Pop in for a tour if you're on your own, and then check other local producers, like Hawk Knob cidery and meadery, or Greenbrier Valley Brewing, before settling in for some high end French grub and craft cocktails at The French Goat or catching a show at one of the old school theaters around town.
New Glarus, Wisconsin
Population: 2,200
You could describe New Glarus as quaint, but you can't describe the eponymous brewery with the same word. New Glarus Brewing Company has overtaken the town in fame thanks to world-class beer made from natural ingredients. There are a number of things that you can only get in and around the brewery, making it a destination in and of itself no matter how many times you've seen Spotted Cow before. Your time in the town doesn't have to be over after you see the brewery. Swiss inspired spots like Glarner Stube and the Ott Haus Pub & Grill can make any drinkers day.
Sheridan, Wyoming
Population: 17,000
You can get a sense of all of the Cowboy State, as Wyoming is sometimes called, by stepping into The Mint in Sheridan. The bar's walls sport over 9,000 brands (the singed flesh kind, not the whiskey brand kind) from cattle ranchers all over the state, along with plenty of taxidermy. The rest of the watering holes in town emulate this rustic Western vibe either in practice, with their own taxidermy like at Rails, or in name, as at Beaver Creek Saloon, Pony Grill and Bar or Open Range Bar and Grill. Picking up on the theme here?