The Most Under-the-Radar Speakeasies in America
Thanks to the internet (and Prohibition), the days of the true speakeasy are over. Easy access to online information has made the hidden bar all but moot, no matter how exclusive or new a drinking hole may be. But some speakeasies are more than happy to cram in packs of people under the guise of secrecy, while others do what they can to quietly serve us drinks without a side of hype in the post-internet world. Whether it's a true member's only club that requires a password to enter or just a spot your hotel concierge doesn't yet know about, these speakeasies are still flying under the radar. Get there before the waitlist is weeks long.
If you push open the bookcase on the second floor of Raleigh watering hole The Architect Bar & Social House, you'll find this Prohibition-style speakeasy. Settle in to a plush booth and choose from their list of expertly-made cocktails with interesting ingredient combos like gin, pomegranate, cardamom and habanero. The intimate space hits capacity quickly on the weekends—you'll know there's room if the tiny green lightbulb outside the entrance is on—so text the bar for a reservation if you plan to go on a busy night.
Tucked away on the third floor of Philly's Plays & Players Theater, you'll find Quig's Pub. Anyone there to see a show is welcome to imbibe at the house bar—they'll even hand you a plastic cup so you can finish your intermission cocktail inside the theater. But on off-nights, this speakeasy is member's only, so the bar doesn't close until 4 a.m. and allows its patrons to smoke inside. A yearly membership only costs about $35, which is totally worth it when you take into account that cocktails are about $7 and beers only run $4-7. If you find yourself here among the thespians, try one of their top-notch Negronis.
Walter's in Fort Greene serves some of our favorite cocktails in Brooklyn. So when we heard that a speakeasy was opening behind a back door in the restaurant, we were all ears. Karasu serves Japanese-inspired cocktails and has an izakaya spirit, meaning you should order a few dishes to share with the table as you imbibe. Their drinks are served in vintage glassware, and garnishes are presented on custom-made cocktail picks. We're suckers for the Night Night—brandy, spicy plum, Antica Vermouth, mezcal—and the Nettai, made with rum, orgeat, mandarin, Yuzu Bee Side Gin, basil, lemon and lychee.
Hidden in an alleyway near the corner of Belmont and Sheffield, you'll find this old-school Chicago jazz bar and speakeasy. But don't expect to simply wander in if you manage to find the joint—Room 13 is open to members and guests of the Old Chicago Inn B&B only. If you do decide to apply for a yearly membership or book a night at the hotel, you can sip Prohibition-era cocktails like Old Fashioneds and French 75s while listening to some of the best local Chicago jazz bands. And take note: This is a classy establishment. Men must be in sports jackets and ladies are encouraged to wear cocktail attire, so leave the denim at home.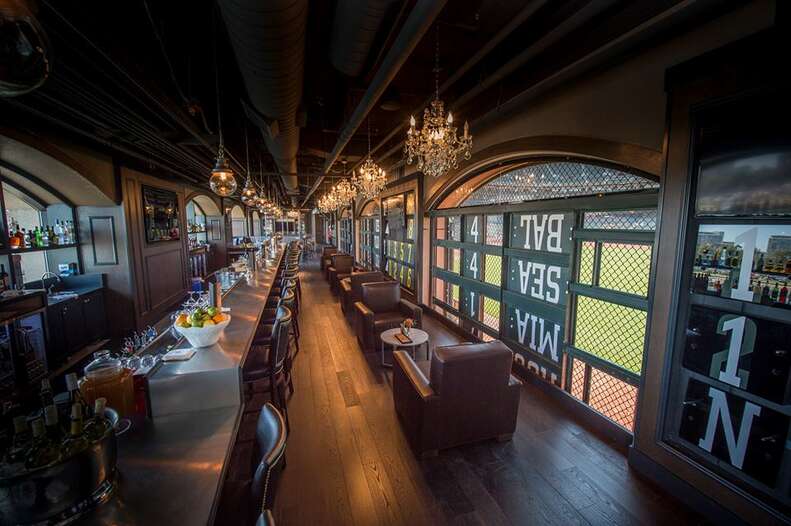 Although membership to this exclusive club costs $2,500 to join with $1,250 in annual dues, it's a small price to pay for San Francisco Giants fans who crave exclusivity at home games. Tucked behind the out-of-town scoreboard, The Clubhouse portion of this members-only experience offers unique views of McCovey Cove and the field, a private dining area, expertly-made cocktails with baseball-shaped ice, and a staircase that leads directly to the bullpen where you can watch the game from the field. The private, members-only entrance is only revealed once you're a member, and the exclusive membership also gives you access to a secret lounge with top-notch bar games, including a bowling alley, billiards tables and vintage arcade games.