When spiked seltzer first started showing up on shelves a few years back, we thought it was just a crazy gimmick. But, as the growing sales and rapidly expanding options have proven, gimmick it is not. It's as clear as the spiked seltzers themselves that this category of refreshing, low-cal, subtly flavored spritzers is here to stay.
It makes sense, when you think about it. For years, the only folks who could buy ready-to-drink boozy beverages were beer drinkers. Eventually, cider- and- wine-drinkers got their cans. Even cocktail drinkers got a break. And now, those who swear by Vodka Sodas with a splash of cran finally have a portable version of their favorite booze to take with them to the beach or on a camping trip or just into the backyard.
But they aren't the only people who can enjoy a spiked seltzer. Heck, even a diehard beer drinker needs to switch things up every now and then, and these crushable sippers are just the things to give them something to slurp down when a hoppy IPA or malty stout is just too much. And, if you ask us, a spiked seltzer is a downright delightful patio drink. Plus, if the 5-6% ABV isn't enough, they make an excellent cocktail ingredient. Yes, you can spike spiked seltzer.
Here, the best spiked seltzers you can buy right now.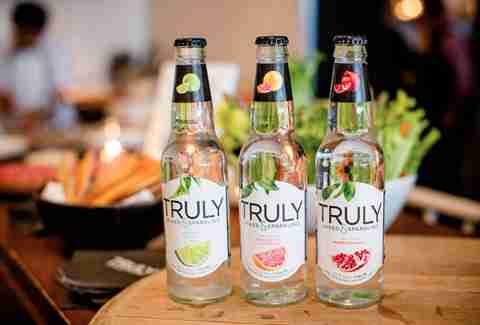 Truly ($10 for a 6-pack)
One of the newest additions to the spiked seltzer category, Truly is available in both bottles and cans. Made with sugar cane and all-natural flavors, the spritzers are clean, crisp and much more lightly flavored than some other spiked seltzers. Flavors include a dry and zesty Colima Lime, mild Pomegranate and, our favorite, Grapefruit Pomelo, which one Supercall staffer called the "La Croix Pamplemousse of spiked seltzers." 
As you might have gleaned from the oh-so-apt name, these guys got in on the trend early, essentially launching it in 2012. Far from bland, these hard seltzers are packed with bright, vibrant flavors thanks to the cold-pressed fruit essence with which they are infused. The lineup includes four flavors: Indian River Grapefruit, West Indies Lime, Cape Cod Cranberry and Valencia Orange, all of which hit 6 percent ABV. In our taste tests, the Lime and Grapefruit came out on top, thanks to the Lime's sweet-tart flavors of lime cordial and the Grapefruit's abundance of fresh citrus flavors.
If you're actually on the hunt for boozy seltzer that tastes more like seltzer than soda, try Nauti. Flavors like Grapefruit, Raspberry and Cranberry are all pleasantly tinged with fruit essence and actually feel hydrating. The Grapefruit especially tastes like it contains a spritz of fresh citrus juice, while the Cranberry tastes like memories of spiced cranberry sauce during the holidays. At 5 percent ABV and 110 calories, it's a great, portable option for Vodka Soda drinkers on the go.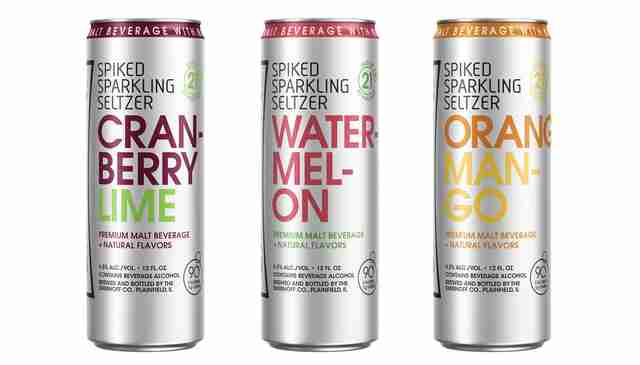 Smirnoff's contribution to the spiked seltzer world is a silver canned collection of three flavors: Orange-Mango, Cranberry-Lime and Watermelon. At just 90 calories per can, they're the most diet-friendly of the bunch and also the most sweet tooth-friendly. Both the Cranberry-Lime and the Watermelon smell like hard candies and pack a bright fruity flavor. The Orange-Mango, on the other hand, is its own beast, with a taste akin to that of creamy mango rice pudding. It's oddly intriguing and unlike any other pre-packaged drink we've ever had.