Summer is all about rooftop drinking, lazy rivers and frozen drinks. And when you're living in a booming metropolis like NYC, there are tons of fun ways to get your booze on that go beyond a typical beer garden. If you're looking to celebrate summer to the max this year, these 11 warm weather activities will keep you busy all season.
Visit the World's First Rooftop Vineyard
Perched atop a building in the Brooklyn Navy Yard, Rooftop Reds was the world's first commercially viable rooftop vineyard when it opened in 2015, and it's been going strong as a hangout for vino-loving New Yorkers ever since. It's free to visit, but you have to make an online reservation before going. Be on the lookout for events like Wednesday wine with cheese pairings and sunset yoga.
Dance Outdoors with Tiki Disco
Starting May 13 through September
Beloved daytime party Tiki Disco kicks off on Sunday, May 13 and is typically held every other week through September. Admission is only $10 and includes plenty of dancing with food and beverages for sale on site. If you're a tiki head who knows you'll attend most of the parties, you can buy a season pass for $90, which includes admission to all 10 events and a free drink at each one.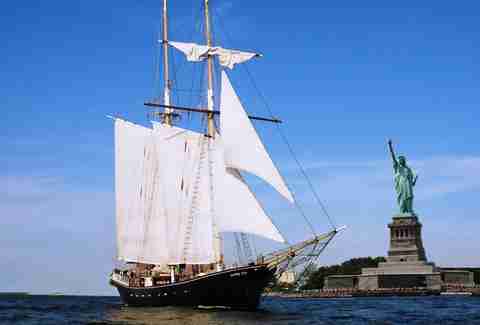 Take a Booze Cruise Around the City
There are lots of NYC companies that offer cool booze cruises to get your happy hour kicks off dry land. But Manhattan by Sail really knows how to do it right with special, full-bar sunset cruises and events like the Lobster & Beer Lovers Sail.
Have a Picnic with 1,000 Strangers at PopUp Dinner Brooklyn
June 2
This yearly pop-up dinner brings together thousands of strangers for an evening of eating, drinking and dancing under the stars. You're in charge of bringing everything to the event, including your table and decorations, food and libations for the evening. Everyone is encouraged to dress in white attire, and the secret PopUp Dinner location isn't revealed until you RSVP.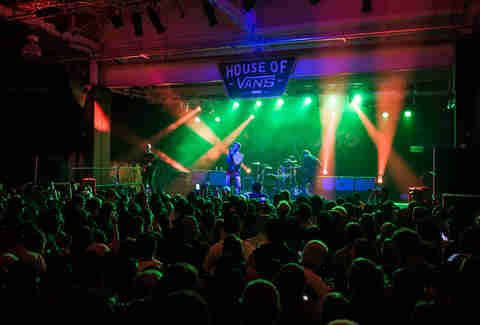 Jam Out With Free Beer at House of Vans
June 14 - August 24
Checking out the free shows at Brooklyn's House of Vans is one of our favorite summer pastimes. This year's lineup is particularly special, as each headlining act is curating the entire show by hand-picking the supporting talent and creating a visual art experience. The series kicks off on June 14 with Action Bronson and ends on August 24 when Interpol takes the stage, with plenty of amazing shows in-between. As always, House of Vans provides free beer to attendees, making this one of the best cheap thrills NYC summertime has to offer.
Toast to Wild Animals During Brew at the Zoo
June 15
There are zoo drinking festivals all across America, but New Yorkers won't want to miss The Bronz Zoo's annual Brew at the Zoo event. A general admission ticket gets you unlimited samples of more than 100 types of wine and beer, along with bar trivia, karaoke, a retro game room and music from Jam the Band.
Drink Like a Flapper at the Jazz Age Lawn Party
June 16-17 and August 25-26
Michael Arenella's Jazz Age Lawn Party is now in its 13th year, and the trip to Governors Island is worth it for the outfits alone. There are plenty of drinks to be had as you take in music, dancing and entertainment throughout the day. Some tickets include said drinks, and you can buy a tent for you and 15 of your closest friends for a cool $5,000 if you want access to an open bar.
Attend the Ultimate Wine and Cheese Party
June 30
Cheese lovers, listen up: The best day of your life is on the horizon. The Cheesemonger Invitational brings together the best cheesemongers in the country for a day of education, competition and the most cheese you've ever seen in one room. A general admission ticket costs $80 and gets you all-you-can-eat cheese, charcuterie, fondue, grilled cheese, mac and cheese, ice cream, beer and wine.
Go on a Rockaway Beach Bar Crawl
This beloved Queens beach town pops off from Memorial Day to Labor Day every year, and it's easy to see why. Accessible by the subway, it's easy to get to and offers a cool respite from the oppressive city heat. There are plenty of places to get great drinks, but we suggest starting at Caracas at Beach 106 Street for frozen Sangria before hitting Low Tide Bar at Beach 97 then Rippers at Beach 87. When the sun goes down, head to Rockaway Beach Surf Club or Rockaway Brewing Company for more drinks and delicious eats.
#RoséAllDay at Pinknic
June 30-July 1
If rosé is your nickname and you want to be among New Yorkers who love to drink pink as much as you do, then the two-day Pinknic festival will make all of your summer drinking dreams come true. Watch as the lawn at Governors Island becomes a rosy hue while revelers drink rosé and Frosé, nosh on lobster rolls, catch live DJs and beat the heat on bright pink pool floats.
Visit a Floating Boat Bar
People in coastal cities and tropical drinking destinations around the world get to take advantage of boat bars on the reg, and NYC has plenty of places to make your floating happy hour dreams come true. Make sure to check out Grand Banks, Brooklyn Barge, North River Lobster Company and Pilot to get your fix.
Drink at One of the City's Few Pools
NYC is a swimming pool desert, and the few that do exist will charge you a pretty penny for admission. But on a day when the mercury is going to hit 90 and you can't stand to fight the public beach crowd, treat yourself to a luxurious day of pool lounging. McCarren Hotel features a heated saltwater pool, and the Profundo Pool Club in Long Island City becomes more and more of a party as the day wears on. La Piscine at Hotel Americano is small but mighty and offers surrounding views of Manhattan's towering buildings. Wherever you choose to spend your day luxuriating, pretty much all NYC pools that charge admission have solid cocktail lists. Many of them feature a rotating house frozen drink, which we almost always recommend ordering, especially if the day is extra hot.