The World's Most Stunning Swim Up Bars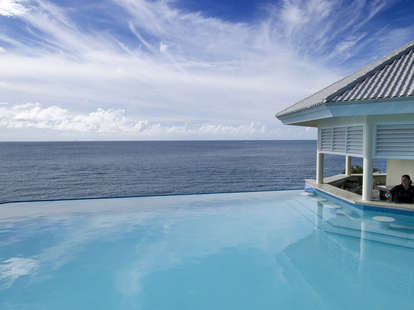 Unless you're an alien from the planet No Fun, we can all agree that the swim-up bar is one of the world's greatest inventions. There's nothing more pleasurable than plunging into a cool, blue, refreshing pool and slowly side-stroking your way to a sunken bar stool underneath a shaded canopy. Whether you're planning your next adventure, need a five minute vacation from your workday or just want to take in some of the best pool porn on the planet, these 11 swim-up bars are a feast for the eyes.
This Cabo resort is perched on a cliff and offers sweeping views of the Sea of Cortez. But our favorite site to see is at El Encanto de la Hacienda, the resort's newest expansion that opened in spring 2016. A double-decker infinity pool complete with swim-up bar offers glorious views of the surrounding wildlife and daily sunsets.
Adulting is hard, which is why you need to take a break from it all by getting yourself to Resorts World Bimini and drinking at both of their swim-ups bars. We're partial to the lagoon pool where you can float down the lazy river right up to the bartender who'll make you a Bahama Mama. Sip it at one of the bar's sunken stools or continue down the river on your lazy way.
Checking into Crystal Cove is like stepping into a charming tropical village, with its lush gardens and views of Barbados's beautiful west coast. But we're here for the lagoon-style pool, complete with a swim-up Cave Bar that's hidden behind a cascading waterfall. Grab a seat and order the signature rum punch.
Spread across 900 acres of a lush rainforest reserve near the base of Costa Rica's Arenal Volcano, Tabacón Thermal Resort & Spa is a piece of pura vida paradise. In addition to the property's 20 natural hot spring pools, you can take a dip in the resort's massive man-made pool—complete with a thatched roof, horseshoe-shaped bar. Even better, the pool is filled with mineral-rich water from the thermal springs which promotes overall health and well-being.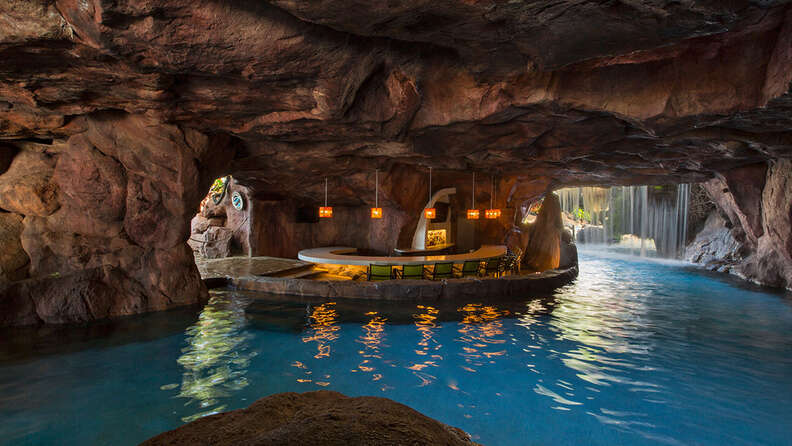 Set on the edge of the Pacific Ocean, this Maui resort is the tropical retreat of your dreams. Take in the lush Hawaiian wildlife as you swim through the pool and underneath one of two waterfalls into the Grotto Bar. There, you can take a seat in the cavernous space and enjoy a cooling libation before wading your way back into the sun.
This Turks and Caicos resort is situated on the secluded Long Bay Beach. When you've had enough of the sand, retire to the Colonnade Pool to soak and sip on something refreshing while perched on one of the bar's sunken stools. Stay long enough to watch the sun set over the horizon.
Croatia is undoubtedly one of the most beautiful places in the world, and there's no better place from which to enjoy it than the pools (there are four of them) at Hotel Monte Mulini. Watch the boats drift in and out of Lone Bay at the grand swim-up bar, or paddle over to the hydro-massage section for the ultimate happy hour.
If a luxury getaway is what you crave, St. Regis's breathtaking South Pacific resort is where you need to be. Step out of an overwater villa and make your way to the pool where the water changes color depending on the time of day. Swim up to the tropical hut bar and ask for a shot of rum in a freshly cracked coconut.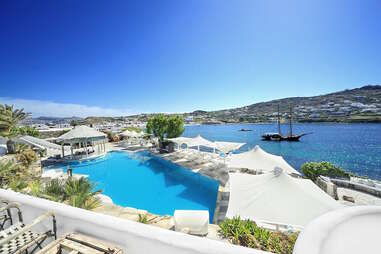 Mykonos is notorious for its party scene, so it's important to have a quiet retreat where you can enjoy some sunshine and a hair of the dog drink after a night out. Situated above Kivotos's private beach, the saltwater pool features sweeping views of the sparkling Mediterranean. Dive down to enjoy the underwater music as you make your way to the swim-up bar and begin another day in paradise.
This famous Icelandic spa is built around the lagoon's naturally occurring geothermal water, a phenomenon in which freshwater and seawater combine at extreme temperatures 2,000 meters below the surface. Apply a silica mud mask and enjoy the stark surroundings while you sip on a slushie, smoothie or adult beverage of your choosing from the in-lagoon bar.
A slight blue gradient is the only thing that separates this resort's cliffside infinity pool from the ocean below, which would make just about anyone's jaw hit the floor upon first sight (guilty as charged). Once you've snapped your fair share of Instagram pics, dive in and take a seat at the gazebo bar where you can enjoy a Strawberry-Jalapeño Margarita and other tropical libations.