The Wackiest Themed Bars in the World
We'd like to thank themed bars everywhere for giving us something to talk about on first dates. When your barstool is Christmas tree adjacent even in July or there's a ninja serving you your Mai Tai, then there's no need to worry about awkward pauses—even before the liquid courage sets in. While plenty of bars change their menus and decor seasonally, or in response to current events, few are stubborn enough to fully commit to them—and even fewer still are willing to commit to something crazy. Here, the world's wackiest themed bars.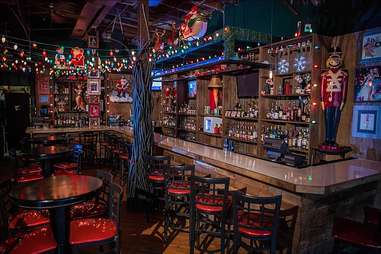 Orlando, FL
In August 2016, Frosty's opened up in Orlando, determined to bring Christmas cheer to the Sunshine State all year round. Don't worry, that doesn't require drinking Hot Toddys or Eggnog in 80-degree weather. While the bar's nutcrackers, Yule Log and strings of Christmas lights stay true to the cold spirit of Christmas, its cocktails are much more weather appropriate.
Cluj-Napoca, Romania
Don your goggles, hide your iPhone and brush up on your HG Wells, because this steampunk bar exists in an alternate reality, one powered by steam and cogs. The industrial-themed bar features an art gallery, quirky inventions (bionic deer head included), stiff cocktails and lots of gentlemen in top hats.
Seattle, WA
Don't worry, just because Ringling Brothers recently closed down for systematically torturing elephants doesn't mean you can't enjoy the circus. Unicorn and Narwhal are two circus-themed bars in Seattle that bring you all the fun of the circus without any of the guilt. Both bars (Narwal is located underneath Unicorn) feature carnival food like corndogs and funnel cake, arcade games, clowns and whimsical cocktails like The Cereal Killer (Froot Loop vodka, Rumchata, Sprite and grenadine) and Fantasy Island (brown sugar bourbon, cream soda and orange soda).
Reykjavík, Iceland
There are plenty of TV and movie-themed bars out there, but our favorite of the bunch is the Lebowski Bar. Located in Reykjavík, Iceland, it's decked out with bowling paraphernalia, Big Lebowski memorabilia and a whole shelf stocked with Kahlua and vodka—fuel for the bar's entire menu of White Russian variations, which include the classic along with many other creamy concoctions like The Siberian (a White Russian milkshake) and the Dirty Russian (topped with Pepsi).
Austin, TX
If you're a mustache enthusiast looking to drink with other bushy-faced compadres, look no further than Austin's Handle Bar. This mustache-themed bar features a menu of shots named after great mustachioed men like Alex Trebek, Daniel Day Lewis and Ned Flanders. And if you think your face fur has what it takes, make sure you register for their annual Mustache Competition, which awards the best mustache a grand prize of $1000, while the best beard and fake mustache can each win $500.
Chur, Switzerland
Named for the man responsible for so many of our xenomorph nightmares, the H.R. Giger Bar features chrome seating (designed to look like spines), indecipherable alien runes on the floor, and futuristic light fixtures and mirrors. It is truly out of this world (pun intended, and immediately regretted).
Minneapolis, MN
When the inevitable happens and The Walking Dead becomes our global reality, head to Donny Dirk's. Complete with zombie-killing weapons like chainsaws and spikes, this zombie-themed bar will be the safest place to grab a drink when a cure for a widespread disease goes horribly wrong or a mutant bacteria infects the entire population. Even without the threat of an undead horde, it's still a solid place to sip on cocktails—we hear the Zombie is especially tasty.
Bucharest, Romania
This environmentally friendly, bicycle-themed bar in Romania recycles old bike parts to create a fun and creative decor, from bike seat stools, to bike handle coat racks, to bike pedal foot rests. Bicycle Bar is the perfect spot for those obsessed with cycling—both bicycling and recycling.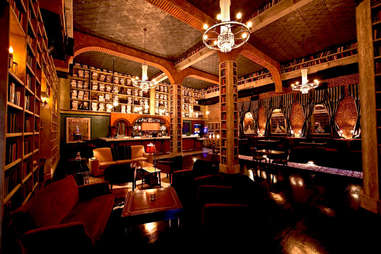 Los Angeles, CA
If you've ever wanted to drink like Hemingway, look no further than Hemingway's Lounge in Hollywood. The Hemingway-themed bar features a house rum called Papa's Pilar Rum, inspired by the great American author (and, of course, his love for the spirit), as well as cocktails named for Hemingway's works like The Old Man & the Sea (a take on a Mojito) and the Moveable Feast (rye, blackberries and sage). Lined with books and the occasional rifle, it's a bar Hemingway would have loved—although maybe he would have skipped the DJ sets.
Tokyo, Japan
Ninja Akasaka in Tokyo, Japan, is a ninja-themed bar that has secret passageways, hidden doorways, a drawbridge and ninja waiters who scare the crap out of you in stealthy ninja fashion. The ninjas are not only trained to serve and scare you, they also perform magic tricks and other cool demonstrations, so there's no shortage of entertainment.
Vancouver, Canada
After years of being thrown into lockers by jocks and made fun of for playing Dungeons and Dragons, nerds deserve a drink or eight. The Storm Crow Tavern provides a boozy sanctuary for all lovers of Game of Thrones, Star Trek,Star Wars (prequel apologists included) and more. The bar features board games like Risk and Runebound, which are available for reservation so that patrons can drink and play (and finish) their favorite games without fear of interruption.
Barcelona, Spain
The Dow Jones Bar in Barcelona features a "Food and Drink Index" displaying different beers, cocktails and liquors with prices that fluctuate based on "demand." So, basically, this bar has no problem getting rid of its more obscure well spirits because as the more popular drinks are consumed, the less popular ones drop in price. A dirt cheap Midori Sour might start sounding pretty good when your usual Jack & Coke doubles in price.
London, England
You're never too old to drink in a ball pit—as long as you're drinking at BallieBallerson and not Chuck E. Cheese. The ball pit-themed bar brings you the joy of a ball pit while feeding you bottomless spaghetti and meatballs and drinks. If the germaphobe in you is starting to get nervous, don't worry; the bar's GobbleMuffin is capable of disinfecting 18,000 balls an hour.