Smirnoff Peppermint Twist
Sponsored By

7 Things that Are Only Socially Acceptable During the Holidays
Sponsored By

The holidays are not just a break from work and the daily grind of responsibilities. They're also a break from the ordinary—in every way. That's a big part of why they're so anticipated, so longed-for, during pretty much, oh, the other 11 months on the calendar. When else can you spend the day—and the night—in sweatpants? What other time of the year are you likely to say yes to every snack, beverage, or napping opportunity placed in front of you—and not only not feel guilty, but feel fantastic about it? Yeah, the holidays rule. Here, a list of 7 things that would get you some raised eyebrows during the rest of the year, but are downright celebrated during the holidays.
Anna Horowitz
Ugly sweater selfies
Whether it began in the subcultural terrain of Vancouver, Canada, 1980s sitcoms, or a much-loved family road-trip movie, it's safe to say the cult of the ironic ugly sweater has found a permanent home in the conventions of the modern holiday party. This is the one time of year where tackier is cooler, heinous is glorious, and ugly is, well, beautiful. Enjoy it, relish it, and make sure your selfie is proudful and well-lit.
Regifting
Did your nonna get you a 10-pack of tube socks for your birthday, even though you haven't worn tube socks since you were 10? Did your sister give you that top you like so much you actually gave it to her the year before? Welcome to the world of regifting—a completely acceptable practice during the holidays (though try not to be as obvious as your sister). Yes, 'tis the season for repurposing unwanted, inappropriate, or just wrong gift items as … your own gift to someone else! There's even a game for it, the white elephant game. Hey, one man's trash is another man's treasure, right? We still love you, nonna.
Drinking at the office (Holiday parties)
For everyone who works a 9 to 5, office parties are a staple of the holiday season, and they're either something to look forward to or … not, depending on how last year played out and/or the general nature of your office. One thing's for certain, though, you'll end the night with at least one good story to go home with. Also: you'll imbibe on the work premises—a once-a-year opportunity—while finally learning everyone's name and sharing childhood stories with your boss. Just be sure not to overshare, okay?
Advertisement
Mark Yocca/ Supercall
They don't call it the most wonderful time of year for nothing: the holidays give everyone a chance to do things they simply can't do during other months on the calendar. Like singing joyfully in public, drinking eggnog, and donning fantastically ugly sweaters. Those are special, seasonal treats—not unlike the cool peppermint deliciousness of Smirnoff Peppermint Twist, which, like the holidays, won't be here for long.
Drinking eggnog
If you were to whip up a batch of eggnog on a steamy July afternoon, that would be, to paraphrase Ron Burgundy, a bad choice. It would also get your roommates questioning your judgment. But during the holidays? Bring on the raw-egg adult beverages! With possible origins in a British drink called posset, eggnog began as a beloved winter beverage among aristocrats. It's evolved into a festive holiday treat for everyone. If you haven't tried this frothy, sweet, combination of milk, cream, sugar, whipped egg whites and yolks, cut through with a splash of spirits, you haven't fully experienced the holiday season.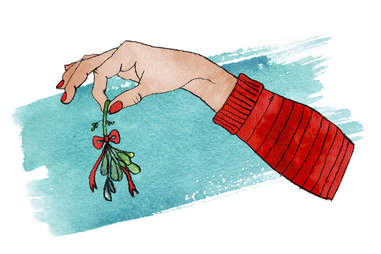 Anna Horowitz
PDA (Mistletoe!)
Ancient Norse culture deemed picturesque mistletoe a sign of love and friendship. During medieval times, the tradition of hanging it in homes was said to bring good luck and ward off bad spirits, and guests commonly kissed their hosts under the mistletoe. That led to mistletoe being a cue for lovers to kiss. When you and your SO get lovey-dovey in public, friends may groan; but do it under the mistletoe during the holidays and—presto—it's adorable! This is truly a magical time of year.
Being obsessed with peppermint
You wouldn't even think of ordering a peppermint mocha in June, but you will order nothing but during December, and never tire of them. That's because peppermint owns winter, and not just in mocha form. From peppermint cocktails to peppermint cookies, candy, tea, and ice cream … no one will ever judge your obsession with peppermint during this season. In fact, they'll join you in it. So go forth and revel in the glories of all things peppermint during the holidays.
Never leaving the house
Staying in your home for three, four, five days in a row during February might get your friends to go, "Hey, should we check on Steve?" But during the the holidays? Feel free to don your most comfortable clothes and slippers and really settle in for the long haul. After all, you have presents to wrap, pies to eat, and endless loops of A Christmas Story to watch. And like the song says, the weather outside may indeed be frightful. So let it snow. You've got no place to go. And for one time during the year, that is a good thing—a great thing.