7 Tropical Bars to Escape to in the Country's Coldest Cities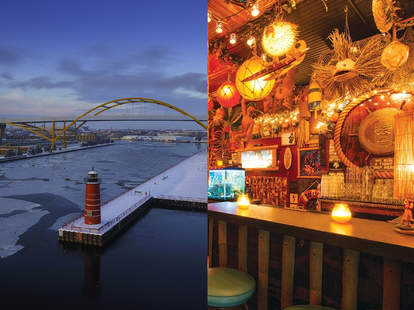 Randy Kostichka/Shutterstock / Foundation Tiki Bar/Facebook
The holidays are over, which means that any fun there may have been in sub-zero temperatures is long gone. While you could hibernate with a Hot Toddy in hand and try to remember what it's like to be warm, sometimes a more proactive approach is in order. Luckily, there are plenty of tropical oases in America's most bitingly cold cities. Tiki bars, jam packed with lush décor and Polynesian potions, provide an ideal antidote to Old Man Winter's cruel bite. If you can't escape the dreary temperatures for an island beach getaway, these bars situated in some of the country's coldest cities will bring a taste of the tropics to you.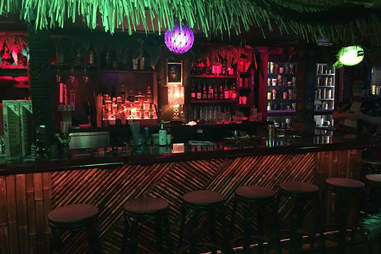 TikiCat KC/Facebook
Kansas City, MO

With winter lows clocking in below zero, Kansas City residents need a tropical escape every now and then. This hidden gem, with a drink menu overseen by Martin Cate of San Francisco's famed Smuggler's Cove, is located in the basement below beer bar HopCat and proves to be the ideal escape from bone chilling weather. The bar is decorated with drool-worthy mid-century furniture, tropical foliage and puffer fish galore, so you'll feel like you're lazing around a beachside drink hut. Order a classic Mai Tai or go for an original summery concoction like the Gin on You Pisco Diamond (gin, pisco, simple syrup, fresh lime juice, egg white, orange bitters).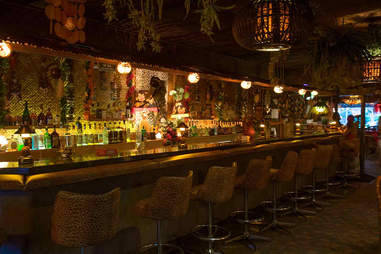 Hala Kahiki/Facebook
River Grove, IL

Located just outside Chicago and close enough to Lake Michigan for a serious chill, Hala Kahiki knows how to transport you to sunnier days. The cozy space is clad in cheetah print, leis aplenty and pineapples as far as the eye can see. Pair that with a Suffering Bastard (rum, brandy, lime juice) or a Surfer's Blood (gold rum, blue curaçao, Island Punch, pineapple juice, seltzer, grenadine) and you might even be able to pretend—for just a second—that you can hear warm and inviting ocean waves crashing behind you.
Psycho Suzi's/Facebook
Minneapolis, MN

Minnesotans are well acquainted with cold weather (the average temperature in January is 4 degrees). They also know that the only way to shake cold weather has nothing to do with a fireplace and cup of hot cocoa. The best way to warm your body and soul is to pay Psycho Suzi's Motor Lounge a visit. With a menu denoting the strength of each cocktail—one skull and crossbones for a low-ABV drink and three for a strong drink—you'll find exactly the pick-me-up you need to escape the well-below freezing temp. Try a triple skull and crossbones strength Miserable Bastard (Jamaican rum, fresh lime juice, falernum, paradise bitters) to lift your spirits.
Three Dots and a Dash/Facebook
Chicago, IL

Chicagoans, there's no need to vacation near the equator with this tropical oasis nestled right in your backyard. Orchid-topped cocktails and Hawaiian shirt-clad bartenders hit all the right tiki notes, but the impressive menu of creative and not-too-fruity cocktails is all that's needed to warm any residual wind chill. An Absinthe Swizzle (absinthe, green Chartreuse, coconut-washed rhum, pineapple juice, lime juice) or a Pandan Painkiller (Jamaican rum, Barbadian rum, coconut, tangerine, pineapple, pandan) will do just fine, especially when paired with some of the bar's equally delicious bites, like the tuna poke or king crab rangoon.
Foundation Tiki Bar/Facebook
Milwaukee, WI

A former punk bar-turned-tiki haven, Milwaukee's Foundation features fishtanks as impressive as the rum selection and flotsam-lined walls that call to mind the original mid-century tropical haunts. You could relax in this bar for hours—especially with a Missionary's Demise (rum, peach, honey, lime juice, pineapple juice, mint) in hand. If you really need a vacation from that brutal winter bite, check into the Captain's Quarters, a room located just above the bar that you can rent for the night.
Kowloon Restaurant/Facebook
Saugus, MA

If your idea of tiki is a flaming pupu platter accompanied by an intricately decorated, rum-filled tiki mug, this is just the place to cure your winter blues. Only a short trip outside Boston, this massive tropical destination seats more than a thousand. If you're not up for the crowd and wading through the snow after one too many Painkillers, you can order takeout and bring the tiki feast home. If you opt to go that route, make sure to whip up one of these easy tiki drinks to go along with your crab rangoon.
The Tilted Tiki/Facebook
Stillwater, MN

With temperatures regularly dipping below zero—not surprising considering Fargo was filmed here—Stillwater's frostbitten residents need all the help they can get during the winter. So when the snow levels creep higher and temperatures dip lower, give Old Man Winter the slip and hide away in this easygoing and well-stocked bar. Choose from one of the many Mai Tais on the menu—including one with habanero heat—or go for a Tilted Sour, a tiki twist on the classic Whiskey Sour. Pair your boozy concoction with a plate of pineapple fried rice or some Tiki Friki Cheese Curds (guava catsup included) to make a beachy tiki night of it.