L.A. Does Tiki Better Than Anyone and These Bars Prove It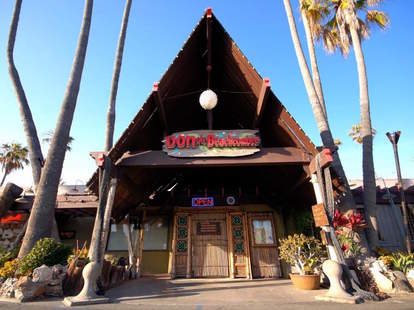 Courtesy of Don the Beachcomber
It's been almost 85 years since Ernest Gantt opened Don the Beachcomber just off Hollywood Boulevard, but the tropical cocktail movement is still alive and well in Los Angeles. While every tiki bar promises exotic escape, L.A.'s specific breed offers paradises of every sort. From bars that date back to tiki's founding fathers, to those from second-wave acolytes, to brand new establishments, here's your guide to L.A.'s tiki landscape.
The L.A. scene was once dominated by two tiki totem monoliths, Don the Beachcomber and Trader Vic's, who duked it out for Polynesian dominance. Sadly, both original Los Angeles locations are now closed—Don the Beachcomber was replaced by an apartment building and Trader Vic's in Beverly Hills (actually Trader Vic's fifth location after launching in San Fran) was ousted from the Beverly Hilton in 2017. Now, the nearest Trader Vic's is in Atlanta, but you'll still find Don the Beachcomber down in Huntington Beach, where you can get a taste of tiki as it used to be.
Established in 1937, just four years after Don the Beachcomber set up shop in Hollywood, this Glendale steakhouse was doing tiki before the genre was even properly defined. The food menu is devoted to steaks and barbecue, but the bar is famous for their Mai Tais and Chi Chis. Damon may not get the same respect as Don or Vic, but it's still a tropical mainstay worth a visit, and the festive decorations—dominated by the massive palm trees in the middle of the dining room—are second to none.
The Kitsch Overload: Tiki-Ti, Los Feliz
Tiki-Ti founder Ray Buhen took all of the wonderful island vibes of Don the Beachcomber—where he worked before setting off on his own—and crammed it into a tiny, frenetic space on Sunset Boulevard. The 10-seater overflows with kitsch, while the expansive menu overflows with over 80 libations—meaning you'd have to team up with the entire bar in order to drink through all of the offerings. If you need a break, turn your attention to Toro, the tiny mechanical bull that walks down the bar.
The Second-Wave Stunner: Tonga Hut, North Hollywood
Some 20 years after Trader Vic and Don the Beachcomber blew tropical breezes down Sunset, a second wave of tiki bars began popping up. But the Tonga Hut brought plenty of innovative traditions of its own to the bar genre. For instance, if you manage to drink your way through a special 78-cocktail list within a calendar year, you can join the Loyal Order of the Drooling Bastard and earn your own plaque on the wall (which you get to design yourself). And the Tonga Hut is just as dedicated to its customers as they are to it, perhaps best evidenced by the "reserved" sign the bar team places on a specific bar seat every happy hour for Dottie, a now deceased customer who came for discount tipples every week for 50 years.
The Millennial: Tiki No, North Hollywood
Picking up the tiki mantle in North Hollywood, Tiki No continues the grand Polynesian traditions while mixing in nods to younger, modern drinkers. One of the bar's inventions, the Toasted Marshmallow, combines overproof rum with marshmallow-flavored vodka, a ploy to snag all those flavored vodka-loving millennials out there. The drink is even garnished with a flaming marshmallow. Ordering one is like roasting s'mores in the middle of a luau.
The Nouveau Tiki: Pacific Seas, Downtown
If Tonga Hut and other tiki locales of the 1970s represent tiki's second wave, then Pacific Seas is definitely third wave. Hidden above another downtown bar staple, Clifton's Cafeteria, owner Andrew Meieran went for broke with this speakeasy-ish tiki hideaway, decorating with repurposed artifacts from closed bars like the beloved Bahooka. The crown jewel of the space is a full-sized vintage speed boat jutting out from the bar. The drinks skew classic, but the quality is on par with other tiki revivalists like Three Dots and a Dash and Smuggler's Cove.
The Tropical Destination: Purple Orchid Tiki Lounge, El Segundo
This LAX-adjacent bar is a bit of a trek (unless you're coming straight from the airport), but it still attracts tiki geeks from far and wide, who gather for custom rum drinks served in signature purple tiki mugs. Known for the Volcano Bowl (a take on a Scorpion Bowl), the bar is the perfect place to bond with fellow tiki enthusiasts over a flaming punch, though just as many locals have adopted the exotic watering hole as their neighborhood hang—a testament to the bar's cheap and reliable drinks. The bar even sports a handy guide to tiki evolution in L.A..
Tiki bars are already boozy playgrounds for adults, but no one better conjures an exotic dreamland than Disney. Ripped straight from Adventureland in the Anaheim park and plopped into Downtown Disney, Trader Sam's takes the G-rated Enchanted Tiki Room and Jungle Cruise attractions and drives them straight into R-rated grown-up fun. Disney theatrics, like the erupting volcano, which goes off everytime someone orders the Krakatoa Punch, are even more entertaining with a belly full of rum and fruity mixers, and Enchanted Tiki decorations like the cartoonish, bug-eyed wall masks make for extra joyful decor.
The Bar Worth a Boat Ride: Luau Larry's, Catalina Island
There are only a handful of bars on Catalina, so if you've been bar hopping on the isle, chances are you've already crossed paths with this tiki party bar, home of the infamous Wiki Wacker, a light rum and brandy concoction that comes with either a bumper sticker or ridiculous straw hat (if you choose the sticker, you're doing life wrong). While the bar may not aspire to the tiki authenticity of some of the other locations on this list, it does require you actually set sail on the Pacific in order to visit, making it the only true tropical island getaway in the L.A. area.