These Secluded Tropical Bars Offer a Slice of Pure Paradise
There's nothing more relaxing than sipping a frozen beverage or cold beer while watching the waves roll in on a beautiful beach. But oftentimes, oceanfront bars get overly crowded, which kind of spoils those sought-after, tranquil beach bum vibes. Fortunately, there are plenty of secluded beach bars around the world whose stunning and secluded locations also prevent large crowds. Far from the hustle and bustle, these tropical hideaways offer refuge from everyday life with cold drinks and beautiful scenery.
The Abi Beach Bar is so secluded, you have to hop on a boat to get there and enjoy one of their refreshing rum cocktails. Once you've had your fill, relax on the hot white sand or rent one of Abi's many paddle boats or kayaks and take your blissful relaxation to the ocean.
Located at the Blue Horizon resort on the remote Puerto Rican island of Vieques, Blue Moon is the place to come for a nice cold beverage after a long day of snorkeling and relaxing. After imbibing a couple of tropical libations, go on a boat tour of Bioluminescent Bay, where a guide will take you out in a clear boat to view all of the neon organisms glowing beneath the water.
If you look at an overhead view of Ylang Ylang Beach Resort, you'll notice that it's completely surrounded by vegetation, a few steps from the ocean and a short walk from the bohemian beach town Montezuma. It's all pura vida at this oceanfront restaurant, where you can sample the fresh local meat and produce before settling down for a nightcap at the tropical jade bar.
Those who want to drink in the ultimate lap of luxury should book a trip to the Laucala Island Resort, where they can imbibe in a cavern-like space atop a mountain while taking in the sunset. Of course, this kind of natural beauty comes with a hefty price—$6,000 a night, to be exact—so we'll just dream about this tropical drinking destination until we win the Powerball.
Helmed by Captain Peter Hoschl, Angel's Rest is a 40-foot pontoon boat bar that floats off the shore of St. John's East End. Swim or boat up to the bar, where you can enjoy a variety of cooling beverages like an icy beer or the captain's famous rum punch.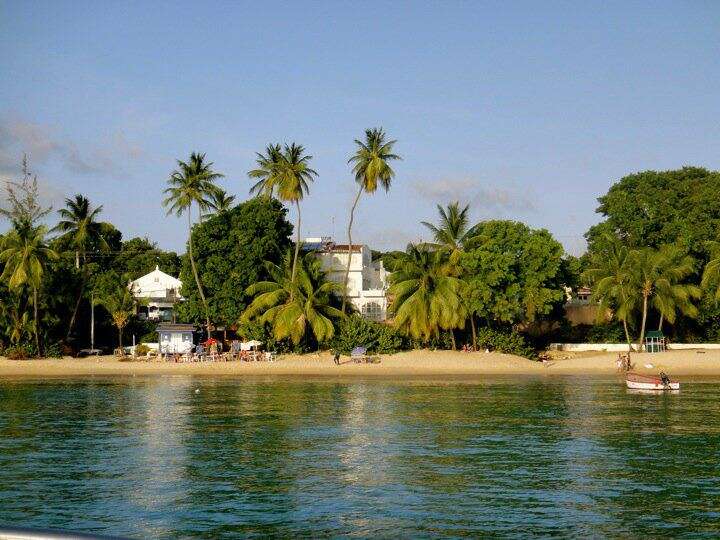 Stop by this Barbados beach bar and discover what it really means to be sipping in paradise. Order a rum cocktail from the bartender and settle down on the sand, float through the crystal blue water, or rent an umbrella and lounge chair if a relaxing siesta is more your speed.
This tranquil beach bar is located on the north side of Grand Cayman where the tourists are few and the locals love to hang. Grab yourself a hammock, nosh on some conch fritters and order a rich, indulgent Mudslide, which was actually invented at this very bar in the 1950s.
If you get the chance to stay at the fun and funky Jamaican resort Jakes Treasure Beach, you'll get to enjoy colorful decor, acroyoga classes and even a personal chef, if you book one of the property's villas. But perhaps the best part of Jakes is Floyd's Pelican Bar, a thatched roof shack that is literally in the middle of the sea. Take a 20-minute boat ride past stunning beachy views to the bar, crack open a Red Stripe and eat fresh fish that is both caught and fried on site.