There's nothing like a TV show that dedicates as much time to characters sipping down drinks as spitting out dialogue. While many shows make great fodder for boozy watching parties at home, occasionally even Netflix bingers need to get off the couch and into the real world—if only to stalk the real places featured on their favorite weeklies. Relive small screen magic by drinking at the same watering hole as your favorite characters at these real life bars from TV shows.
MacLaren's from How I Met Your Mother
You may not have a friend as legen…wait for it…dary as Barney, but you can still take your runner-up, real-life pals to the boozy hangout from How I Met Your Mother. The bar, actually called McGee's Pub, is located in midtown Manhattan, and it's where the HIMYM creators used to drink back when they wrote for David Letterman on The Late Show. Try your worst pickup lines on the other fans making the pilgrimage to the bar, or soak up the drinks with a chicken jerk wrap called TedMosbyIsAJerk.com on the menu.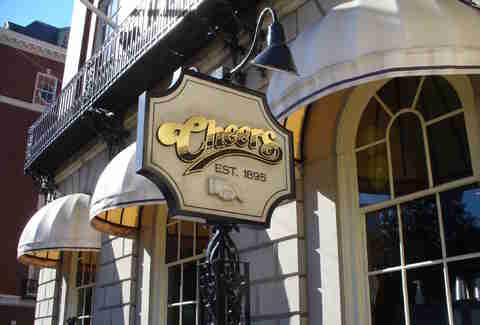 Cheers from Cheers
Cheers is the OG TV bar, the one that won over viewers by giving them a weekly barstool and a family on the far side of a screen. The famed exterior, decked out in iconic signage, is in the Beacon Hill neighborhood of Boston, but it likely wouldn't attract tourists today or have been such a success on '80s TV if it had kept its original name, the Bull & Finch Pub. Meanwhile, a replica bar at the Faneuil Hall Marketplace in downtown Boston lets visitors actually pull up a stool. Just don't expect everyone to know your name.
Moe's Tavern from The Simpsons
Not all TV bars are based on pre-existing watering holes. Some require theme park magic to come to life, like Moe's Tavern, the cartoon bar realized at Universal Studios in Orlando, Florida. Dodge the costumed Simpsons characters and duck in for a Flaming Moe or a can of Duff. Then ponder Homer's wise words on booze: "To Alcohol, the cause of and solution to all of life's problems."
Kavanagh's Irish Pub from The Wire
Many a police event were celebrated at Kavanagh's during the five epic seasons of The Wire, including the endearing wake held for McNulty while he was still breathing. At the real Baltimore dive bar, The Sidebar Tavern, you're more likely to hear punk than Irish funeral ballads, but you can still pour one out for Omar while you're there.
Paddy's Pub from It's Always Sunny in Philadelphia
Paddy's Pub isn't a real, permanent bar, but the fictional pub has popped up several times like a mirage at comedy events in San Francisco, and at New York bars made over in Halloween decorations. If you'd like to don your best green man suit and dance in front of the bar's exterior, though, you shouldn't set your sites on the East Coast. Sunny as it may be in Philly, it's sunnier in Southern California, where the show shoots the rundown red brick facade in the Arts District of Los Angeles.
The Prince from New Girl (and Mad Men)
When they're not playing epic drinking games at the apartment, Jess and the crew from New Girl are hanging with Nick at his bar. The Prince, located in L.A.'s Koreatown, plays the part of the gang's general watering hole and venue for "danger" themed parties—but the real bar is influenced by its neighborhood, offering kimchi fried rice and Korean fried chicken. If sitcoms aren't your jam, know the bar also appeared in Mad Men, so you can feel mid-century classy while chowing down on spicy squid noodles.
Gibson's Bar from The League
This is another case of interior versus exterior. It's only natural that fantasy football fans based in Winnetka, Illinois, outside Chicago, should prefer a steakhouse bar in the city for their weekly trash-talking sessions. But show creators admitted that they never filmed in the Windy City and only chose Gibson's for the cheap stock footage, shooting all the interiors in Los Angeles. At least Chicagoans can cry into their tasty steaks at the real Gibson's.
Olympia Cafe from SNL
You can get more than a cheeseburger (cheeseburger, cheeseburger), Pepsi and chips at the Billy Goat Tavern in Chicago—the basis for SNL's Olympia Cafe—but why would you want anything else? Maybe follow it up with a beer while you watch a Cubs game, but don't mention the billy goat curse— still a sore subject around the bar that spawned the hex even after the Cubbies broke the dry spell.
Scout Bar from Sex and the City
Given the number of Sex and the City tour buses roaming New York, you probably won't be the only one seeking to recreate TV magic at O'Nieals Grand Street Bar in New York City, aka Scout. According to Carrie's monologue, the mahogany-bedecked bar (opened on the show by Carrie and Miranda's exes Aidan and Steve), is the perfect embodiment of Aidan, making the real bar an especially evocative visit for fans.
Emerald City Bar from Grey's Anatomy
If you spent your day sewing up gashes and resetting bones, you've earned a drink at the Emerald City Bar, the fave hangout of Grey's Anatomy docs off the clock. The bar, which is fictionally based in Seattle but actually shot in Pasadena, California, has changed hands and been remodeled several times since the show shot there in Season 2 back in 2005 (producers recreated the bar on a studio lot after shooting at the bar only once). It currently goes by Der Wolfskopf, but the downstairs speakeasy still bares some resemblance to the televised watering hole.
Beautique from Real Housewives of New York
One of the few bars on the list where you may actually see someone famous, Beautique is a Real Housewives "hot spot," and owner John Bakshi apparently loves it. While the clubstaurant may not be quite as trendy as the show makes it out to be, a night there may still earn you ringside seats to the next infamous RHONY brawl.