7 Magical Unicorn Cocktails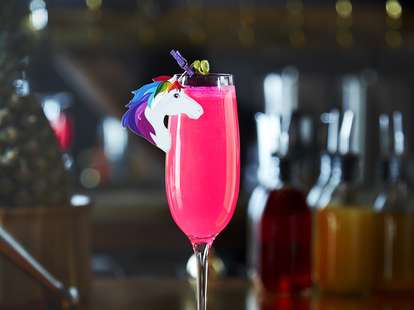 Unicorn lattes. Unicorn toast. Unicorn cupcakes. Unicorn anything and everything, all the time, everywhere. It's like we're living in one of Lisa Frank's fever dreams. And now, unsurprisingly, the pink-blue-sparkling unicorn trend has made it behind the bar. If you want your mythical creature-inspired libation spiked with very real booze, here's where to go.
Unicorn Fizz
Gristmill, Brooklyn, NY
Pale blue with a frothy, tie-dyed topping, this dreamy take on a Ramos Gin Fizz is the newest addition to Gristmill's brunch menu. Made with gin, blue curacao, cream, grapefruit liqueur, tonic water and egg whites, it's a magical new way to tire your bartender out with all that shaking.
The Unicorn
Memory Box, Croydon, England
This new London bar prides itself on its brightly colorful cocktails, piled with candies and fruits. The Unicorn is no exception. The two-toned drink is made with tequila, rose cream liqueur, tropical liqueur, banana liqueur, cranberry juice, pineapple juice, Baileys and cream.
The Blue Unicorn & The Pink Unicorn
La Cantera Resort & Spa, San Antonio, TX
Both kids and adults alike can get in on the rainbow fun with these drinks. The Pink Unicorn is booze-free, and made with coconut boba, dragon fruit puree and bubble gum-infused chocolate. The Blue Unicorn, on the other hand, is for grown-ups only. Made with white chocolate, blueberry vodka and blueberry puree, it's rimmed with Pop Rocks and edible glitter, and topped with whipped cream, Lucky Charms and rock candy sticks.
Unicorn Cocktail
Terranea Resort, Rancho Palos Verdes, CA
Not all unicorns are blue or pink. This one is bright orange and made with Tanqueray gin, citrus juices and strawberry sorbet. It's topped with orange turmeric foam, blue curacao whipped cream and, of course, sprinkles.
My Lisa Frank Notebook
The Fat Monk, New York, NY
Spicy, tangy and shockingly pink, this ultra-bright cocktail from The Fat Monk is made with vodka, serrano pepper-infused mezcal, pineapple-lime shrub, vanilla and something called "pink unicorn dust." It's garnished with a picture of a unicorn—just in case the color of the cocktail wasn't magical enough.
The Unicorn
The Thirsty Wolf, Newton, Australia
Australians were coming up with unicorn-inspired food and drink when we were still working through our Pokémon obsession. The Thirsty Wolf dedicated the entire month of December to the mythical beast, featuring this cotton candy-topped cocktail. It's made with Malibu, strawberry liqueur, milk and vanilla ice cream.
The Unicorn Cocktail
The Paddocks, Dublin, Ireland
Known for its innovative and often sugary concoctions, this Irish bar recently went all in on the unicorn trend with marshmallow-topped "unicorn eggs," frothy unicorn hot chocolate and this pale pink unicorn cocktail. Topped with whipped cream, Lucky Charms and edible glitter, it's made with strawberry puree, vanilla vodka and cream liqueur. It's served with multiple straws, because unicorns are all about the power of sharing.